This past Sunday wine bloggers converged on the newest winery in Loudoun County, The Barns at Hamilton Station Vineyards. They included: Kurt and Carol, Frederick, Julie, Christian, Stacy, Kirsten, Anthony, and Hagan (not pictured), as well as significant others.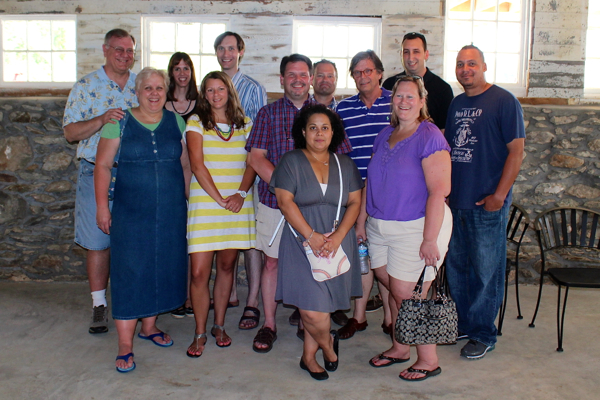 We all got to meet owners Andrew and Maryann Fialdini and Craig and Kim Garten and were given a tour of the facility. Also on tap was a wine tasting.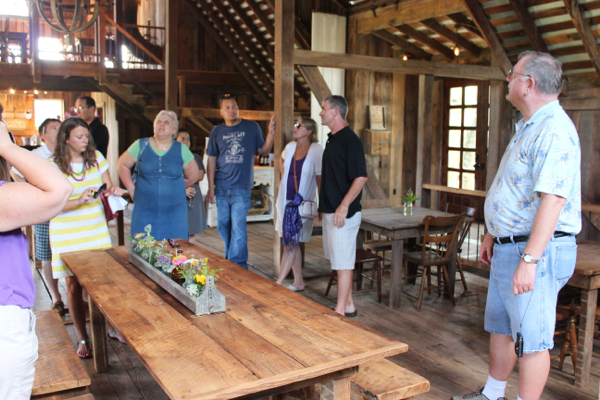 The winery and vineyards is located in Hamilton, and the tasting room itself is a restored barn that dates back to 1910. Additions to the barn/tasting room include a back deck and patio that overlooks a pond. Craig Garten conducted our tour and pointed out the various renovations to the barn; of particular interest was the cow stall that is now being converted to a cigar room. The deck and patio offer gorgeous views of majestic mountain landscapes that are just perfect with a glass of wine.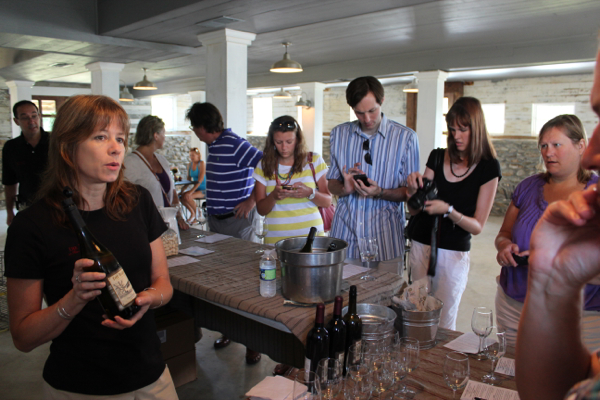 The tasting was given in a basement-level room, and seven wines were offered for tasting. All were from the 2011 vintage, and renowned winemaker Michael Shaps produced them. Grapes are currently sourced from the Charlottesville area, but the future plan is to produce wine from estate grown grapes. Both of the white wines were very nice; Paul favored the 2011 Chardonnay with its abundant apple and pear flavors, and I preferred the vibrant 2011 Viognier and its notes of stone fruit and melon. Crisp with a nice mouth feel, it was a classic Virginia Viognier. Of the red wines, we both enjoyed the 2011 Cabernet Franc. It presented flavors of raspberry and cherry as well as earthy/spicy elements. Buy now to enjoy with grilled summer fare, burgers, or pizza! Merlot lovers might prefer the smokier 2011 Merlot that was aged in both French and American oak. Its dark cherry and plum characteristics and spicy finish should make for a match with steaks.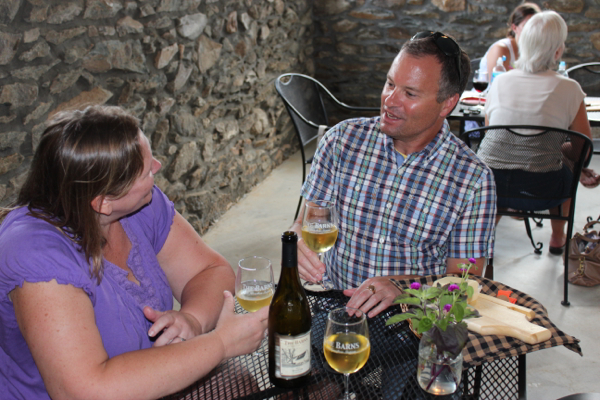 With our tasting completed, Kirsten Rarich Gunsolus of CellarBlog invited us to share a bottle of the 2011 Viognier with her, and this we did over a cheese plate and fresh bread. Andrew Fialdini also joined us for a chat, and we were able to glean from Andrew the future goals for Hamilton Station Vineyards. Of course, a continued focus on the vineyards is highest on the list with the intent to produce grapes from estate grown grapes. Of course, this will take time since vines typically need at least three years before their grapes are mature enough to produce quality wines. Another goal is to increase production to 3000-4000 cases per year; current production is less than 1000 cases. Finally, the owners want to create an atmosphere at the Barns that encourage friends to gather, relax, and savor the various sensory experiences offered by the wine, food, views and vistas. In fact, weddings have already been booked at the Barns.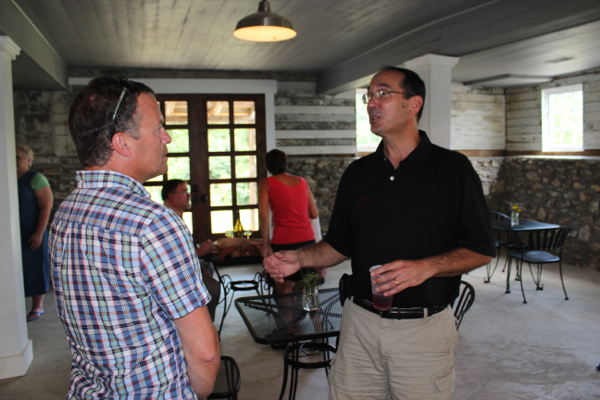 Needless to say, we will return to The Barns at Hamilton Station Vineyards to check up on the latest developments. In the meantime, we encourage readers to visit for a tasting; remember to tell them Virginia Wine Time sent you.