This post should have posted a couple of weeks ago, but out of respect for Virginia Wine month we waited until November to write it.  On our way back home from the bloggers meet up on the Eastern Shore, we decided to follow the grape signs along the highway to Bordeleau Vineyards and Winery. Our experiences with Maryland wines are very limited so we were anxious to see what Bordeleau Vineyards and Winery had to offer.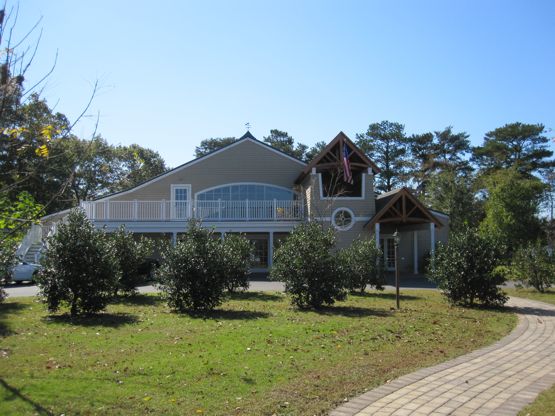 I must say that the grounds are stunning and offer a breathtaking view of Chesapeake Bay.  We made a decision to spend time appreciating the bay vista regardless of the winery experience, but we were also eager to sample the wines.  The white wine offerings were the strongest with the Chardonnays topping the list.  The crisp 2008 Unoaked Chardonnay was Paul's immediate favorite, and it offered a pleasant nose of citrus and pear. An easy sipper, it could also pear well with salads and light cheeses.  The 2007 Chardonnay Reserve provided a more food friendly option.  Aged in French barrels for twenty-one months, it presented pear aromas and flavors with some hazelnuts on the nose.  With the oak-aging, a creamier, honeyed texture was inevitable.  Serve with any dish that includes a cream sauce!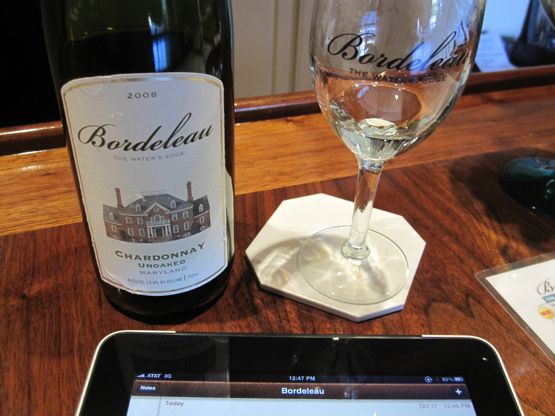 Of the red wines, the Meritage NV held the greatest potential.  Dark cherry and brambleberry characteristics led to a spicy, tannic finish.  This one could age for a couple of years and should pair well with beef, lamb or game meats.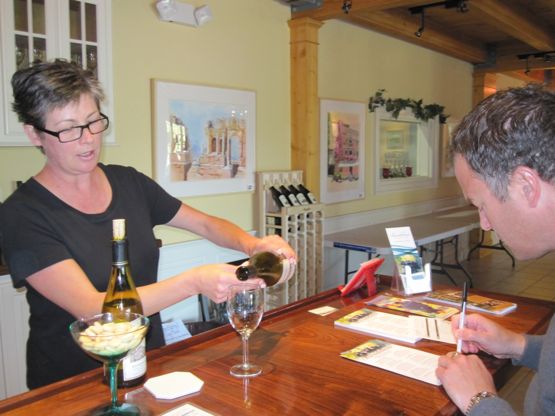 As we tasted away, we learned that owner and winemaker Tom Shelton planted the property's twelve acres of vines in 1999.  In 2008, the winery became the first to open in Wicomico County.  Tom is dedicated to producing small quantities of quality wines, and plantings include Pinot Gris,Sauvignon Blanc, Charonnay, and most of the red  Bordeaux varieties.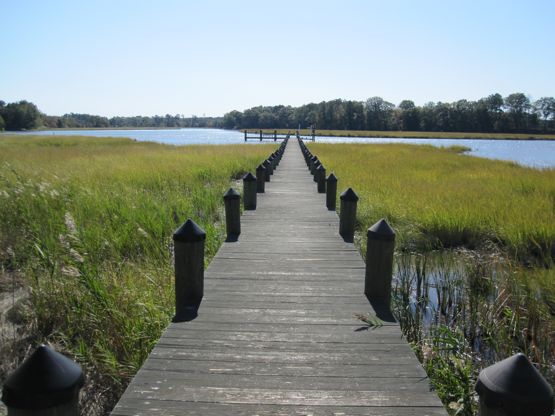 With our tasting done, we opted to share a glass of the 2007 Chardonnay Reserve, and we made good on our promise to explore the grounds.  We walked down the pier and spotted water fowl as they enjoyed a crisp autumn swim in the Bay.  It was a sunny but brisk afternoon, and we made sure to take in every inch of scenery.  
We hope to continue our forays into Maryland wine country, and readers should do the same.  Planning a visit to the Eastern Shore? Stop by Bordeleau Vineyards and Winery for a tasting, and mention that Virginia Wine Time sent you.