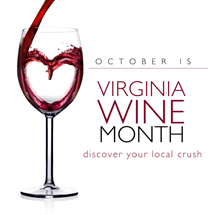 We began Virginia Wine Month with posts about the upcoming Bluegrass Festival at Chrysalis Vineyards and our decision to kick off the special month a day early by enjoying a picnic with the crisp 2011 Seyval Blanc from Gray Ghost Vineyards. However, before we go further into the month, I do want to conclude our recap of visits to wineries in the Monticello area. So pretend that it's still Labor Day weekend and read on!
Barboursville Vineyards: I always look forward to a tasting here, and no, the assembly line tasting process does not bother me at all. The wines here are consistently well made, and we always leave with a bottle (or two or three) of something. Favorites here: of the white wines, Paul liked the stainless steel Chardonnay, and I preferred the oaked Chardonnay Reserve. No surprises here, right? We did, however, concur on the Rose 2011 with its refreshing crispness and strawberry flavors. We recently enjoyed this one at Open Kitchen, too. Red wine faves included the Sangiovese Reserve 2010 for Paul, but for me it was the Cabernet Fran Reserve 2010 with its big raspberry, plum and cedar elements. Of course, the Octagon is always in a special category, and the 2008 vintage is noteworthy for its complexity and aging potential. Sharing a space in the special category is the Malvaxia Reserve 2007 with its rich palate of pineapple, apricot and honey.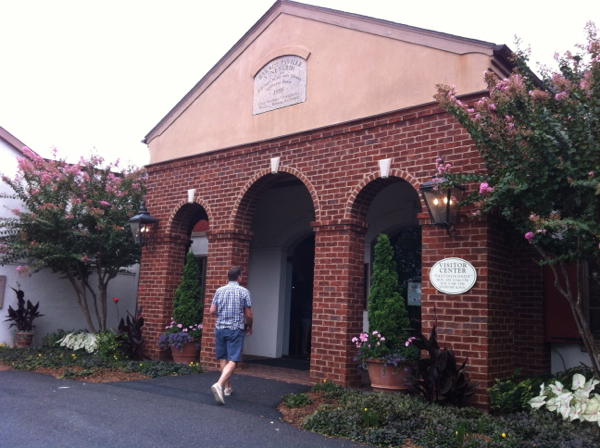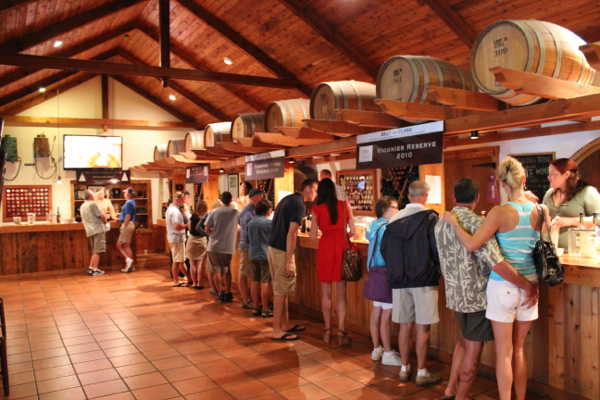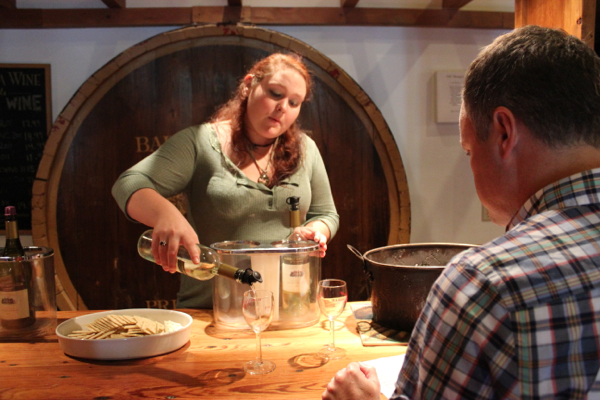 Keswick Vineyards: Stephen Benard is a master winemaker, and a tasting here is another always on the "must do" list when we visit the area. Paul was a fan of the dry 2011 Rose with its vibrant acidity and red berry flavors. I liked this one too, but I am always a sucker for Old World-style Chardonnays. The 2011 Chardonnay was my winner. Fermented in both stainless steel tanks and new French oak barrels, I noted flavors of pear, pineapple and butterscotch with a honeyed mouth feel. Of the red wines, we both agreed on the 2010 Merlot. Paul the Merlot fan gravitated toward the complexity of this one; oak notes complimented rather than dominated the nose and palate. Dark cherry and raspberry flavors melded with a chocolate kiss; tannins were still a bit gripping but not unpleasantly so. Buy now and either decant or age. We bought bottles of each favorite.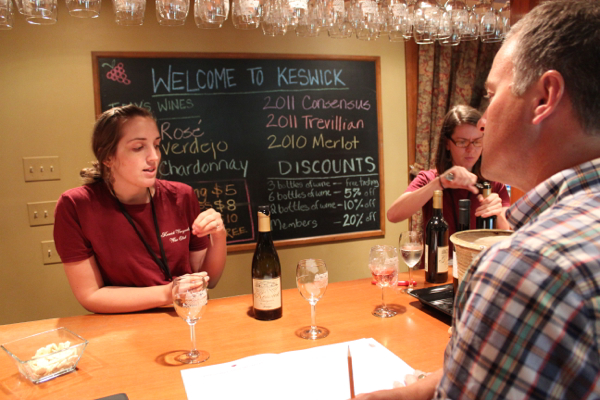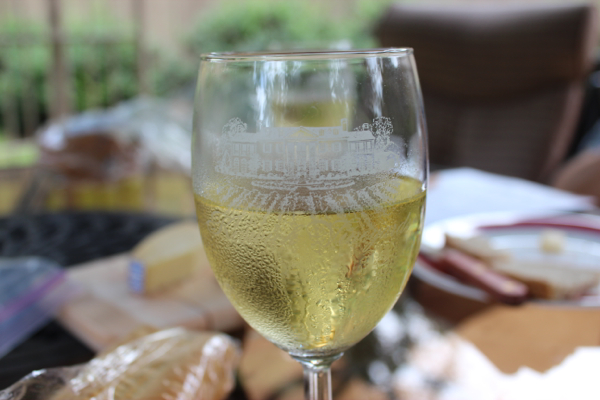 Kilaurwen Winery: A first visit for us. We were able to taste the fruity Fiesta White, a mix of Rkatsetelli (96%) and Viognier (4%). A fun summer wine, we noted flavors of peach and citrus. At 2 ½% residual sugar, it was bright a fruity. Paul enjoyed the 2010 Cabernet Franc with its elements of blackberry, dark cherry, black olive, and pepper. I was more intrigued with the 2010 Cabernet Franc Reserve that was aged in American oak barrels for 8 months. Earthier elements prevailed here with notes of anise and violet. Owner Bob Steeves conducted our tasting, and we found out that the name of the winery is actually a blend of his daughter's names, Kimberlee, Laura and Wendy. Steeves has maintained the vineyard since he purchased it in 1994; his first vintage, though, was bottled in 2009. His flagship varietal, Riesling, was sold out and therefore not available for tasting; however, we did learn that his Cabernet Francs have earned numerous medals and even beat a California Cabernet Franc in a blind tasting!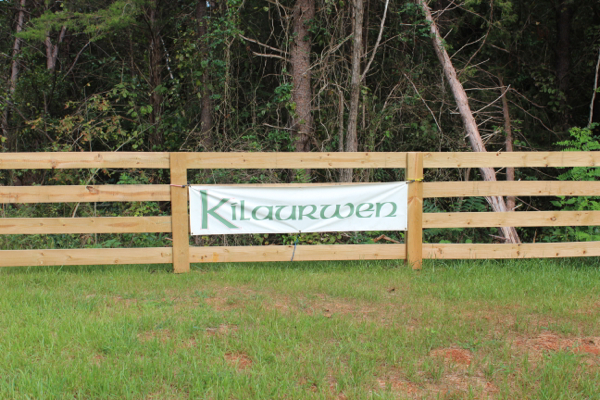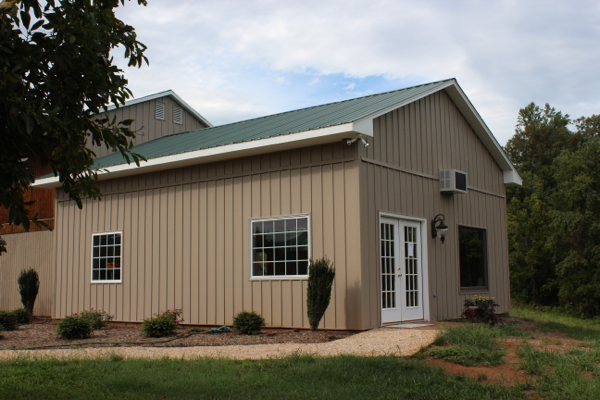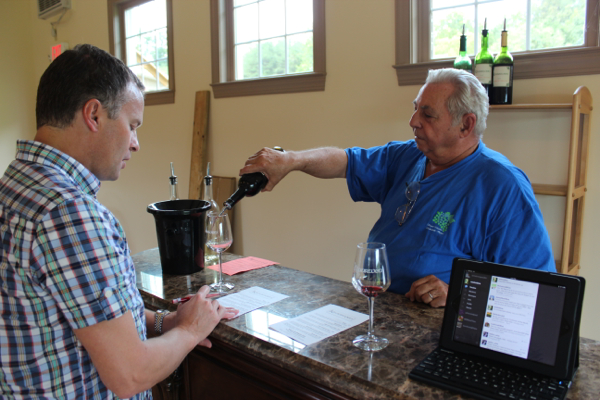 Stinson Vineyards: This was our third visit to Stinson Vineyards, and we both enjoyed the 2011 Sauvignon Blanc. Fermented in a concrete egg (that looks like an atomic bomb), it presented aromas of grapefruit and cut grass. Our red wine faves included the complex 2010 Meritage with its smoky nose and aromas o blackberry and raspberry; dark fruit flavors gave way to a peppery finish. If cheesecake is on the dessert menu, try pairing it with the 2010 Petit Manseng. Petit Manseng seems to have a characteristic unctuous mouth feel, so at 9% residual sugar this offers a fuller mouth feel in spades. Notes of orange peel and sesame makes added to the profile, and this dessert wine presents a nice way to end a dinner party.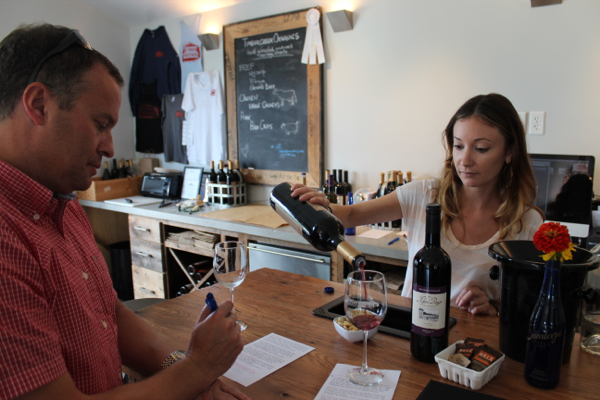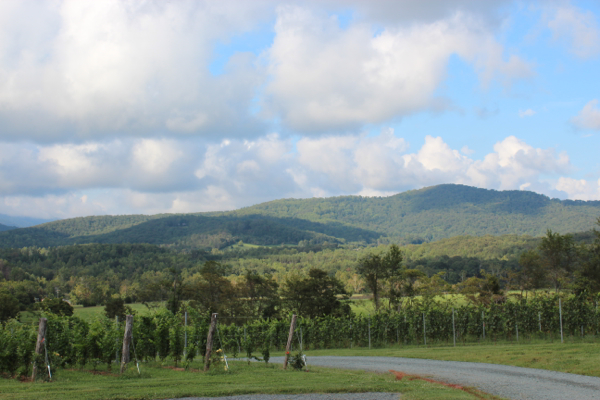 We always enjoy a trip to wineries in the Monticello area. Visit these wineries during Virginia Wine Month to select your own favorites. Please mention that Virginia Wine Time sent you.