Paul and I opted not to travel too far this summer and decided instead to enjoy summer fun in the local area. For us, this always includes a visit to Virginia wine country, and our focus this past weekend was the Monticello AVA. Read on to discover our favorites at the wineries which we visited.
Day 1 of our trip included tastings at three wineries: Keswick Vineyards, First Colony, and Michael Shaps Wineworks.
Keswick Vineyards: Stephen Barnard is one of our favorite winemakers in the state, and our tasting here is one that we always anticipate with eagerness. A summer hit for any crowd or event has to be the 2016 V2, an blend of Verdejo (80%) and Vidal Blanc (20%). Its fruity palate makes for a wine that is perfect on its own on a very warm day or with light cheeses and a baguette. My personal favorite was the 2015 Signature Series Reserve Viognier with its pear and tropical fruit notes. A fuller mouth feel makes this Viognier a perfect complement to any dish that features a cream sauce. Serve with seafood, poultry or pork and accompany with a mango relish—-an ideal match at the dinner table! Of the red wines, it was easy to enjoy the superb 2014 Cabernet Sauvignon Reserve with its smoky aromas and flavors of black currants, dark plums and oaky nuances. Sparkling lovers should also try the Amelie Black label Chardonnay and the Amelie Sparkling Rose made from the Norton grape.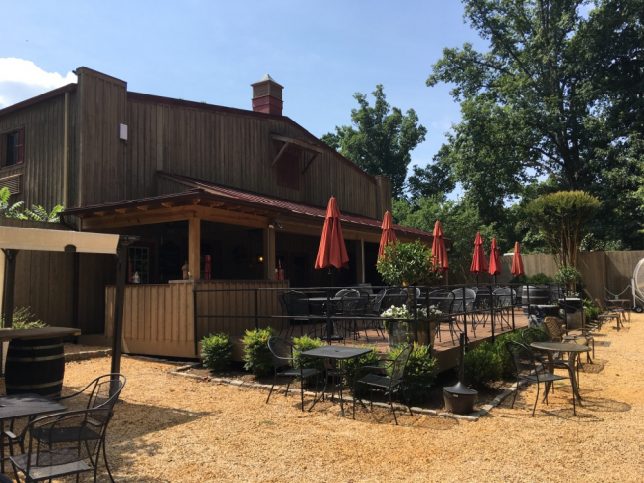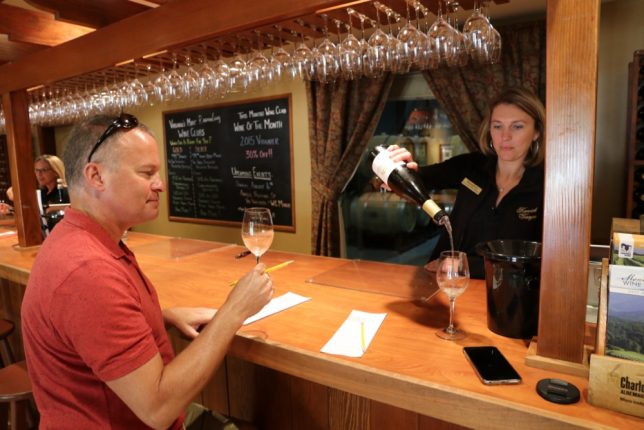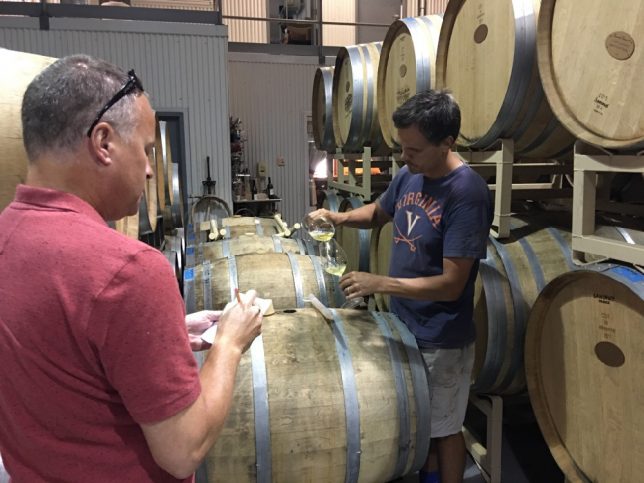 After our tasting, Stephen Barnard invited us to taste a few wines still in barrels in the barrel room. We tasted 2016s of Chardonnay, Estate Reserve Cabernet Sauvignon, a Cabernet Sauvignon and Cabernet Franc blend and a 2015 100% Cabernet Sauvignon which was Paul's favorite from the barrels. When asked about food and wine pairings, Stephen had this to say:
First Colony Winery: This was our second tasting on Day 1, and I must admit that we were pleased with the improvements in the winemaking here. Gavin Baum, assistant winemaker, conducted our tasting (and answered our pesky questions, too!). The 2015 Riesling Reserve can be described as summer in a bottle with its floral aromas and notes of peach and orange zest. My nod for favorite white wine was the Burgundian-style 2015 Chardonnay Estate Reserve; I appreciated its aromas of chamomile, lemon zest, and wet stone. Shellfish came to mind as a food pairing—-oysters, scallops, crab, etc. Paul preferred the creamier 2016 Viognier with its peach notes and mango/tropical fruit flavors. Our favorite red wine was the 2015 Meritage; buy now but enjoy later with a fall or winter menu. If impatient, serve with grilled steaks and roasted veggies.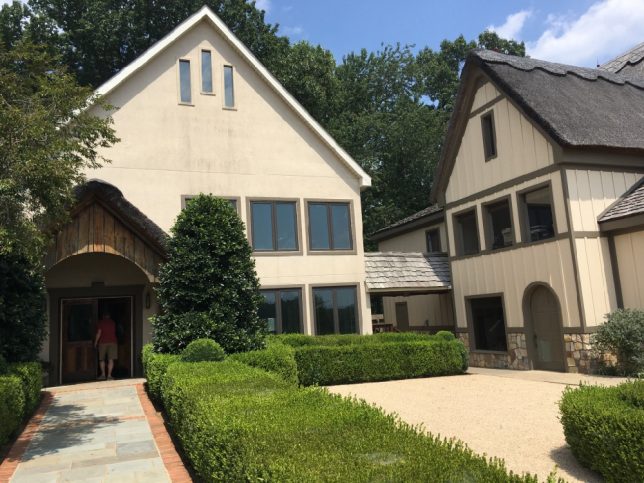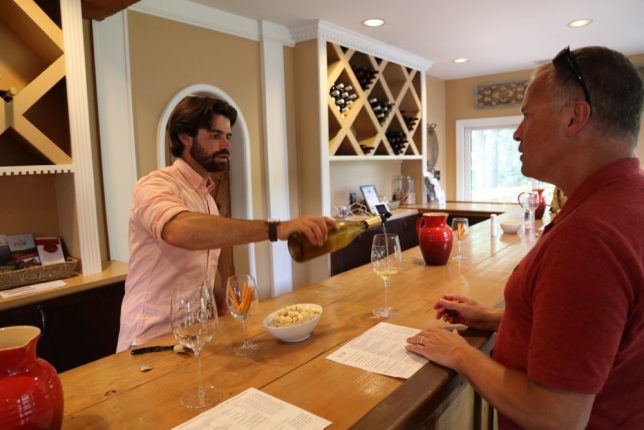 Michael Shaps Wineworks: Our last tasting for the day—-I look forward to Shaps' Viognier whenever we plan to visit the Wineworks, and the 2016 vintage did not disappoint. Peach and wet stone characteristics were complemented by a fuller mouth feel and tropical fruit palate. Paul was captivated by the 2015 Merlot and noted its elements of smoke and dark cherry; he made note of its rounder mouth feel and commented that he would enjoy this Merlot with grilled lean beef. Michael Shaps also crafts wines from his Burgundy vineyards, and Pinot Noir lovers should enjoy the lighter-bodied 2014 Savigny-les-Beaune with a variety of food options to include grilled chicken, herbed pork chops, or a simple platter of sliced deli meats and cheeses.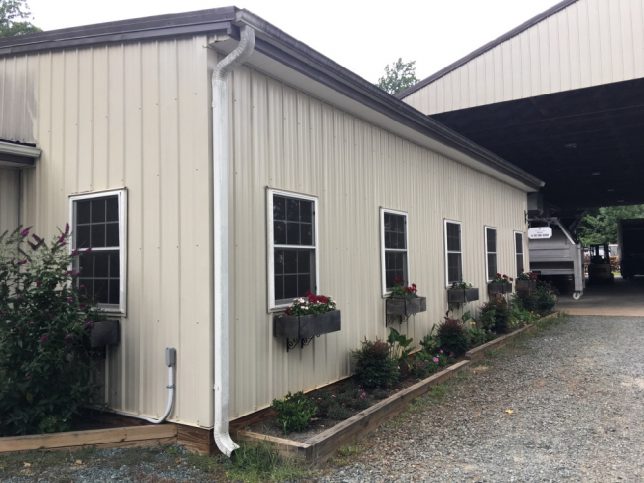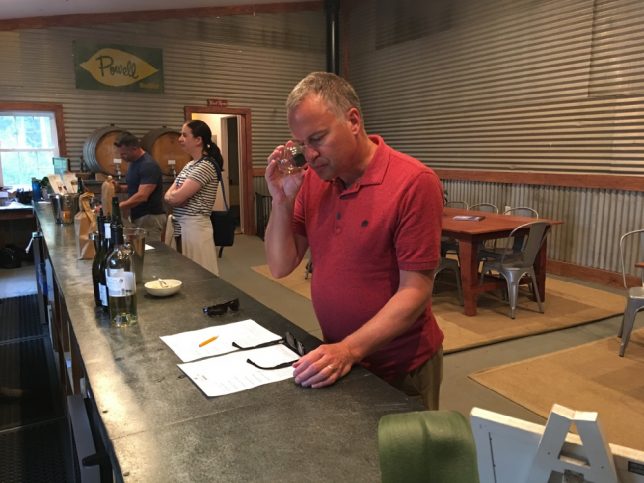 Day 1 of our tasting through the Monticello AVA was our favorite of the trip. We made certain to purchase bottles of our favorites to enjoy at home. Be certain to visit these Virginia wineries to collect your own favorite pours; however, be sure to mention that Virginia Wine Time sent you!