So we continue to ask winemakers their assessment of the long-lasting winter and its possible impacts on the 2014 growing season. In this installment, winemaker Jake Busching of Grace Estate offers opinions.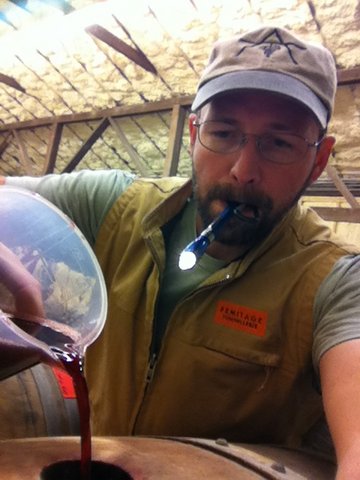 1. This has been a winter of long-lasting, record-breaking cold weather. This week's temperatures plunged to below zero in much of Virginia. Are you concerned about stress to the vines? Have you changed vineyard management (i.e. pruning) as a result?
Winter cold has to reach serious extremes (well, by Virginia standards, said the Minnesotan…) to damage grapevines. Most vinifera isn't damaged until you get down to temperatures close to -4F. Buds go first then damage to the vascular system can occur. Luckily here at my site our low was only -1F. I've checked buds in the vines by slicing into them with a knife to see if they are still green following the coldest days we've had and so far we are in good shape. Areas of NOVA and all states north of us are going to see bud and cane damage this spring. February 5th, 1996 saw temperatures as low as -22F in areas around Monticello AVA many vineyards were killed down to the snowline that night. A fellow winemaker in NY state reports losses in excess of 80% this spring as they had temperatures around -12F. In that situation you hope the snow was deep enough to shield buds in the trunks so you can start new growth without having to replant an entire vineyard!
The beauty of a cold snowy winter for growers, besides fireside evenings and sledding, is a plentitude of ground water coming into spring and a natural extermination of some vineyard pests. We have bugs like Spotted Wing Drosophila fruit flies and vine diseases like Pierces Disease which are both killed off at repeated temperatures below 7F which means we are going into a vintage where bugs will have to reinvade from the south. Perhaps this will allow vines to recover and put less pressure on us in the fall for protecting our fruit from damage.
We had a very good grapevine growing summer last year. 2013 had lots of moisture and thus, vigor, which allows the vines to uptake and translocate food into storage for use this spring. I am expecting good vine growth and a heavy crop this year, frost willin and the creeks don't rise…
2. Early bud break is always a concern when it occurs; however, are there worries about a later bud break? What is the optimal time for bud break? (The cherry blossoms are scheduled to bloom much later this year due to the long-lingering winter.)
Bud break has been early for many years now. Back when I started taking care of vines in the mid-nineties budbreak in Chardonnay was expected around April 9th. It is my opinion that bud break doesn't really happen 'late' as the sun always runs on time… I would love to see bud break begin on April 5th every year. However, we've lately become accustomed to buds waking up as early as march 19th on some sites which creates weeks of fear of frost damage or even cold damage. The only down side to a normal bud break period is if we have a cool, cloudy summer and our ripening energy is slowed or shadowed in our red wine vineyards. This delaying action can push harvest dates into late October when the vines are naturally shutting down and stopping work on ripening fruit. Then all we have to increase quality is hang time which is mostly dehydration to concentrate fruit flavor.
3. Now that the 2013 harvest is history, how is the 2013 vintage shaping up, and what are the comparisons to past vintages?
Now that my red wines have been racked and my early wines are in bottle, I am happy to say that 2013 was, for the most part, an excellent vintage. The summer long supply of rain had us on the ropes all year until, against all Virginia weather logic, we had a drought through harvest. The result of that weather pattern was early season varieties having slightly less concentration, mid-season varieties being good to very good and late season varieties being excellent. We are looking at red wines with early season elegance and late season structure for 2013. I am looking forward to blending this year and playing mixologist with varieties like Tannat and Petit Verdot. The bottled wines are showing very well with nice acid to mouthfeel balance and beautiful floral qualities. I finally made a rose that I respect in 2013 as well from some early pick Merlot with a bled lot of Tannat added for depth and complexity.
Plan a visit to Grace Estate to taste Jake's excellent wines; in fact, we did just that this past weekend. What were our favorites? Check in next time to find out. If you get to Grace Estate before our next post, mention to Jake that Virginia Wine Time sent you!