Before heading to the Breaux Vineyards Merlot Vertical Tasting on Saturday afternoon (which we'll post about early next week), we decided to stop at the Hunter's Run Wine Barn. We heard about the barn from Lori and Jim Corcoran before. Currently the Wine Barn serves Corcoran Vineyards wines. Knowing this we were quite familiar with the wines.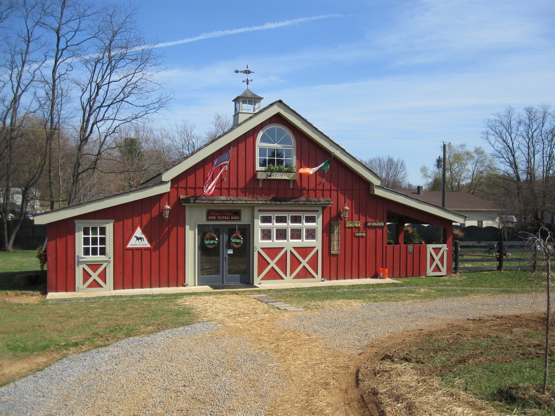 The owner of the barn, Geri Nolan, conducted our tasting. Of course we started with the whites. We tasted the 2008 Viognier, the 2008 Chardonnay, and the 2007 Seyval Blanc. All of the whites were lovely wines but our gold star went to the 2008 Viognier. We noted honeysuckle on the nose with melon and peaches on the palate. This is one of our favorites.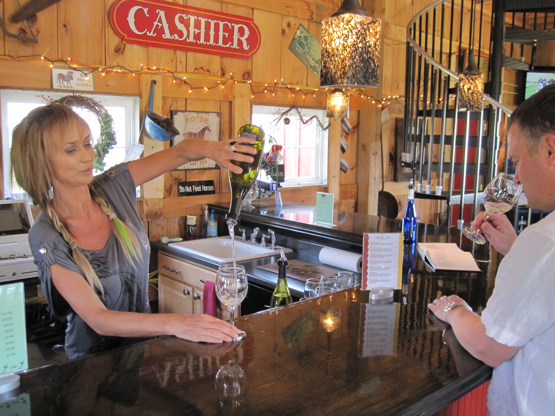 With our gold stars still in hand we tasted the reds. We sipped on the 2007 Chambourcin, the 2007 Cabernet Franc, the 2008 Malbec, and the 2007 Meritage. Our gold stars went in different directions at this point. Warren stuck his on the 2007 Meritage. He noted concentrated berries on his tasting sheet. I put my gold star on the 2008 Malbec. This was my favorite during out last tasting at Corcoran Vineyards. I wrote down dark cherry flavors with a touch of pepper and a nice finish.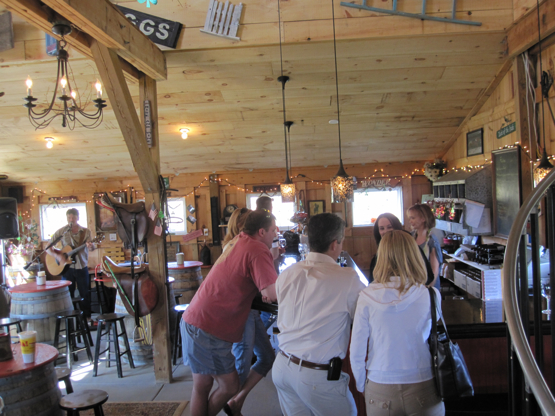 After our tasting we decided to enjoy a glass of the 2008 Malbec with some warm bread. The Wine Barn has a great atmosphere and everyone was having a great time. The place was hopping! While enjoying our glass and the delicious warm bread and the live music, Jim Corcoran came over and recognized us. We chatted with him for a bit and then he suggested we taste the new 2008 Riesling. Before we left Geri gave us a tasting of the riesling. Descriptors we wrote down were minerality, peachy, stone fruit, white pepper, clean with a light straw color. It's off dry with 1.5% residual sugar. We considered this one a great summer sipper. Nicely done!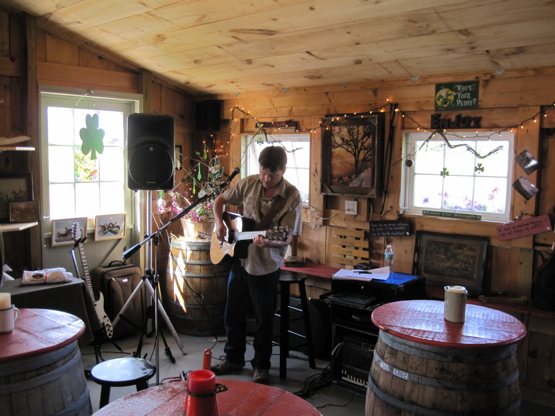 With our tastings done and our notes complete we said goodbye to the Wine Barn and headed off to our Merlot Vertical Tasting at Breaux Vineyards. We have a feeling the Wine Barn will continue to be a popular destination. It's right on RT 9 and close to other wineries. We think Geri, Lori, and Jim have a great thing going at the Wine Barn. Consider stopping by and tell them Virginia Wine Time sent you!