A few weeks ago, before the Drink Local Wine conference in Baltimore, we were cruising around Loudoun County visiting wineries when we decided to stop at Hiddencroft Vineyards. We hadn't visited Hiddencroft for quite awhile and things had changed. First of all we noticed they are no longer conducting tastings in winery. They now conduct the tastings in the Dutchman's Creek tasting house. The tasting house is a 1830s farm house that sits on the property that used to be adjacent to their original property. They acquired the property in 2011 and by Labor Day that year began conducting the tastings there. There are two tasting counters and with rooms on the second floor for larger groups. There is also a deck attached to the house where you can enjoy your wine and nibbles with beautiful views of the vineyard and surrounding property. The day we visited was sunny and warm and the views were wonderful. The deck was hopping with music and lots of visitors enjoying Hiddencroft wine.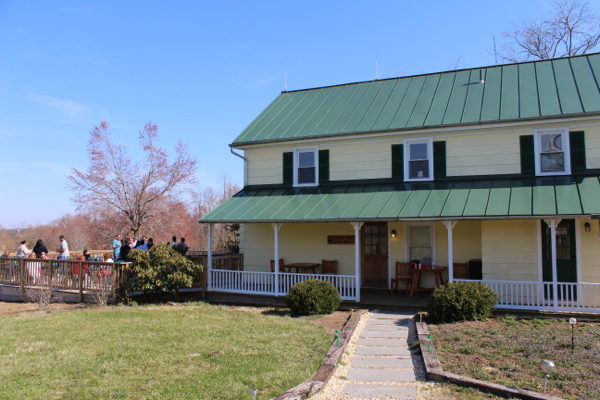 Owner and winemaker Clyde Housel conducted our tasting. We always enjoy tasting with Clyde. He doesn't mind our numerous questions about the wines, the vineyard, and what's new. We were able to taste the full lineup of wines and of course a few stood out as our favorites. We began the tasting with the 2011 Chambourcin Rose. We noticed the pretty pink color and notes of melon and spice. This would be a nice summer sipper for picnics and concerts on the lawn at Wolf Trap. Of the white wines our favorite was the 2011 Traminette Dry. It has a floral nose with hints of apple and tropical notes. We enjoyed the apple and white pepper notes on the tongue. There is also a semi-sweet version that would pair well with spicy dishes.
After the whites, we moved on to the lineup of red wines. While we thoroughly enjoyed the non-vintage Cabernet Franc and the Dutchman's Creek Blend, the standout red was the 2008 Tannat. This red was aged for 42 months on oak. We noted tobacco on the nose with smoke, berries, and a smooth long finish in the mouth. This maybe the best Tannat we've tried in the whole state of Virginia. This wine is usually only available to purchase by the bottle but Clyde let us enjoy a glass. We enjoyed the glass on the deck with the other Hiddencroft visitors enjoying the beautiful day. We enjoyed the glass so much, we decided to bring a bottle home with us.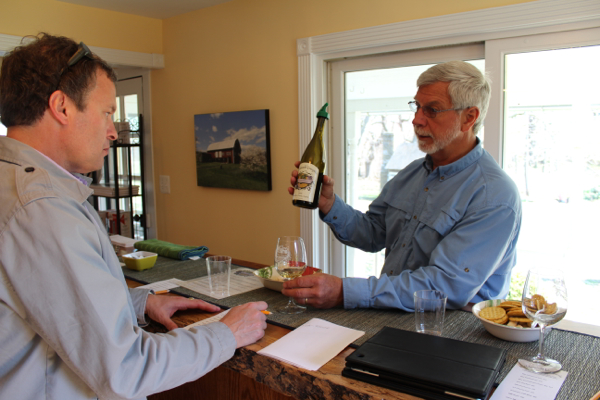 We simply can't let so much time pass before our next trip to Hiddencroft Vineyards. It's a little gem of a winery tucked away in northern Loudoun County that shouldn't be missed. If you haven't been to Hiddencroft Vineyards in a while, you need to plan to return. And when you do, tell them Virginia Wine Time sent you!