Now the weather has warmed up, we're officially back on the wine trail, and we celebrated an early spring-like weekend at Sunset Hills Vineyard.  We were impressed with the lineup of wines there on the last visit, and we were eager to sample the latest releases.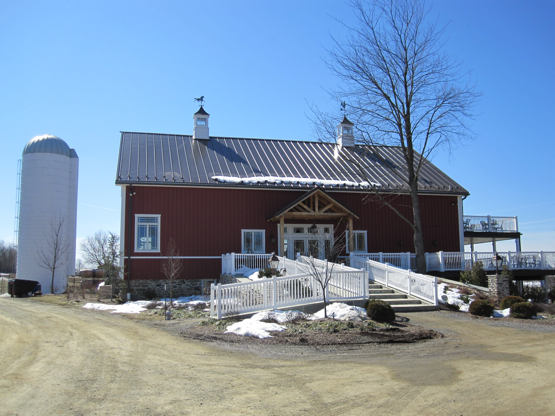 We continue to be pleased with the quality of wines produced at Sunset Hills, and we know that owners Diane and Mike Canney are dedicated to vigilant maintenance of the vineyards.  Winemaker Nate Walsh likewise remains committed to the craft of winemaking, and the results are evident in the bottle.  In fact, we were hard pressed to find any wines that were truly weak—all were well-crafted.  Our hardest choices were deciding which wines would earn the coveted gold star awards!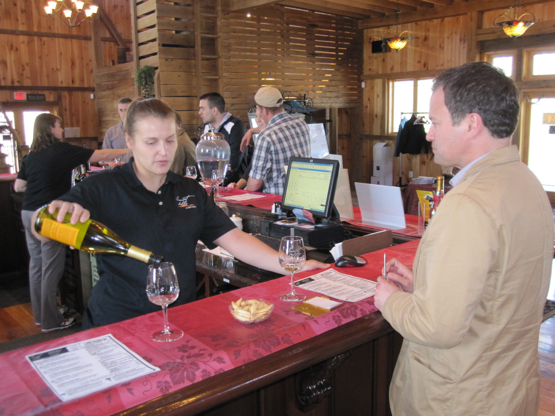 Our tasting began with the white wines, and tasting room manager Christine started us off with wine glasses and pours. The white wines were all very solid.  Paul's own favorite and gold star winner was the 2008 Unoaked Chardonnay.  Full pear flavors with a twist of citrus made for a pleasing wine, and the cold fermentation in stainless steel tanks made for a crisp wine. My own gold star, though, was presented to the bolder 2008 Reserve Chardonnay which was aged nine months in French oak. I noted ripe pear and honey flavors with a buttery texture—just my kind of Chardonnay!  Be assured that there was the requisite "toastiness" but not in an overwhelming sense.  I'd sip this one on its own but would serve the 2008 Reserve Chardonnay with poultry, pork or shellfish especially if cream sauces were involved.  Not to be outdone, though is the lush 2008 Viognier that is begging for a crabcake dinner.  Look out for the Sunset White which is a blend of 90% stainless steel Chardonnay and 10% Viognier that was aged in neutral French oak barrels.  Christine obliged us with a sampling of this very slightly sweet with (1.5% residual sugar).  This one should be a perfect summer sipper or picnic wine.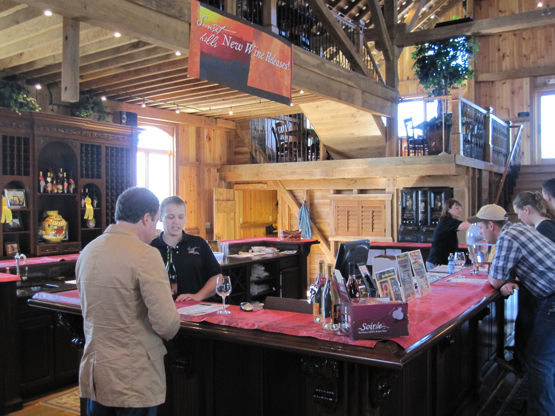 Before we moved on to the reds, Christine also surprised us with another sneak preview, and that was the Sunset Rose.  Here we found our Wolftrap wine!  We're big Wolftrap fans, and we're already stocking up on our concert wines—a bottle of this rose will be coming along for music under the stars.  Nate Walsh had been diligent in his preparation of this rose which he made from Cabernet Franc.  Its clear pink color suggested a crisper wine, and a .5% residual sugar provided a refreshing feel.  Cool strawberry and melon flavors were noted.
Now on to the red wines!  More solid pours and very tough decisions.  However, Paul did award his gold star to the lighter-bodied 2008 Benevino Cabernet Franc with its distinctive minerality and cherry flavors.  Easy to drink and perfect to sip on its own, the Benevino Cabernet Franc should also prove to be a pleaser with pizza or a sampling of dry meats and roasted nuts.  My own decision was likewise not easy, but I did end up favoring the 2007 Reserve Cabernet Franc with its layers of blackberries, raspberries, spice, and mocha.  Aged for 18 months in both French and American oak, it also presented a lengthier finish. I'd favor a leg of lamb with this one!  A close second for me was the 2007 Cabernet Sauvignon with its dark fruit characteristics and spicy edge.  Enjoy with a rib roast!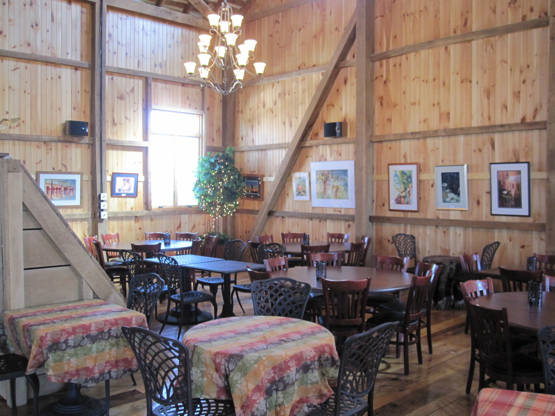 Diane Canney poured most of our red wines, and she was able to share with us the secret to Sunset Hill's success.  Diane and husband Mike place a priority on vineyard management, and they use such Old World methods as hand sorting to make certain that only quality fruit from the best lots are used to produce their wines.  They're also confident in their young winemaker, Nate Walsh, who began his career in the Virginia wine industry at Horton Vineyards.  Joined by a quality tasting room team, Sunset Hills Vineyards seems destined for even greater success.
Of course, we were hungry, and we opted to enjoy some of the viands from the "Lite Fare" menu offered at Sunset Hills Vineyard.  We selected the deli-style pepperoni with manchego cheese and crusty French break.  Our wine of choice?  The 2008 Benevino Cabernet Franc.  We enjoyed lunch and wine in the cozy Amish farmhouse that serves as the tasting room.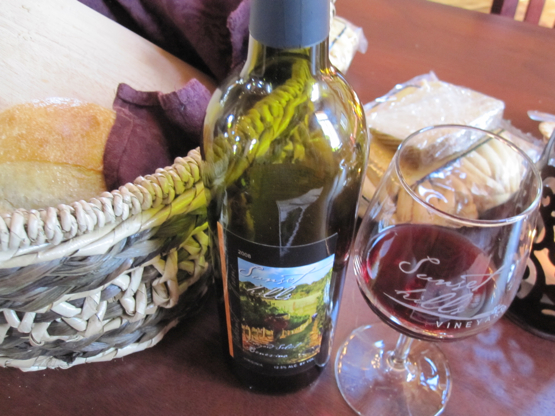 We left Sunset Hills Vineyard with several bottles of favorite pours, and we will return quite soon.  In fact, we plan to attend a blending session to be held next Sunday; so, stay tuned!  In the meantime, maybe we'll see some of our readers at Sunset Hills.  Be sure, though, to tell Christine or Diane that Virginia Wine Time sent you.