This post is devoted to the tastings we've done at other Loudoun County wineries in the past couple of weeks.  With the barrage of snow hitting the area, it's been hard to get out on the wine trails; however, we do keep material in reserve for just such occasions. 
Fabbioli Cellars—Always a treat to taste the latest pours here and to chat with winemaker, Doug Fabbioli.  As usual, the lineup here is impressive, and tasters cannot go wrong with any of the selections on Doug's tasting menu.  Winter sippers who are tired of heavy reds but not quite ready for white wines may want to try the 2008 Rosa Luna, a dry rose made from Sangiovese grapes.  Bright strawberry and melon flavors make for a fruity and versatile pour.  The 2008 Chambourcin is a raspberry delight in the glass; I'm picky about Chambourcin, but a bottle of this one ended coming home with me.  Doug is devoted to Cabernet Franc, and both the 2008 Cabernet Franc and the 2008 Cabernet Franc Reserve are gems.  The Reserve is aged longer in both French and American oak barrels, and the result is a bigger-bodied wine with extracted fruit characteristics and a lengthier finish.  Be sure to try the pear wine—we tasted this one out of the barrel last year and made a prediction that it was destined to be a crowd pleaser.  We were not disappointed.  Blended with a bit of brandy, the Aperitif Pear Wine needs only a cozy fireplace and a special someone.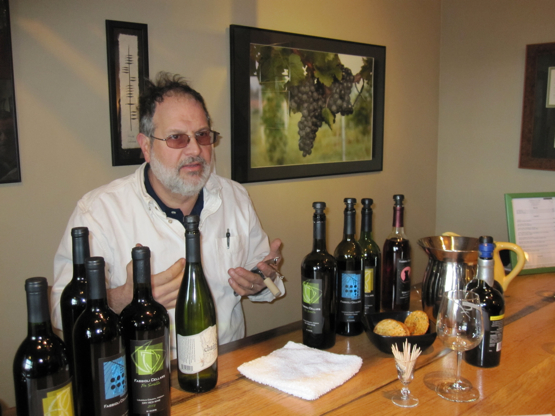 Tarara Winery—We had not been to Tarara Winery in quite a while, and the current pours are the handiwork of winemaker Jordan Harris.  We decided to participate in the premium tasting; it was 20 bucks a piece but worth the experience.  This tasting is conducted in a private tasting room that provides a spectacular mountain view, and participating palate are seated around an ample yet elegant dining table.  We were served a plate of snacks that would complement the pours, and we concluded that the premium pours were all quite solid.  Of the whites, my own favorite was the 2008 Viognier with its peachy nose and floral aromas.  Aged in French oak, this Viognier is a fuller-bodied white wine that should be a hit with shellfish; I make an herb-crusted turkey breast that would partner quite well with this one.  Of the red wines, it was hard to beat the Long Bomb Edition 2.  Violets and tobacco on the nose noted here with dark fruit in the mouth and nice tanning make this a natural partner with anything that moos.  Serve now if you wish, but decant first.  The Long Bomb Edition 2 is enclosed with a screw cap, so it can age for a while; however,  drink within the next 10 years.  The value pour of the event had to be the 2006 Cabernet Sauvignon.  At 20 bucks a pop, I thought it was worth every penny given its quality—plum and blackberry notes with spice and tobacco on the nose, here was yet another partner for a steak dinner beside a roaring fire.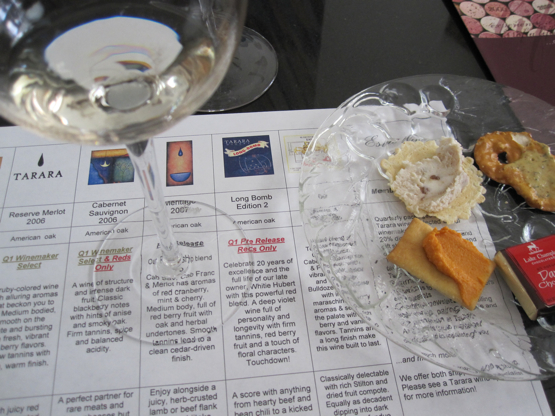 Corcoran Vineyards—We always look forward to seeing Lori in the tasting room and to sampling her latest pours.  I've always been a fan of her Chardonnay, and I was not disappointed with the apple-inflected 2008 Chardonnay that was aged in both stainless steel tanks and oak barrels.  Paul preferred the more floral 2008 Viognier.  "Dry" and "tropical" were his descriptors, and he noted that fish fillets would be a nice pairing with this one. We moved on to the red wines, and we both enjoyed the rich 2008 Malbec. I suspect that this one may have a cult following since very few Virginia wineries produce Malbec as a single variety much less at this quality. The 2008 offering from Corcoran Vineyards is quite good and packed with dark cherry and plum flavors with some mocha at the end.  We noted a lengthier finish, too.  Since it's wintertime (duh), serve now with roasted meats; however, save for later to pour with grilled steaks when the weather warms up. For a more complex and truly age-worthy wine, though, try the 2007 Meritage.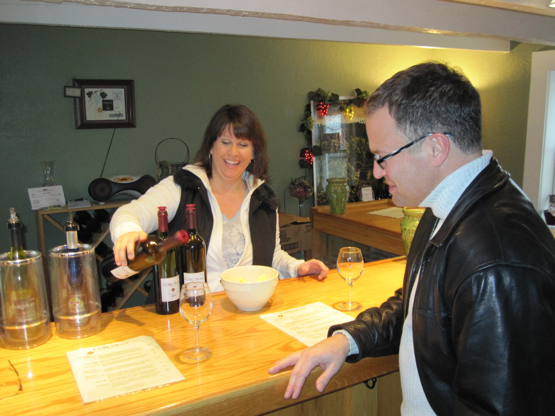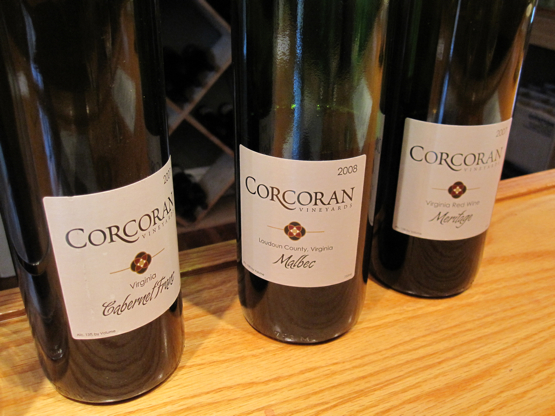 So when the snow lets up and you need to get out of the house, visit these outstanding Loudoun County wineries.  We promise to get back on the trail once Frosty the Snowman melts for good.  In the meantime, put these wineries on your "to visit" list; mention that Virginia Wine Time sent you.