So our extraordinary weekend at Williamsburg Winery included a four-course dinner prepared by chef Ika Zaken and held in the Wedmore Place's Café Provencal. The menu including wine pairings are presented here:
First Course:
Vol-Au-Vent—creamed mushrooms, puff pastry, port reduction
Paired with: 2011 Matthew's Chardonnay
Second Course:
Monk Fish with artichoke and Winter Green Risotto, snow peas, lobster cream
Paired with: 2013 Viognier (This was my favorite course and pairing of the night.)
Third Course:
Lamb Saddle with cannellini beans, baby kale, roasted tomatoes, lamb jus
Paired with: 2010 Trianon
Fourth Course:
Wild boar, daube provencal with carrots, pearl onions, forest mushroom, butternut squash polenta
Paired with: 2010 Adagio (ok—this ties with the second course as my favorite course and pairing of the night.)
Dessert:
Crème caramel with caramel sauce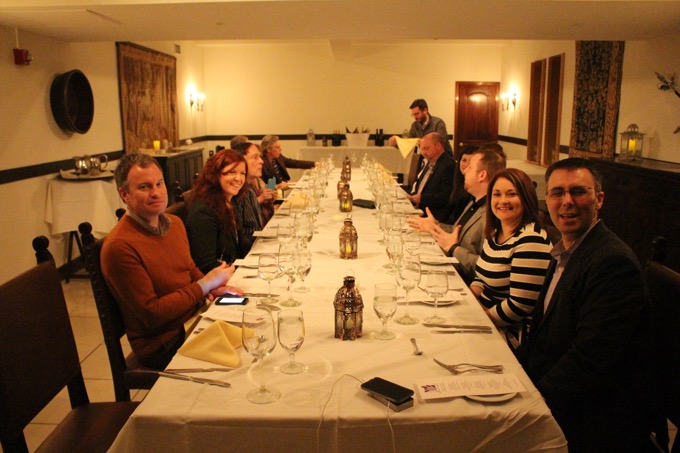 Our appetites were certainly sated after the day's culinary delights. However, a special word must be mentioned for the Wedmore Place and its wonderful staff. The Wedmore Place took us back to a colonial period but with modern amenities. Our room was decorated with period furnishing and warmed by a fireplace; the bathroom was first rate with refreshingly scented body products. Breakfast was continental style with the world's fluffiest croissants and a wonderful quiche that complemented fresh-brewed coffee. The Wedmore staff could not have been more polite and accommodating, and we look forward to a future visit to the Wedmore Place.
The 6th Annual Virginia Sparkling Tasting concluded our weekend of food and wine; however, before we left the Williamsburg Winery and Wedmore Place, I made certain to purchase a few bottles of our favorite wines. Looking for a local getaway that includes world-class cuisine, wines, and accommodations? Then plan a visit to Williamsburg Winery and then book a stay at the Wedmore Place. Of course, please mention that Virginia Wine Time sent you.