The last time we visited Stephen and Shannon Mackey of Notaviva Vineyards was March 2006. At that time they were concentrating on the vineyards. They had viognier and cabernet franc planted with plans to expand in the future. The plans for the tasting room were set and things were in motion to begin the construction. Since that time the tasting room has been built; in fact, they have bottled their first vintage of viognier! They have also planted an eighth of an acre of petit verdot. The 2007 Vivace Viognier will be available for purchase later this spring. Plan to purchase this one upon release, because it's very good!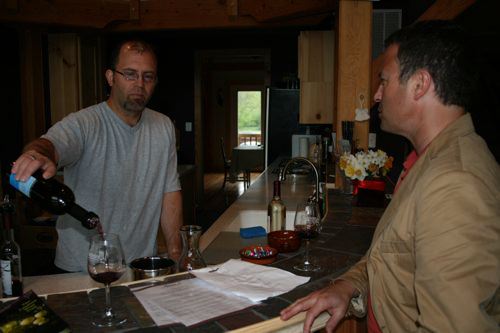 After chatting with Stephen about all the hard work they've been through over the last few years, we got down to tasting some wine. (Even though it was a rainy, chilly Sunday, it was warm and cozy inside the new tasting room.) We tasted the 2007 Vivace Viognier. Notable descriptors like crisp, grapefruit, and honeysuckle came to our minds, and it was a lovely first effort from a promising winery.
Notaviva is currently selling red wines from Fabbioli Cellars until they are able to produce their own reds. Their own 2007 Cantabile Cabernet Franc will be coming out late this fall. We anticipate this release. While we weren't able to taste the 2007 Cantabile Cabernet Franc, we were able to taste the Fabbioli wines. These included Fabbioli's Cabernet Franc, Chambourcin, Tre Sorelle, and his Raspberry Merlot. Doug's reputation as a skilled winemaker is well known, and his wines that we sampled at Notaviva are top quality!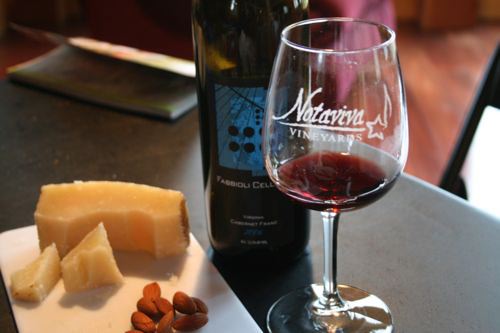 After our tasting we selected a bottle of the Cabernet Franc for lunch. We enjoyed the wine and our food while enjoying the views from the beautiful tasting room. Below you can see a video of tasting room. We think you'll agree it's beautiful. In the video you'll see the three levels of space. The very top level will be a performance area for music. The tasting room is nicely equipped with the latest in technology. There are HD TV's, a large HD rear projection screen, wireless internet and more speakers than we could count. The sound in the tasting room is amazing. Before leaving Notaviva, we purchased a few bottles of wine and were able to chat with Shannon and Stephen a bit more. They informed us that
HGTV
will be airing the series,
Dream House
, about the building of the tasting room at Notaviva. The series begins on July 5th at 7:00 AM. Be sure to check out the show and see what went in to creating this beautiful space. Notaviva is just one of several new wineries opening in Virginia. Plan a visit to Notaviva soon and mention that Virginia Wine Time sent you!
Click on the picture below to see a short video.