Last weekend we went to Piedmont Vineyards. It was the coldest day of February and we were hoping they would have indoor space to enjoy some wine and some nibbles. They have a very nice tasting room with a gas fireplace that was lit. We were pleased to see that considering how cold it was outside.
We did a tasting and were pleasantly pleased with their offerings. We then decided to get a bottle of their 2001 Reserve Chardonnay to enjoy with lunch. We chose a table near the fireplace and settled in to enjoy the wine and the nibbles we brought. The Chardonnay had a beautiful golden yellow color and had a nutty, toasty nose. You could easily taste pear and apple flavors and the time spent in the French oak barrel was evident. This Chardonnay paired well with our apples, almonds, white cheeses and crackers.
To extend our time at Piedmont we decided to have a glass of their 2004 Merlot with the chocolates we brought. The Merlot had a garnet color, was medium bodied, and presented berry and pepper flavors. The longer it sat on our table, the better it got. The dark chocolates we enjoyed really brought out the berry flavors. The 2004 Merlot is well worth a taste.
This is a photo of the tasting room at Piedmont Vineyards.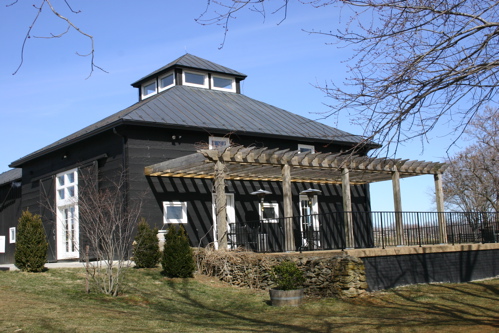 Here is a picture of the tasting room.