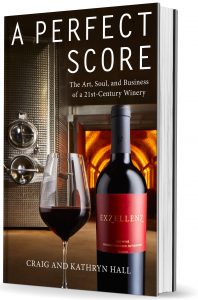 Are you a wine novice and interested in knowing more about wine and wine making process? Maybe you are an aspiring winemaker who wants to up your game to produce better wine. Or maybe you are the wine geek who always wants to know more about terroir or the finer details of making quality wine. A Perfect Score is the read for you. It presents the story of Craig and Kathryn Hall, owners of HALL and WALT wineries in California. Their journey into the world of wine and winemaking eventually earned them perfect 100 scores from wine critic Rob Parker.
How did they earn the perfect score? I pulled out four important ingredients that came together to produce perfection for the Halls:
1)Vision: Kathryn Hall grew up in California wine country, and her parents Bob and Dolores Walt owned a vineyard in Sonoma. She became a lawyer and in the 1990s was appointed by President Clinton to be the U.S. Ambassador to Austria; however, despite her career successes, Kathryn yearned to be back in the vineyard. Her husband, Craig, had been a successful business man and entrepreneur. Together, they agreed to combine their unique talents and areas of expertise to pursue the art of winemaking. Perfect Score takes the reader through the history of Napa as a winemaking region starting in the early 20th century and then into the groundbreaking years of the 1970s when California wines proved to be on par or better than wines from France. Of course, Napa wine trails are cluttered with well-established wineries; adding to the list in the early 2000s was probably taking a risk. However, the Halls established a goal to produce wines of high quality that expressed terroir, and this lead them to purchase the Sacrashe Vineyard in Napa Valley. They were determined that their wines would be unique and distinctive and unlike others found along the Napa trails.
2) Precision: As time would tell, the Sacrashe Vineyard proved to be the correct site for the Halls to realize their vision. They also grew varietals that were suited to their particular site in Napa, and these included Cabernet Sauvignon, Merlot, and Sauvignon Blanc. Their Sonoma site produces wines under the WALT label, and grapes grown here include Pinot Noir and Chardonnay. A team of expert winemakers that include Steve Leveque and vineyard manager Don Munk allowed the vineyards to express themselves in the bottle while utilizing organic methods that avoided interventions with chemicals.
3) Perseverance: Vineyard managers and winemakers are basically farmers; their crop depends a lot on mother nature. The consumer adds another layer of stress——will they embrace the vision by purchasing the product? Will their pocket books allow them to do so? The Halls had established themselves as players in the winemaking field by racking up 90+ scores by wine critics, but the Great Recession of 2008 demanded that wine drinkers who appreciated fine wine make sacrifices. Those sacrifices included wine. However, despite tolls that the economic downturn played on the wine business, the Halls remained true to their vision and their commitment to quality vineyard and winemaking practices. In the end, their perseverance to paid off as demand returned while the wines continued to score 90+ points.
4) Access: The Halls learned early on that potential customers could be found beyond those who scoured traditional wine industry media. They realized the potential in social media earlier on to create a welcoming presence for a growing legion of HALL and WALT fans.
So what were the results of the Halls' vision, precision, perseverance, and business acumen? A Perfect Score. In 2010, the HALL Exzellenz Cabernet Sauvignon earned 100 points from renowned wine critic Robert Parker. Parker then awarded 100 points to the 2013 HALL Rainin Vineyard Cabernet Sauvignon. Parker's tasting notes noted qualities in both wines that were unique to the sites where the grapes were grown; of course, 100 points must also be a testimony to expert winemaking and vineyard management.
A Perfect Score should prove to be an insightful and inspiring read for anyone especially those readers who have any sort of interest in wine, wine making, and the wine industry. It presents an intriguing story mixed with personal stories from both Craig and Kathryn. Give it a read so that you too can aspire to your own perfect score!