Yes, the last weekend in March brought with it a variety of weather phenomena. We checked the forecast that predicted sun and warmth then cold and rain for the weekend in preparation for our trip to the Monticello area. We were indeed prepared for anything that Mother Nature could throw at us. At it turned out, it never really got that warm, the sun never came out, and the weekend ended with unexpected snow. Oh well—at least we got to sample some excellent wines while we were there. Here is a round up of three wineries that we visited:
Barboursville Vineyards: Despite the cold drizzle, we went to Barboursville with spring in mind. Perhaps that is why we both enjoyed the Sauvignon Blanc Reserve 2013 with its notes of fresh boxwoods, lemon/lime, and shale. I also appreciated the Chardonnay Reserve 2012 that was barrel fermented and aged in oak for eight months. Pear and pineapple flavors were complimented by a fuller-mouth feel and lengthier finish. Rose lovers should checkout the dry Rose 2012 with its fruity palate and refreshing acidity. Regardless of the weather, the Cabernet Franc Reserve 2011 should be an option when considering a red wine for dinner. Classic berry elements merged with earthy nuances to present a well-balanced wine that should pair well with any grilled meats.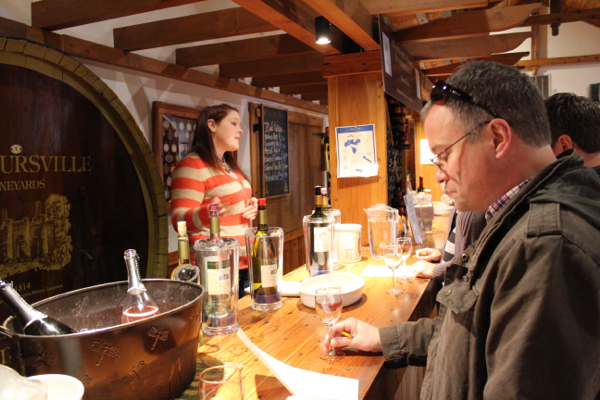 Blenheim Vineyards: It's always a treat to sample Kirtsy Harmon's well-crafted wines. All five of the wines that we tasted were quite good, and it was tough to pick favorites. We did reach some split decisions, though. Of the white wines, Paul preferred the White Table wine, a blend of tank aged Chardonnay (53%) and Viognier (47%). Peach notes and tropical fruit flavors gave way to a fuller mouth feel than expected. Quite elegant, too—this one should prove to be versatile either as a sipper in its own right or on the dinner table. My favorite was the more complex Painted White 2012. This blend of Viognier (44%), Rousanne (30%), and Marsanne (26%) was aged for 10 months in French, American and Hungarian oak barrels. It presented a floral nose with a whiff of white pepper; a flush of tropical fruit flavors swept the palate at the end. I also enjoyed the fuller mouth feel. Elegant and complex yet unpretentious—the current label for the Painted White features something that resembles a mosh pit! The crisp, dry Rose 2012 featured strawberry and citrus characteristics; we love these kinds of Roses during the summer! Of the red wines, Paul preferred the Petit Verdot 2012 with its rich dark fruit and blueberry notes; I opted for the Painted Red 2012 (maybe I was taken back to a younger time when mosh pits were a regular part of my social life.) This blend features a twist of Mouvedre (3%); I noted scent of violets with a berry mix of blackberry and blackberry in the mouth. Other components of this complex blend are Cabernet Franc (29%), Merlot (29%), Petit Verdot (18%), and Cabernet Sauvignon (18%). We had the chance to chat with Kirsty about all things wine. She also let us sample the 2013 Sauvignon Blanc. Melon and Kiwi were notes we jotted down. It's always fun chatting with Kirsty! Paul even joined the wine club during this visit. We'll have Blenheim wines all year round!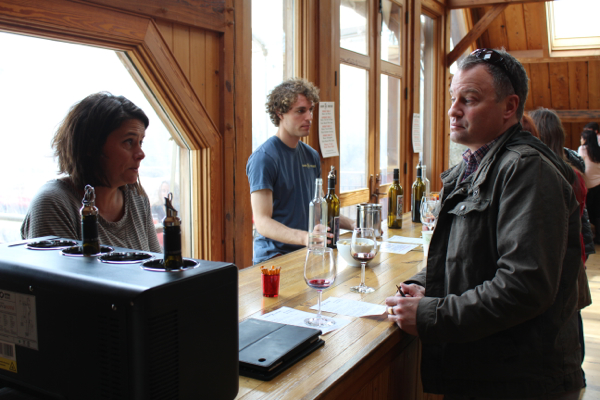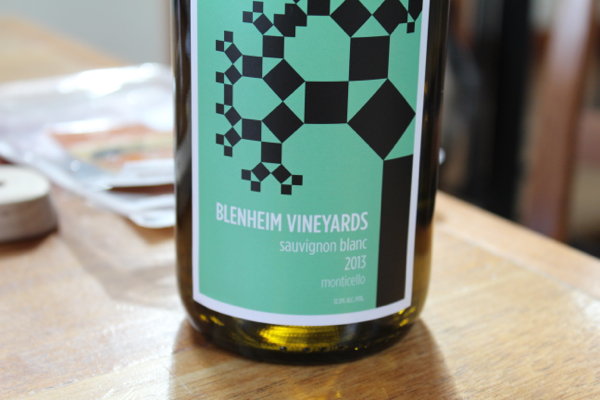 Cardinal Point Vineyard and Winery: A steady rain did not deter us from visiting Cardinal Point Vineyard and Winery. The Green 2012 should prove to be a hit for the spring and summer. Petit Manseng (50%) and Chardonnay (50%) were co-fermented to achieve a crisp wine with grapefruit aromatics and flavors. Serve wellchilled and enjoy with shellfish. Paul is always a fan of the A6 , and this time was no exception. A blend of Viognier (59%) and Chardonnay (41%) makes for a richer wine with flavors of ripe pear and stone fruit; a hint of mineral on the finish was also detected. Grilled fair should pair well with the earthy 2012 Clay Hill Cabernet Franc with its cherry and raspberry flavors; expect a spicy finish, too. We both enjoyed the union 2012, a blend of Petit Verdot (72%), Cabernet Franc (17%), and Tannat (11%). Initial aromas of tobacco and coffee gave way to blackberry and plum notes with a tannic finish. Serve with a meaty steak and roasted mushrooms! Towards the end of our tasting Sarah Gorman arrived. We had the chance to sit and chat about what's going on at Cardinal Point. We enjoyed the new deck at Cardinal Point. While it was raining that day, we could see how it would be a great place to enjoy spring and summer wines. Thanks for the chat Sarah!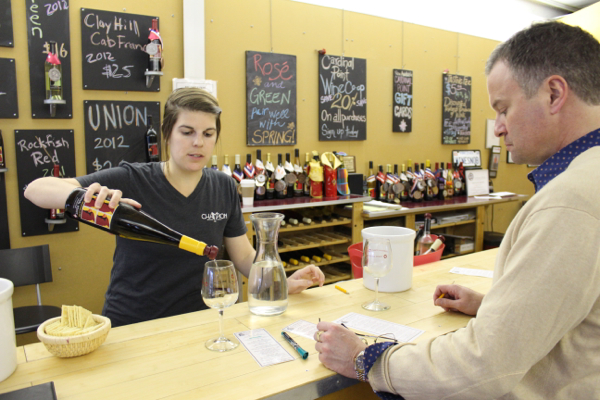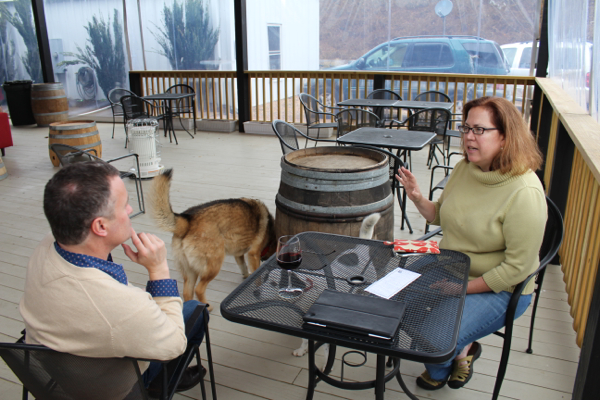 Check in for our next post to find out which other wineries we visited during the topsy-turvy weather weekend. In the meantime, plan to visit these wineries now that warmer weather and spring blossoms are in full swing. Mention that Virginia Wine Time sent you.