We last visited Granite Heights Orchard and Winery last summer and were impressed with the winemaking philosophy of winemakers and owners Luke and Toni Kilyk. We were also pleased with the wines that we tasted. This time around we noted a continued dedication to excellent winemaking, vineyard management and tasting room experiences.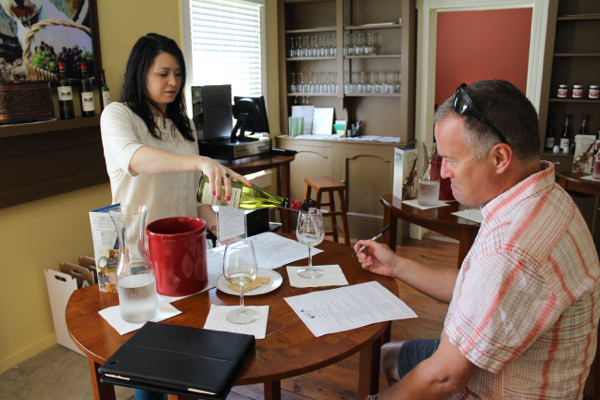 Two new white wines were added on the tasting menu since our last visit, and these included a crisp 2012 Chardonnay that was fermented and aged in stainless steel barrels. Apple, pear and citrus elements prevailed, and its refreshing acidity made it an easy sipper. The 2011 Petit Manseng was likewise fermented and aged in stainless steel barrels with no malolactic fermentation. We noted ripe tropical fruit and pear characteristics with a fuller mouth feel than the Chardonnay. Residual sugar of around .5% elevated the fruit flavors without the cloying sweetness.
Two new red wines were also released this year, and these included my favorite, the 2009 Evening Serenade and Paul's fave the 2009 End of the Road. The 2009 Evening Serenade is a blend of Merlot (84%) and Cabernet Franc (16%) and presented a smoky nose with flavors dark cherry and blackberry. End of the Road is a blend of Cabernet Franc (84%) and Cabernet Sauvignon (16%); Paul detected a smoky nose with notes of sweet tobacco; currants and plum flavors were also appreciated. Of course, it is still summer, and red wine drinkers may be more inclined to enjoy a rose instead. The 2012 Rose is dry (yay!) and made from Merlot grapes; nice strawberry and melon flavors and a crisp finish made for an enjoyable wine.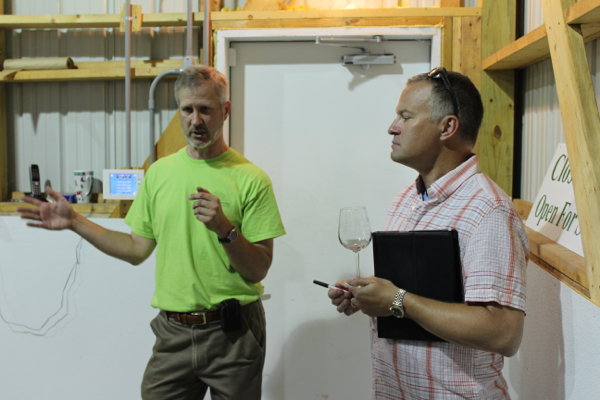 As readers can tell, our visit at Granite Heights began in the tasting room, and we were treated to a seated tasting. We've already reported on the tasteful, no-frill tasting room, and a knowledgeable tasting educator delivered an excellent tasting experience. We also got to chat with Luke and Toni Kilyk who graciously answered our questions and gave us a tour of the facility. Luke and Toni remain committed to producing wine and sharing it with customers in a quaint and intimate atmosphere. We tasted the commitment to quality winemaking, and we can attest to the consistent climate control of the barrel room as well as its immaculate cleanliness. The Kilyks have even invested in a bottling machine to insure quality control up to the final bottling. Of course, Virginia's climate raises many challenges in the vineyard, and Luke informed us that a wine machine would be installed in the vineyard to minimize frost damage. New vines will also be planted and these include more Merlot as well as Vermentino, a white grape that is not widely planted in Virginia.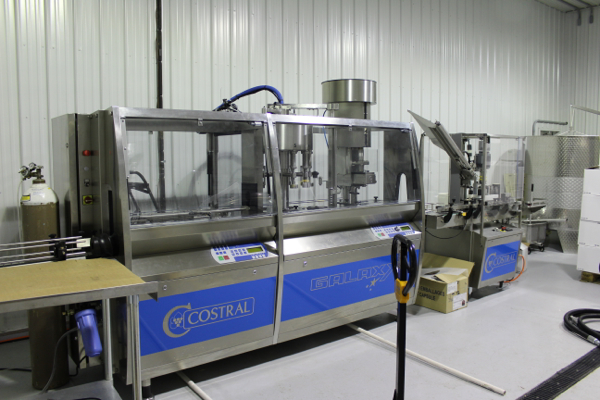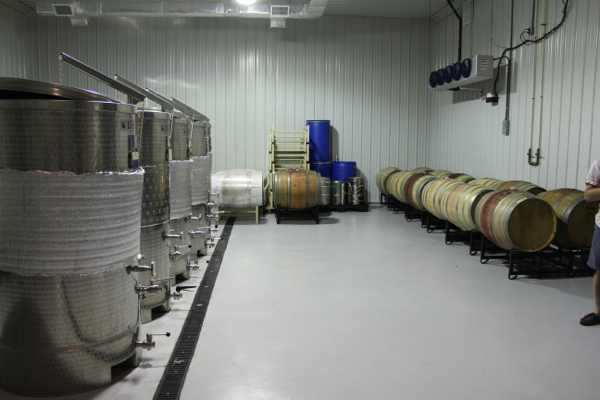 Granite Heights currently produces 900 cases of wine, and while case production may increase a bit over time, the Kilyks remain steadfast in their commitment to producing limited quantities of quality wines. The tasting experience will likewise remain wine-focused, and there are no plans to build an expansive tasting room. Weddings, bridal parties, and a dog park? These are also not part of the plan.
We applaud Luke and Toni Kilyk's continued dedication to excellent wine making especially at a time when more and more newer wineries seem to place emphasis on themselves as events facilities or party destinations. We can gladly report that this is not the case at Granite Heights Orchard and Winery, and the results can be tasted in the wine glass. The wines continue to the reason to return to Granite Heights Orchard and Winery.
We purchased bottles of our favorite Granite Heights wines, and we will return very soon. Please plan to visit Luke and Toni Kilyk at Granite Heights Orchard and Winery, and mention that Virginia Wine Time sent you.