So we are back from our summer travels and now on the Virginia wine trails again. We decided to resume our quest for summer sippers with a visit to Gray Ghost Vineyards this past weekend.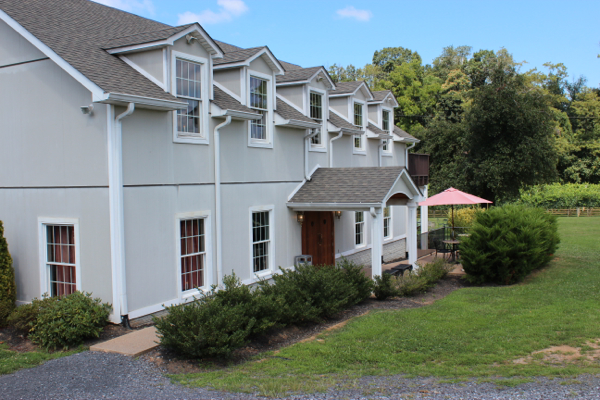 Ten wines were offered for tasting with five of them from the 2011 vintage. My favorite of these was the crisp 2011 Seyval Blanc with its lemon notes and dry finish. Minimal aging in Hungarian oak provided a bit of roundness to boot. Perfect for summer menus that feature shellfish or any other pairing that might call for a Sauvignon Blanc! Paul favored the 2011 Vidal Blanc with its tropical fruit elements. Another great summer wine, this one should pair well with spicy foods; however, it's also just fine on its own especially on a hot summer's day.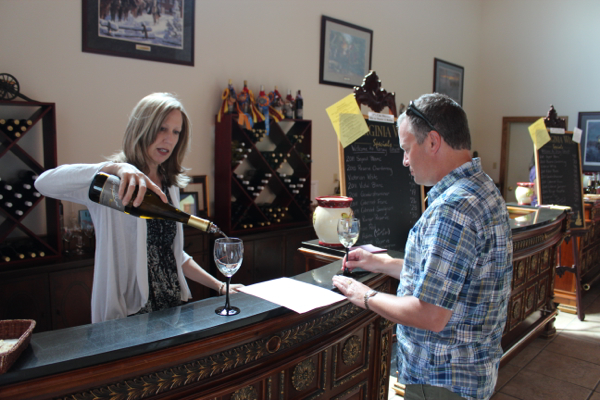 It's never too late to think about Thanksgiving dinner especially if you fear that your favorite Virginia wines might sell out before Mr. Turkey hits the dinner table. The 2011 Gewurztraminer with its tropical fruit flavors and spicy edge would do well with a summer salad topped with fresh ham or grilled shrimp; however, I'd consider this one with herbed turkey and stuffing. Likewise, the very berry 2011 Cabernet Franc with its spicy nuances could be served now with grilled fare but would be a classic pairing with any Thanksgiving meal.
Of course, Gray Ghost Vineyards is known for its dessert wine called Adieu that is made from late harvest Vidal Blanc grapes, and the 2011 vintage delivers rich peach flavors with a honeyed texture. The Adieu is always a crowd pleaser at dinner parties, and I've even served it with heavier cheeses.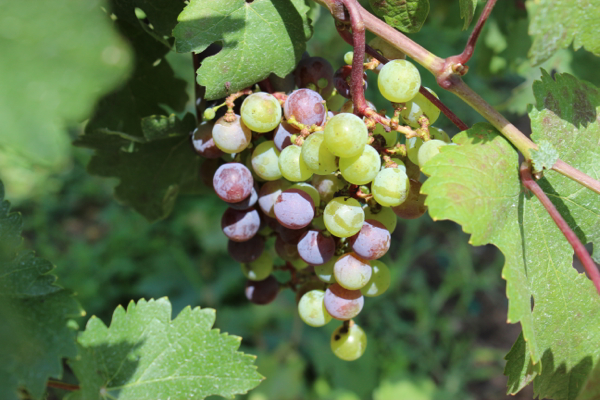 We always look forward to chatting with Amy Payette, Gray Ghost's marketing director and daughter of winemakers Al and Cheryl Kellert. Amy was very pleased to inform us that Gray Ghost wines took gold medals in the 2012 NextGen International Competition that was held in California. The wines in this competition were judged by millenials, the up and coming wine consumers who lately have been the focus of attention by the wine industry. Gold-medal winners include the 2010 Reserve Chardonnay and the 2011 Gewurztraminer (which also won best in class.) Amy also shared with us this year's harvest appears to be on track to be earlier than usual with the Seyval Blanc potentially coming in within the next couple of weeks. This seems to coincide with other reports that we have heard from other winemakers in Virginia, so it may indeed shape up to be an early harvest season statewide.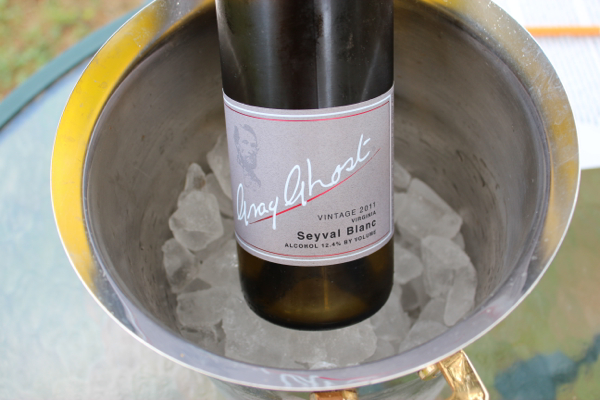 With our tasting done, we shared a bottle of the 2011 Seyval Blanc with grilled chicken filets, a block of Swiss cheese and melon slices beneath an apple tree. As we sipped and nibbled we spotted gold finches, cardinals, and a quickly fluttering hummingbird. Butterflies of all colors were likewise on full display. We made certain to purchase some of our Gray Ghost favorites before we left (a case in fact). Be sure to pay a visit to Gray Ghost Vineyards to stock up on your own summer sippers, and be certain to mention that Virginia Wine Time sent you.