We are back from our trip to California wine country specifically Napa and Sonoma. This time around we focused our tasting experiences on smaller-production wineries that were recommended to us by others. Our friend Susan McHenry suggested an appointment to Hanzell Vineyards. Readers may recall that we featured Susan's impressive wine cellar in a video piece, and the mural in her cellar depicts the breathtaking view of Hanzell Vineyards. Susan is also a member of Hanzell's Ambassador's Club, and she is an avid collector of Hanzell wines. We trusted her expertise and made an appointment at Hanzell Vineyards; it was hands-down the "Wow" experience of our trip.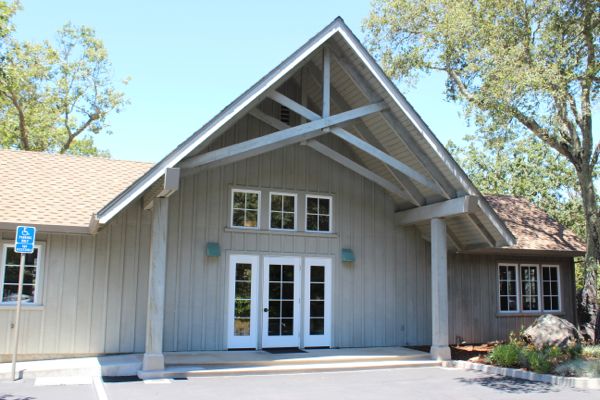 Hanzell Vineyards is located in Sonoma, and James Zellerbach planted the first vineyard on what is now called the Ambassador's Vineyard in 1953. Zellerbach served as the ambassador to Italy under President Eisenhower; hence, the name of the vineyard. In fact, Zellerbach's interest in wine was piqued during visits to European wine destinations particularly Burgundy. He returned to his Sonoma property determined to make quality wines with a focus on Chardonnay and Pinot Noir and named his vineyards Hanzell, a combination of his wife's first name, Hana, and Zellerbach.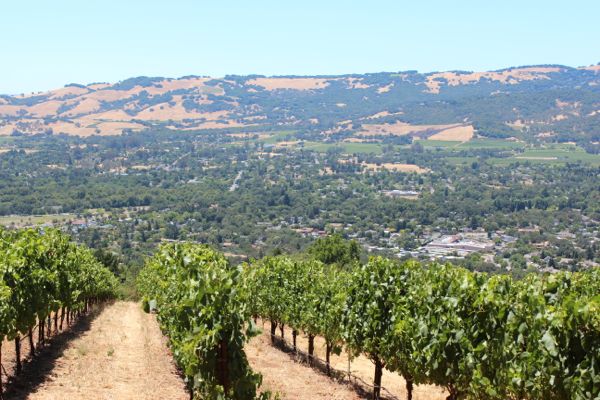 Our tasting included a tour of the grounds and facility, and this was conducted by Ben Sessions, son of former winemaker Bob Sessions. Ben gave us a driving tour of the vineyards including the oldest Ambassador's 1953 Vineyards, and in the process filled us in on particular features that allowed Hanzell to produce focused, terroir-driven wines. Higher elevations allow for perfect aeration and drainage while volcanic soils provide a minerality that is a hallmark of Hanzell wines. Vines are planted in either west-facing or east-facing slopes so that they benefit from optimal amounts of sun, air flow, and morning moisture; in particular, the Ramos Vineyard is exposed to morning fog that rolls in from San Francisco Bay. In all, Hanzell Vineyards includes 44 acres of planted vines with a maximum production of 6000 cases per year.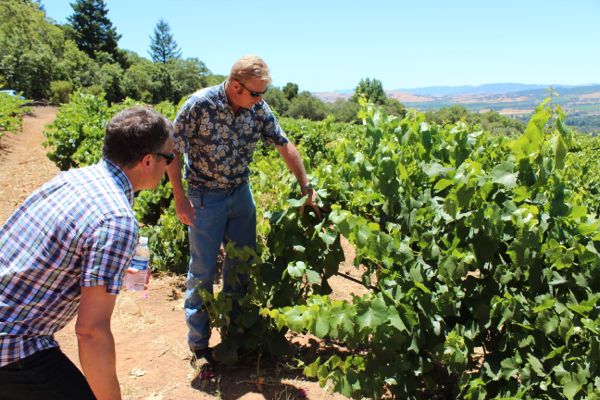 A tour of the facility followed our vineyard tour. Talk about rooms with views! Hanzell Vineyards is located on the mountain slopes of the Mayacamas Range, so most opened windows and double doors offer gorgeous views of mountain landscapes. Wine barrels, though, are stored in a cave. A wine library warehouses vintages that date at least as old as 1965, and a sort of museum exhibits the winemaking equipment, including the tanks, from the 1950s.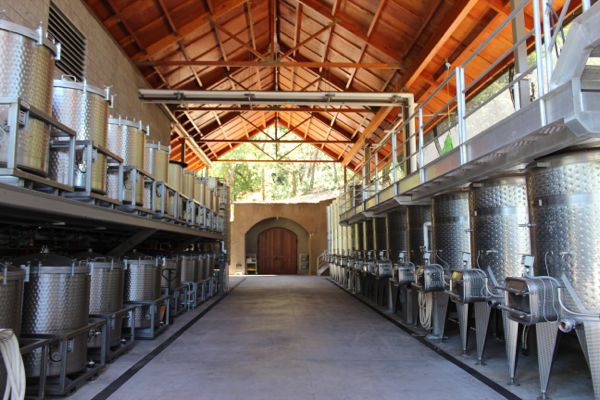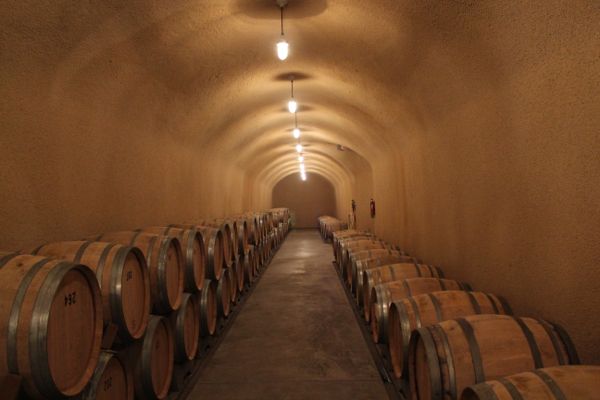 However, the ultimate part of the tour concluded in the tasting room with its lofty wood-beamed ceiling. We were given a seated tasting at a dining table, and the three currently released wines were offered for sampling. These included 2010 Sebella Chardonnay, the 2009 Hanzell Vineyards Chardonnay, and the 2009 Hanzell Vineyards Pinot Noir. In addition, two older vintages were included in the tasting: a 2004 Hanzell Vineyards Chardonnay, and a 2001 Hanzell Vineyards Pinot Noir. All were excellent. The 2010 Sebella Chardonnay was fresh and almost playful with elements of pear, citrus and mineral; aged for six months in French oak barrels, it presented a refreshing mouth feel. It's older sibling, the 2009 Hanzell Vineyards Chardonnay was produced from 34 year-old vines and offered more complexity. We noted aromas of pear and lemon zest with similar flavors in the mouth. 30% barrel fermentation and then twelve months aging in 30% new French oak barrels provided a fuller mouth feel. (An interesting side note—Ben suggested decanting the older Hanzell Chardonnays at least two hours prior to serving.) The 2009 Hanzell Vineyards Pinot Noir was likewise complex with full-on aromatic experience—strawberry and cherry notes were complemented by earthy/spicy aromas of sweet tobacco, anise, cloves and bay leaf. Similar fruit and spicy flavors were observed along with the minerality that characterized the other Hanzell wines. This Pinot Noir spends time in 50% new and 50% one year French oak barrels.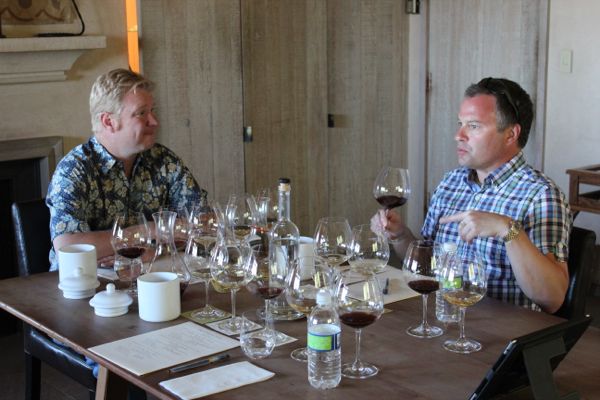 Not to be outdone were the older vintages, and these were indeed quite special. The 2004 Hanzell Vineyards Chardonnay was probably my favorite with its whiff of honeysuckle and elements of pineapple and butterscotch. The 2001 Hanzell Vineyards Pinot Noir possessed a faint floral aroma with notes of tobacco and spice; plum and blackberry flavors were savored.


The seated tasting allowed us to proceed at a more leisurely pace, and Ben was more than patient in answering our questions (you know how pesky those bloggers can be.) Ben's father, Bob, retired from winemaking at Hanzell Vineyards in 2002 and is now the Winemaker Emeritus. Michael Terrien is the current winemaker, and future plans include the production of Cabernet Sauvignon. Hanzell Vineyards did at one point make Cabernet Sauvignon; in fact, I spied a bottle from the early 1990s in the wine library. We also learned that Hanzell Vineyards was the earliest winery in California to use only French oak barrels, and this practice continues today.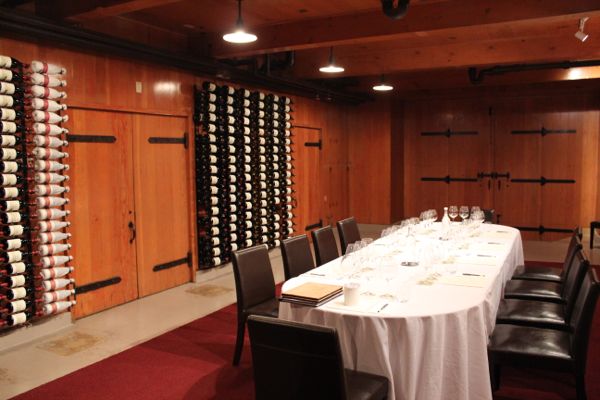 Focused vineyard practices along with judicious use of oak barrels resulted in the balanced, exquisite wines that we tasted at Hanzell Vineyards. With our tour and tastings done, we made certain to purchase our favorites Hanzell wines. Ben Sessions was a very gracious host, and thank him for time and attention. Planning a trip to Sonoma? Reserve a tasting at Hanzell Vineyards, and mention that Virginia Wine Time sent you.