Frank Morgan of Drink What You Like planned the second annual tasting of sparkling wines. Last year the event was held at Keswick Vineyards; however, winemaker Andy Reagan of Jefferson Vineyards hosted this year's tasting. Other bloggers included the team from Swirl, Sip, Snark and Allan Liska from CellarBlog. Pia Mara Finkell, Megan Headley, Anthony from VaPourHouse, and Melissa from Uncork Virginia also loaned their palates to the occasion.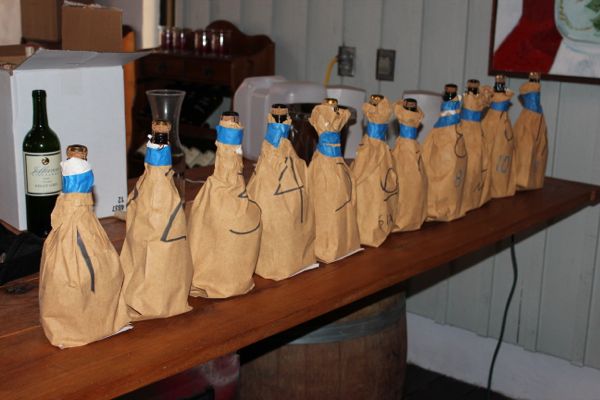 The tasting was done blind and included sparklings from Afton Mountain Vineyards, Barboursville Vineyards, Kluge Estate, Old House Vineyards, Paradise Springs Winery, Prince Michel Vineyard, Thibaut-Janisson Winery, and Veritas Winery. Tasters were asked to use their own rating system to score each sparkling and then to rank them in order of preference. In addition, a Gruet brut from New Mexico was tossed into the ring to create an interesting twist.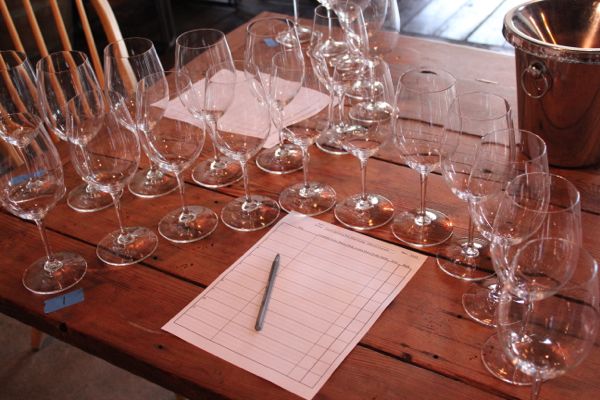 So how did the bubbles rate? Before I present the overall list, I will offer my top three rankings:
1. Veritas Scintilla NV
2. Thibaut-Janisson Virginia Sparkling NV
3. Gruet BrutNV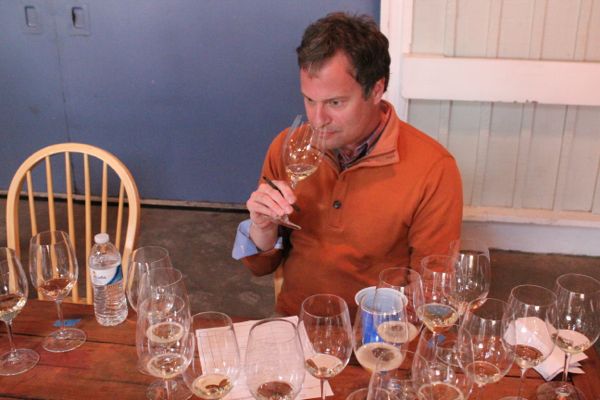 Paul's top three were as follows:
1. Veritas Scintilla NV
2. Gruet Brut NV
3. Thibaut-Janisson NV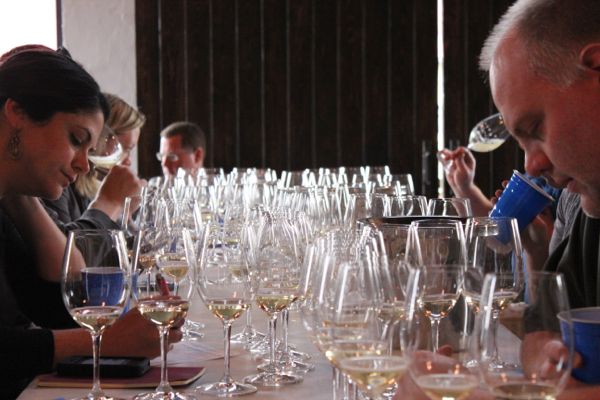 How did our preferences stack up with the rest of the palates in the room (including Andy Reagan!)
1. Gruet Brut
2. Veritas Scintilla
3. Thibaut-Janisson Virginia Sparkling
4. Thibaut Janisson Fizz
5. Horton Sparkling Viognier And Kluge Blanc de Blanc 2008 (tied)
7. Barboursville Brut
8. Prince Michel Blanc de Noir
9. Paradise Springs Apres Sparkling Viognier
10. Afton Mountain Tete di Cuvee 2008
11. Old House Petillante Brut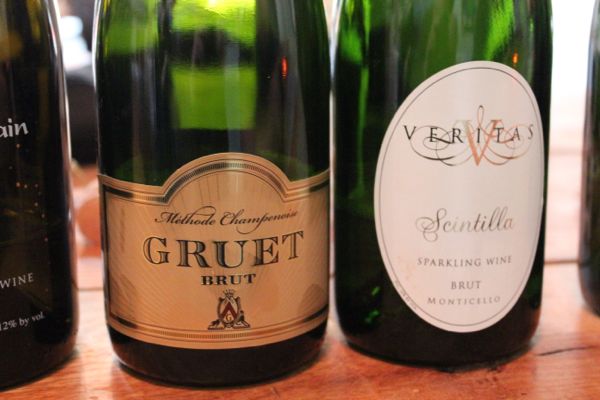 The surprise was that the Gruet from New Mexico seemed to best the Virginia sparklers; however, the Veritas Scintilla earned a number of first place rankings, so it showed quite well as did the Thibaut-Janisson Virginia Sparkling. The bottom scorer, the Old House Petillante Brut, was the event's unanimous last place finisher. Off characteristics abounded with this one.
After the taste-off of sparklings, Andy Reagan treated us all to a sample of his upcoming Pinot Gris as well as the current release, the 2010 Pinot Gris. He also sprung for gourmet deli platters that included fresh pepperoni, mozzarella cheese, and a most divine pate paired with crunchy cornichons. Andy also provided us with a full tasting of current releases as well as barrel samples; however, we will be attending a vertical meritage tasting at Jefferson in April, and I will save my notes for that special occasion. I will say, though, that both the 2008 Meritage and 2009 Meritage were showing quite well. The 2010 Chardonnay Reserve likewise remains quite solid.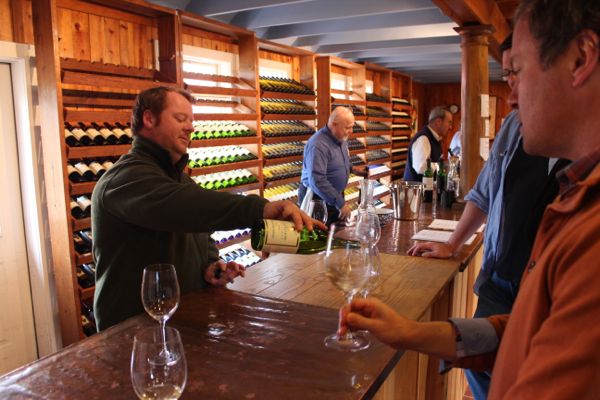 Be sure to check out sparkling wines coming out of Virginia wineries, and do stop by Jefferson Vineyards for a tasting of Andy Reagan's quality wines. Of course, mention that Virginia Wine Time sent you.