Our crazy winter weather continues to unfold; last week, I was able to jog outdoors wearing shorts and a t-shirt. However, a colder weekend at the end of January did bring the threat of snow and ice. The snow event never happened, and that gave us the chance to visit Swedenburg Estate Vineyard and Chrysalis Vineyards without worries about slick roads. (It also gave me a chance to wear my new sweater!)
Swedenburg Estate Vineyard: Curtis Vincent has assumed command of the winemaking at Swedenburg, and the white wines that we tasted were of his creation. The 2010 Chantilly made from Seyval Blanc was very crisp with citrus and mineral characteristics. Lean and clean indeed! This one should pair quite nicely with shellfish. I also enjoyed the 2010 Chardonnay that was fermented in French oak barrels. A fuller mouth feel and creamier texture suggested some malolactic fermentation. It presented pear and apple notes with hints of cedar to boot.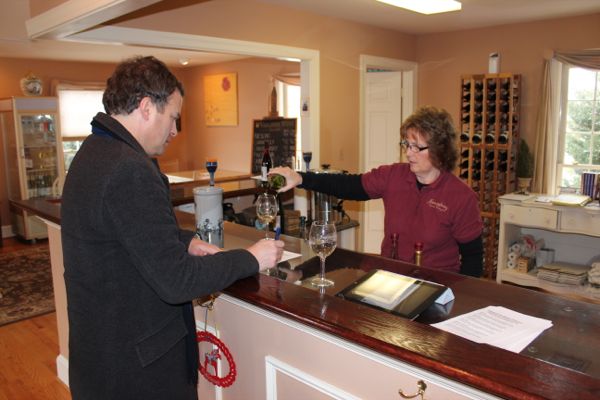 Although we missed Curtis on the particular visit, we did note improvements in the quality of the wines under his craftsmanship. We also learned that winery is up for sale, and we hope that any potential buyer will continue Swedenburg's winemaking legacy that began with Wayne and Juanita Swedenburg over 25 years ago.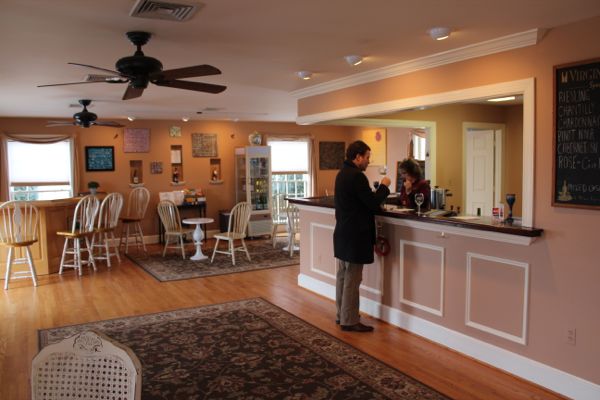 Chrysalis Vineyards: Our visit here was actually part of a VIP pick up party that featured wine tastings and food. Chrysalis fans may know that renowned chef Hump Astorga has left Chrysalis; however, there is no need to despair. VIP events will still include gourmet treats that will be prepared by guest chefs.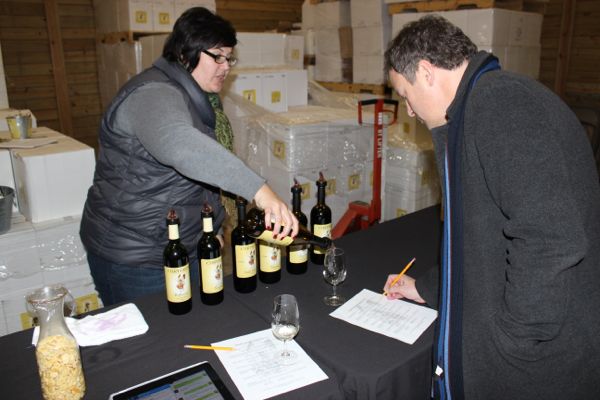 Of course, wine was our primary interest, and the current offerings were the creations of winemaker Alan Kinne. "Elegant" and "polished" were the words that I used to describe Kinne's wines. The 2010 Chardonnay, done in stainless steel, was crisp and lean with apple notes and a no-holds-barred minerality. Of course, Viognier is the flagship white wine here, and the 2010 bottling presented the rich stone fruit flavors and luxurious mouth feel that defines Chrysalis' Viognier. Kinne's expertise, though, shined brightly with the 2009 Norton Estate Bottled and the complex 2009 Norton Locksley Reserve. Norton and its acidic nature can be difficult to tame, but Kinne accomplished the task and more with these world-class wines. The former was blended with some Petit Verdot while the latter usually includes Petit Verdot and other varietals; however, both were rich with dark fruit and spicy aromas and flavors. In the end, I leaned heavily toward the 2009 Locksley Reserve; earthy elements and a lengthier finish complemented a full-fruit presence in the mouth. Both are sitting on my wine rack, but I think the Locksley Reserve will be napping for quite a while.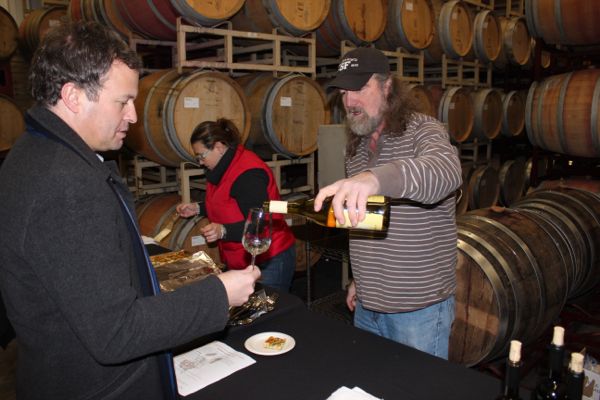 We ran in to owner Jenni McCloud, and she updated us on her renovation plans. The new tasting room is on target to proceed, and current plans will provide for a versatile, taster-friendly facility. Tasters can opt for either a personally guided tasting of wines with a tasting associate or conduct a self-guided tour at a tasting station. The self-guided tastings will resemble the enomatic stations at a tasting bar, and tasters would use debit-type cards to sample Chrysalis wines. We will be sure to chart the progress of this development!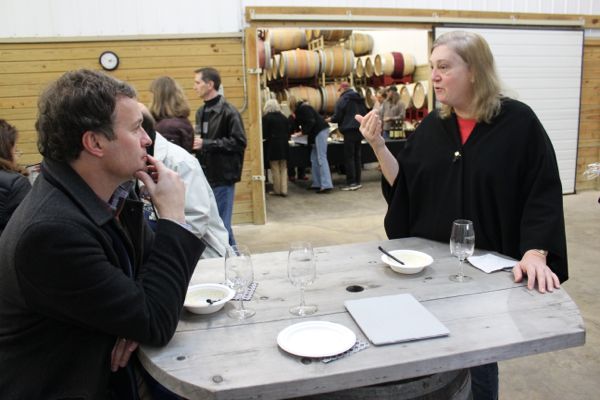 And so food and wine—Asparagus tarts and clam chowder were served at the tasting event, and I enjoyed both with the 2010 Chardonnay. In fact, I pleaded for a second serving of the clam chowder; it was the perfect comfort food on a very cold day.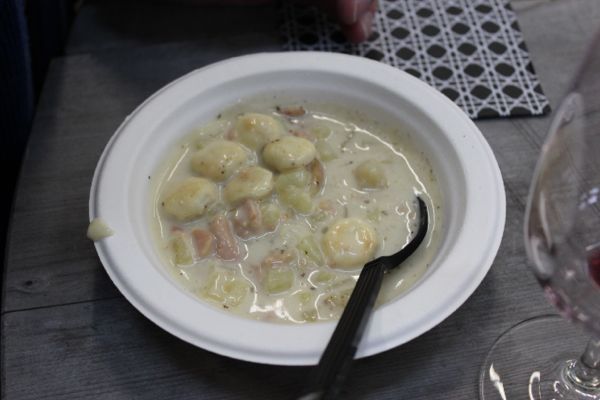 Whether it's warm or cold outside, a visit to Virginia wineries is sure to please. Visit Swedenburg Estate Vineyard and Chrysalis Vineyards to sample their latest pours. Be sure to mention that Virginia Wine Time sent you.