Breaux Vineyards fans may already know that each year, the winery offers a series of vertical tastings that may include a vertical flight of merlot, cabernet sauvignon, nebbiolo, meritage blends, etc. This past weekend, we attended a vertical tasting that featured the king of Bordeaux grapes, Cabernet Sauvignon, and vintages since 2005 were served. These included barrel samples from the 2009 and 2010 vintages. A three-course menu was served with the flight of wines.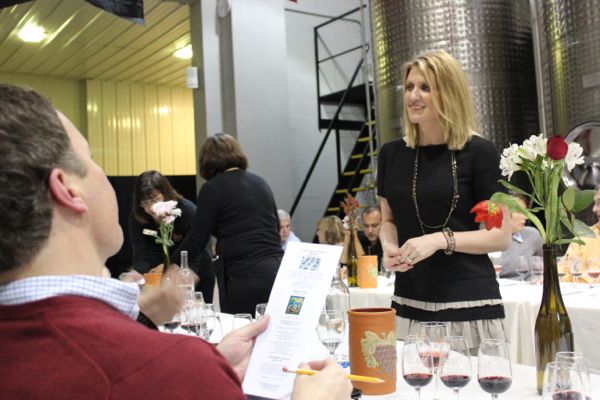 Tasters were greeted to the event with a tank sample of the 2011 Cabernet Rose, a very dry rose that already presented a nose of fresh strawberries. This Old World rose was an instant hit for me; it also called to attention the winemaking style of new winemaker David Castano. I expect that Castano's wines will be more European with a focus on full fruit expression and nuanced earthy elements that make for elegant and food-friendly wines. Keep in mind that the difficult 2011 vintage will be Castano's first as winemaker at Breaux, so this rose provided early signs of success.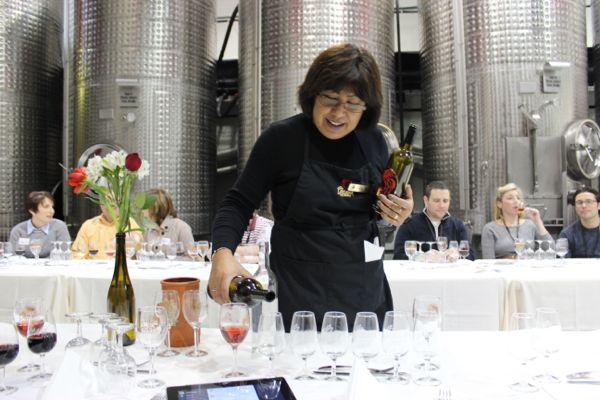 So on to the Cabernets now and food course #1: jumbo prawn over thyme and Parmesan grits topped with wilted frisse and tomato oil. These were paired with the 2005 and 2006 Cabernet Sauvignon. Of the two, I preferred the muscular, earthy 2006 Cabernet Sauvignon with its dark fruit characteristics and tobacco nuances. (However, I must admit that I enjoyed the prawn even more with the rose.) The 2005 Cabernet Sauvignon was lighter bodied compared to its younger sibling; Paul seemed to appreciate this one more than the 2006 and observed violet notes with cherry flavors and a smooth finish.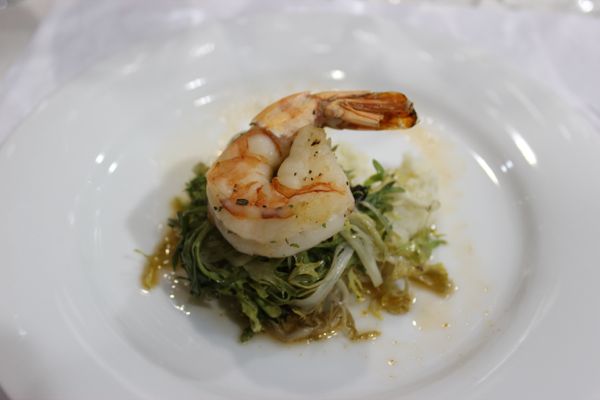 Course #2: grilled free-range chicken over cappellini spun with truffle cream and crimin mushrooms tossed with goddess coulis. My favorite dish of the evening! And it was paired with my favorite wine of the evening—the 2007 Cabernet Sauvignon. It was presented next to the 2008 Cabernet Sauvignon, and the contrasts were obvious. The 2007 growing season was stellar in Virginia thus producing outstanding red wines. The Breaux Vineyards 2007 Cabernet Sauvignon lived up to the lofty expectations. Complex yet elegant, it delivered aromas and flavors of dark cherry, plum, cassis, and black pepper. I caught a whiff of pencil shavings; Paul described it as cedar. On the other hand, the 2008 presented a fruitier, riper profile with oaky elements that suggested it needed a bit more time to integrate more fully. The finish on this one seemed a bit shorter than the 2007. The 2008 growing season was a more classic one for Virginia that included a visit from hurricanes hence more rainfall.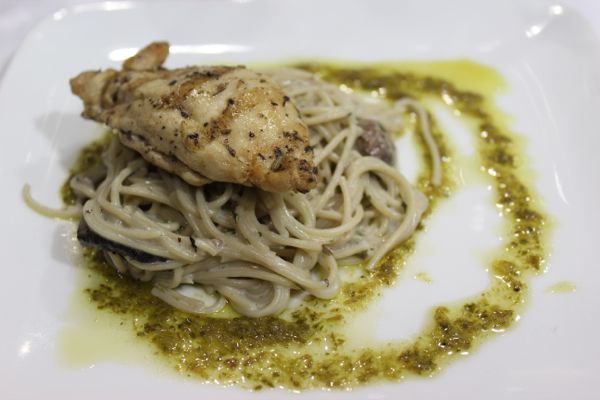 And now course #3: grassfed beef braised with mushrooms over garlic croustade and wilted watercress. Barrel samples of the 2009 and 2010 vintages were partnered with this dish. Again, the contrasts were notable. The 2009 sample finished last on my list of wine preferences for the evening. "Green" was the word that I jotted down as I observed more vegetal aromas. Still young to be sure, I will be interested to taste this one down the road. The 2010, however, had potential written all over it. I would consider this one to be on par with the 2007 vintage. Though extremely young, dark fruit components were on full display as was a noted vanilla finish to suggest oak aging. This youthful kid was more than a match for the slow-cooked beef, earthy mushrooms, and stick-to-your ribs sauce.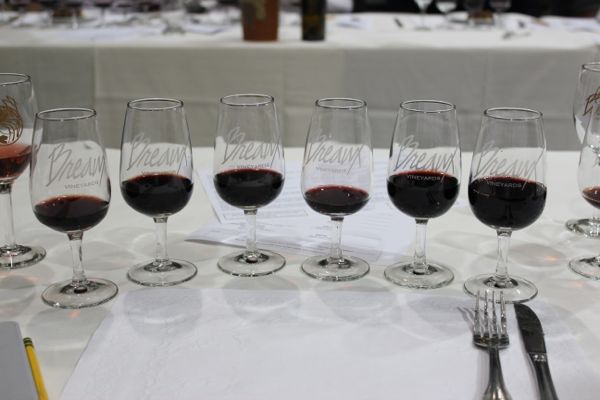 As a New Orleans native, I appreciate lagniappe (or "something extra"), and the 2006 Late Harvest Breaux Soleil was our bonus pour of the evening. This blend of late harvest Vidal, Viognier, Semillion and Sauvignon Blanc exhibited a heady floral nose along with aromas of apricots, citrus and honey. It was certainly a lovely bonus and a nice way to finish the evening.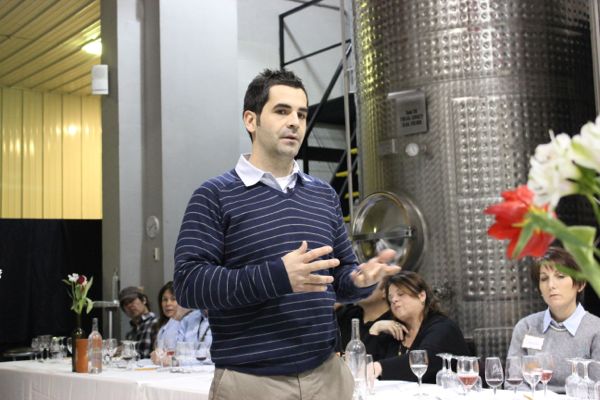 As we sipped and dined, winemaker David Castano introduced himself and explained that he hails from a family of winemakers in Spain. He expertly presented the wines and entertained questions from the crowd of tasters. In the process, we learned that all Cabernets at Breaux are blends from both American and French oak barrels, and Castano intends to continue this practice so as to maximize the benefits to the aging process offered by both types of barrels. As a side note, we also learned that Breaux neighbors, Grandale Farms Restaurant, will begin their own vineyard to be called Silhouette Vineyards. Details about this development were indeed scarce; needless to say, check in with Virginia Wine Time to keep abreast of the developing story.
We always enjoy wine and chatter with our fellow bloggers, and joining us for the evening were Allan Liska and Erika Johannsen from Cellarblog. I think that we all concurred on a decision that the 2007 Cabernet Sauvignon was the evening's winner. The next vertical tasting will take place in March and feature Merlot, and we will certainly check our calendars for that event. In the meantime, plan a visit to Breaux Vineyards or perhaps even reserve a seat at the next vertical tasting in March. Please mention that Virginia Wine Time sent you.