The holidays are finally over and we're back to a regular posting schedule. We visited some wineries this weekend and will be posting about them soon but until then here's what we enjoyed Saturday evening for dinner.
We began the evening with the 2009 Annefield White from Annefield Vineyards. We enjoyed this one with cheese and crackers before dinner. We really enjoyed the crisp edge with a slightly sweet hint. We noted kiwi, melon, and tropical flavors. Warren described as a tropical fruit salad. We visited Annefield Vineyards in the summer and left with a case of wine. The 2009 Annefield White garnered two spots in the case box. We'll need to plan another trip to Annefield to stock up again soon.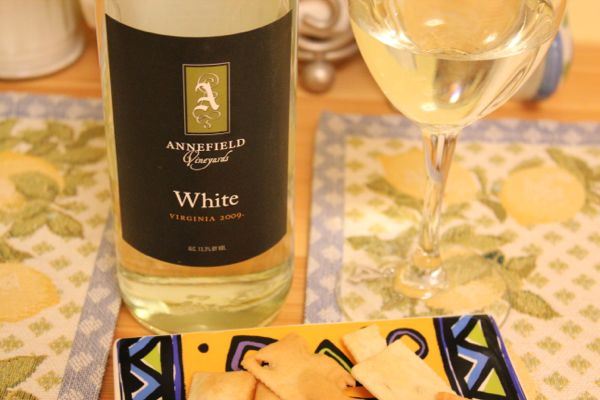 For dinner we had oven baked buttermilk chicken with roasted red potatoes and veggies. At first we thought we'd be having another white wine but Warren perused my wine rack and selected the 2008 Malbec from Corcoran Vineyards. This one is light enough to not overpower the chicken but give us a fruit structure strong enough to compliment the chicken. And it did just that. As you may remember, I'm a huge fan of the 2008 reds and this one lived up to that expectation. Lots of fruit characters on the nose and tongue. We noted lavender wood and blackberry on the nose. We picked up dark fruit like raspberries in the mouth. The smooth finish went well with the chicken dish. We will say that its time to enjoy this wine now. I wouldn't keep it on your rack much longer. And the 2009 Malbec is out there so get some of that and enjoy the 2008 now.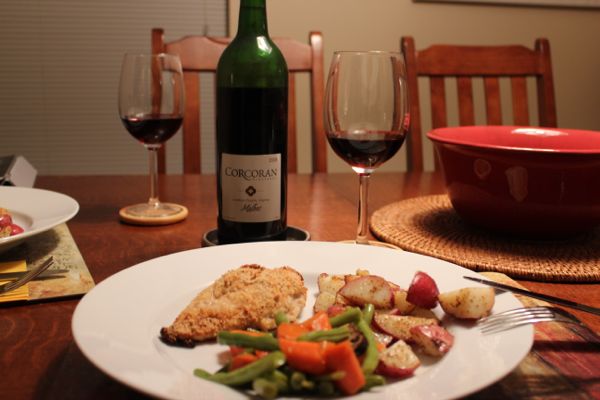 Two more perfect selections for our dinner wines. If you happen upon Annefield Vineyards or Corcoran Vineyards anytime soon, tell them Virginia Wine Time sent you! We know we need to visit both soon!