So our planned adventures for Saturday got canned due to the historic Halloween snow event. Halloween and snow—who knew such a thing would ever happen in this part of the country! Anyway, we decided to make the most of our afternoon by donning our Halloween costumes for a haunted experience at nearby Paradise Springs.
Nothing new had been released since our last tasting this past spring, but our tasting associate, Linda, bewitched us into taking advantage of the two for one Halloween tasting special. Two tasters received wine tasting for the price of one if at least one was dressed in a costume. Of course, I was the dressed up one, and I looked quite dashing in my Renaissance garb. Linda served up the potions, and we sipped and swirled away.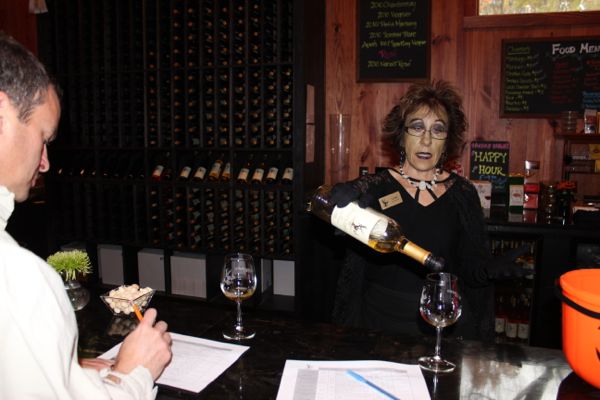 Our preferences remained the same. The 2010 Chardonnay, Nana's Rose and the 2009 Meritage were our standouts on the list. After our tasting, we decided to enjoy block of Manchego cheese and turkey pepperoni with a bottle of the Rose; before we were done, we noticed that the tasting room was getting more crowded. We also observed heavy snowflakes beginning to fall!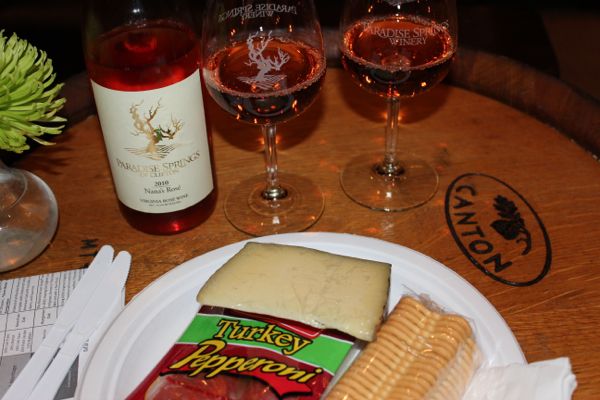 Before we left, we took advantage of the 10% discount offered to costumed costumers and bought a couple of bottles of our favorites. When we walked outside, we were amazed at the stark contrast presented before us—trees in full autumn finery decorated with snow. I'm sure that this is one of those once in a lifetime experiences, and Paul made certain to record the event with his camera. It's hard to see the snowflakes in the picture but they were really coming down.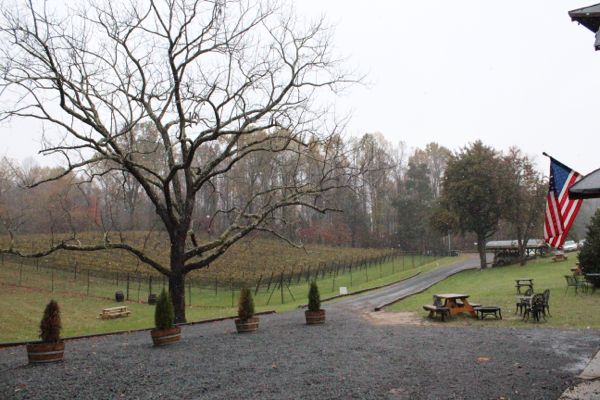 No doubt cooler weather is on its way, so make sure to visit Paradise Springs for a tasting. Enjoy a glass of wine by the outdoor fireplace promises to take the chill off, but please mention that Virginia Wine Time sent you!