On Saturday evening we decided to have our first meal on the balcony this season. It was warm enough even though we had some cloud cover. We selected the 2008 Sauvignon Blanc from Breaux Vineyards to have with our nibbles and the 2009 Corcoran Vineyards Hunter's Run Rose for our meal.
We had the 2008 Sauvignon Blanc with goat cheese and baguette. This sauvignon blanc is from the cellar club selection from Breaux Vineyards. You have to be a member of the wine club to get a chance to taste this one. We noted the crispness, a floral nose, and a nice mouth feel. It had a weightier mouth feel that made us think it spent time in oak but this one is from 100% stainless steel. It complimented our nibbles perfectly.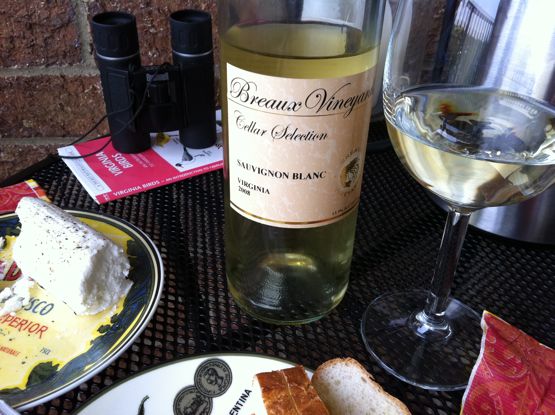 For our dinner wine we had the 2009 Corcoran Vineyards Hunter's Run Rose. We paired it with parmesan encrusted tilapia and wild rice. It's created from 100% Cabernet Franc. We noted strawberry and melon characteristics with a nice crisp finish. We thought it paired beautifully with our meal. It also made us think of warmer afternoons. This one would be perfect for those warm summer days. Chill it well and it will keep you cool on those hot summer days.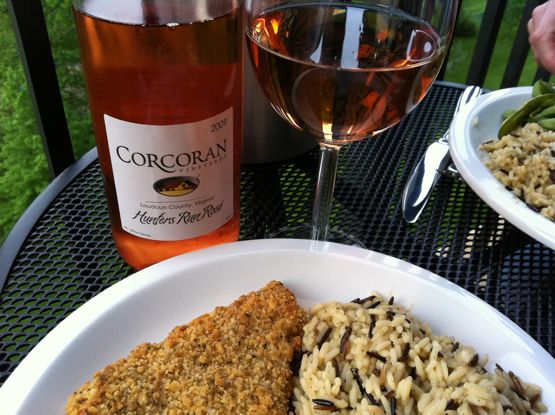 The selections for our Saturday sips were just right. We always enjoy the wines from Breaux Vineyards and Corcoran Vineyards. If you visit them anytime soon, tell them Virginia Wine Time sent you!