It seems as though our visits to Delaplane Cellars occur when it is chilly outside, and this time was no different. Regardless of the weather, though, the wines and the view at Delaplane Cellars are always impressive.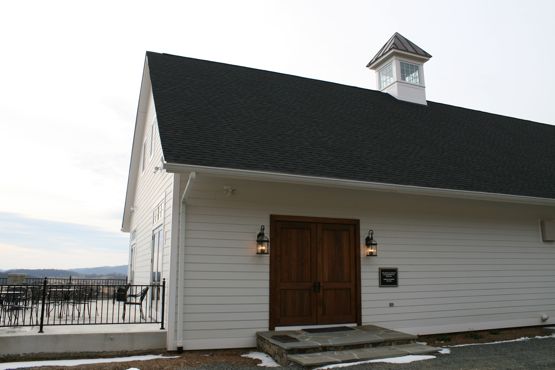 Most of the wines on the tasting menu were new to us including the 2008 Honah Lee Viognier. This one earned my gold star of the two Viogniers poured for us (and the only white wines, I should add.) Vibrant is the word to describe this distinctive Viognier produced from grapes grown on the Honah Lee Farm near Orange, Virginia. In fact, aromas of orange blossom first reached the nose followed by aromas of apricot and mango; similar tropical fruit flavors were noted on the palate. Owner and winemaker Jim Dolphin treated us to a sneak preview of the upcoming 2009 Honah Lee Viognier which seemed to have honey apricot elements to it. Paul preferred the 2007 Emerald Lake Viognier; I jotted down "bit-o-honey" on the tasting sheet, and Paul seemed to enjoy the creamier, honeyed texture to this one. He also appreciated the stone fruit flavors of this more mature offering.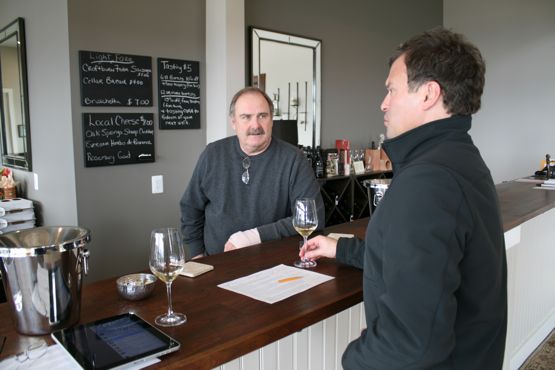 Paul and I likewise reached a split decision on the red wines. My favorite was the 2008 Cinq, a blend of all five Bordeaux varietals with Cabernet Sauvignon dominating the mix. I noted characteristics of dark berries, anise, and spice with some violet on the nose to boot. Given that this is a more recent release (after May 2010), tannins were evident but likely to mature with time. Paul's fave was the druit-driven 2008 Springlot Red Blend. The Cabernet Sauvignon (44%), Cabernet Franc (25%), Merlot (19%) and Petit Verdot (12%) which comprise the blend all come from the Springlot vineyard located near the winery. Dark cherry, plum and spice elements prevailed with a smooth tannic presence. Be certain to try the 2008 Syrah—crafted from grapes grown from borh the Shirland Vineyard near Middleburg and the Springlot Vineyard near the winery, this Syrah is all dark fruit flavors with earthy/tobacco, spice and pepper. Blended with 13% Tannat, this Syrah is a bolder option!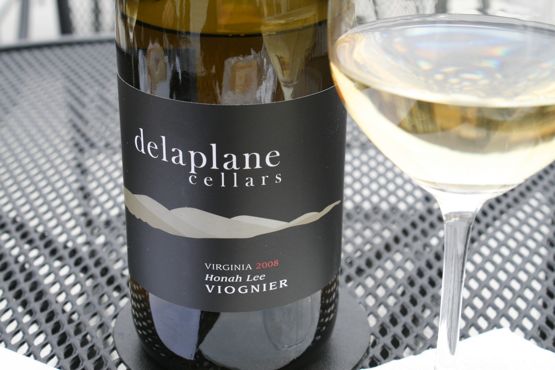 So with tasting done, we opted to take a moment to enjoy the gorgeous mountain views from the tasting room while enjoying a glass of the 2008 Honah Lee Viognier. Winter lanscapes are underappreciated, and even a quick glance from the tasting room windows reminded us just how lovely the barren scenery can be—paired with a favorite wine from Delaplane Cellars, of course!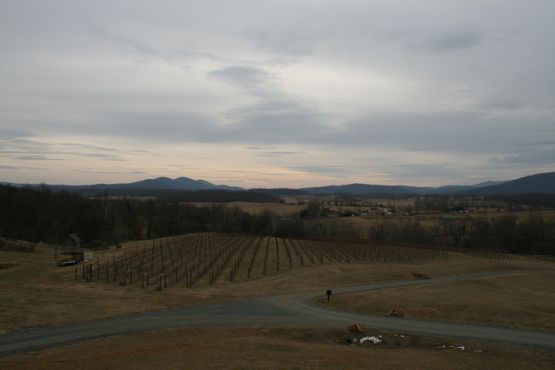 Be sure to sample the current offerings at Delaplane Cellars this winter, but remember to mention that Virginia Wine Time sent you.