So we're back on the trail, and one of our first stops of the year was at Corcoran Vineyards. Owner Jim Corcoran conducted our tasting, and our palates were treated to some new and exciting developments.
Jim and Lori Corcoran are always looking for ways to put their own unique stamp on the Virginia wine industry; not just satisfied with same old same old, their mission is to produce wines that help to define themselves as makers of distinct, quality wines. Therefore, Jim was eager for us to sample some of the upcoming releases that include a Petit Manseng, a Petit Limon styled after the popular Italian wine, lemoncello, a raspberry merlot, and a port crafted from Chambourcin. My favorites were the Petit Manseng and the port. At 6% residual sugar, this Petit Manseng will indeed be sold as a dessert wine; it's floral and citrus characteristics should prove to be a lovely way to end a dinner party. However, I tend to also like these kinds of wines with blue cheeses and a drizzle of honey. The Chambourcin-based port could likewise complement a cheese course or an afterdinner dessert that featured dark chocolate. Paul and I both predict, though, that summer-time favorites will be the Petit Manseng-based Petit Limon and the Raspberry Merlot. The Petit Limon is made with real lemons zested by Jim Corcoran himself—lots of them, too! It was quite refreshing and needed a warm, sunny day to be fully appreciated.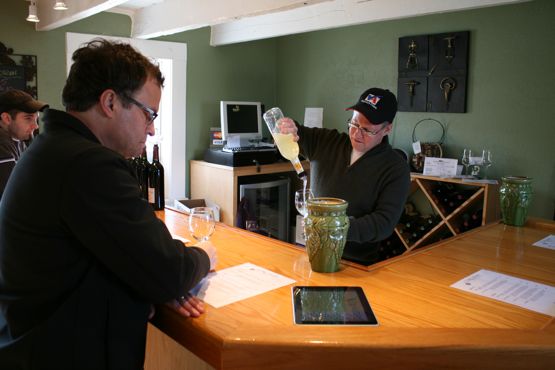 Jim offered to take us through a tasting of current releases, and of course, we took him up on the offer. Speaking of warm sunny days, the dry 2009 Hunters Run Rose had me thinking of a summer vacation in Provence. Created from Cabernet Franc, it presented strawberry and melon characteristcs; I love these kinds of Roses especially during the summer months. Jim shared with us that the upcoming Rose will feature the Chambourcin grape with a slight amount of residual sugar. Of the red wines we sampled, all were quite solid. My favorites were the classic 2009 Cabernet Franc and the complex Hunters Run Red. The 2009 Cabernet Franc was not blended, and it displayed the bright berry and spicy elements associated with this varietal. The 2009 Hunters Run Red is indeed a meritage blend and presented layers of darker cherry and plum flavors with smoother tannins. Paul's own favorites were the 2009 Benevino Cabernet Franc and the 2009 Malbec. The Benevino Cabernet Franc was blended with a small amount of Tannat to give it a bolder body; it could certainly stand up to a steak dinner. As he sipped through the 2009 Malbec, Paul noted smokey, cherry and earthy elements; he's a fan of Malbecs produced by Corcoran Vineyards, and he approved of this vintage!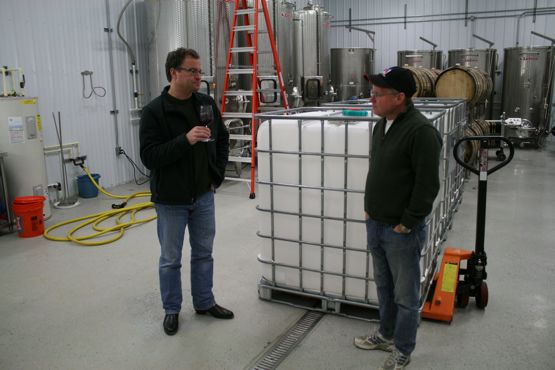 With our tasting done, Jim then invited us to the tank room where he gave us other sneak samples that included an upcoming apple wine, a knockout Tannat, and a Petit Verdot that wowed Paul. We also got to see the small tanks of Petit limon that gave testimony to Jim's expert zesting skills; another tank of orange zest suggested another experimental blend that may include Traminette as a base. We also witnessed an immaculate barrel room with state of the art control systems to insure proper temperatures and humidity. Though Jim appeared to be the wizard of winemaking at Corcoran Vineyards, he constantly credited his wife Lori for producing Corcoran's solid line up of wines. We concluded that both Jim and Lori bring their considerable talents to all of these efforts, and it is without doubt that success will continue for Corcoran Vineyards.
With our tastings done, we stocked up on our favorite Corcoran wines, and we know that we will return for a sample of new releases. In the meantime, stop by Corcoran Vineyards (or their sister site, Hunters Run) for a tasting, and let Jim and Lori Corcoran know that Virginia Wine Time sent you.