October is Virginia Wine Month. As we are informed of upcoming events in October we'll try to post them here so you can plan ahead to celebrate Virginia Wine Month in October. Here's one event to consider:
Where: Yorktown Riverwalk Landing at Chisciak Green
When: October 2
Time: See Information Below
If you haven't been to Yorktown lately, you will be pleasantly surprised. Historic Yorktown at Riverwalk Landing will be the site of the Yorktown Wine Festival 2010 – "The Best of Virginia in Yorktown." Village Events, Ltd. is proud to host this event that will showcase some of Virginia's finest wineries on October 2nd. This event promises to be spectacular and the biggest festival in Yorktown to day. 21 Virginia wineries will be with us and 8 will participate in our wine dinner at Nick's Riverwalk Landing Restaurant. Buy your tickets to attend Saturday's Wine Festival and the concluding Dinner with Your Favorite Winery. Go to both events for food, wine, and lots of fun.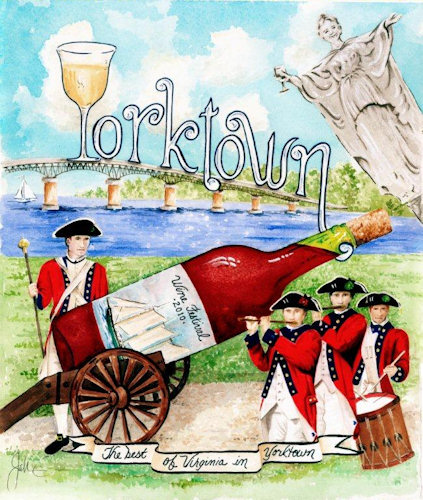 After a beginning ceremony featuring the Fifes and Drums of York Town entertainment for the festival will be provided by The Calypso Nuts. The nightly menu consists of Pop and Rock, Reggae and Soca, Acoustic and Electric; all different, but the perfect ingredients to a great bowl of musical gumbo. A great group to listen to while sipping your favorite wine on the York River.
Come early and stay late so you will be sure to catch all the featured entertainment during the day!
Entertainment for the wine dinner will feature the fabulous Cheryl Sonderman on her sterling flute. Cheryl was instrumental in getting this festival started and we are delighted that she will be with us for the dinner event. Her music alone is worth the price of the dinner!
Payment options – we accept payments electronically (we use PayPal) below. You can also contact us by phone at (757) 877-2933 for payment. Please note that all payments include a $5 shipping & handling charge.
Wine Festival (age 21+): $25 in advance; $30 at the door – Must show proof of age at the gate. Cash sales only at the gate. Event on 10/02. Time is 12PM-6PM (tasting ends at 5:30PM although the festival will go on until 6PM)
Check out the website for more information.