Yes, it was a busy week of wine tasting last week. Somebody has to do it, right? In this post, we detail our experiences at Afton Mountain Vineyards and White Hall Vineyards.
Afton Mountain Vineyards: We've written about the positive changes that are ongoing at Afton Mountain Vineyards since Elizabeth and Tony Smith purchased the vineyards and winery. During our previous visit, I became a fan of the Tete de Cuvee and was interested in purchasing another bottle. Of course, this was my excuse to revisit and sample the latest releases at Afton Mountain Vineyards. Tony and Elizabeth graciously conducted our tasting which featured some upcoming releases that were not available for tasting at the time. Of the white wines, we still favored the Tete de Cuvee with its nonstop bubbles and toasted edge. It's a blend of Pinot Noir and Chardonnay and done in the Methode Champenoise. Of the red wines, Paul preferred the 2008 Cabernet Franc with its dark cherry and pepper characteristics. I, however, opted for the 2009 Pinot Noir. Yes, I liked a Pinot Noir made from Virginia fruit! It presented a dark garnet color and a nose of dark cherry, currants, and anise with a whiff of smoke to boot. Similar flavors in the mouth with a medium body completed the experience. Look for this one to be released on Labor Day Weekend. Another upcoming release will be the 2009 Sangiovese, and we noted dark fruit characteristics and smooth tannins.
Like other winemakers and winery owners, the Smiths were optimistic about the 2010 harvest; in fact, they had already harvested the Chardonnay grapes. With vineyard manager Robbie Corpora and winemaker Lucien Dimani as part of the team, we expect great things to continue at Afton Mountain Vineyards. (And yes, I did purchase another bottle of the Tete de Cuvee before I left!)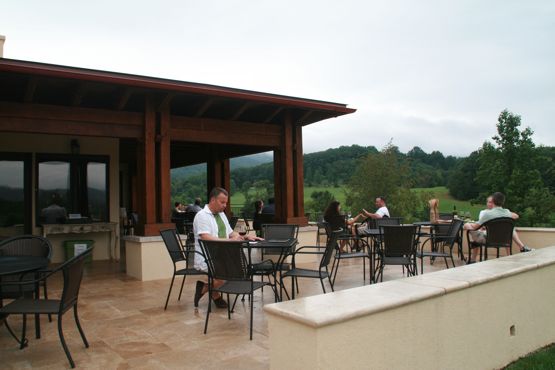 White Hall Vineyards: An extensive menu is offered here, but the wines are well made. The first offering of the white wine selections was the crisp Pinot Gris 2008. "Clean" was the word that came to mind, and I noted a refreshing palate of orange and pineapple with a mineral finish. We both concurred that this was our gold star winner of the white wines, and on a day that hit 97 degrees, it was the perfect choice. (In fact, we shared a glass after our tasting.) Our tasting of the red wines found us at odds, though. Paul placed a star next to the Cabernet Franc 2008 with its aromas of violets and brambleberries. He also appreciated its smoky edge and medium finish. My own favorite, though, was the Touriga 2008. I've been a fan of White Hall's Touriga in the past, and I remained a fan at this tasting. Touriga is a grape grown in Portugal, but pockets of Virginia's micro-climates do well with this variety as well. I noted rich aromas of blackberry, raspberry, anise and tobacco with similar flavors in the mouth but with a touch of cedar. For tasters who have been a fan of White Hall's Syrah, the 2008 vintage will be the last; at the $10.00 sale price, it might be worth stocking up. Ligher bodied but fruity with a spicy kick, it's an accessible sipper.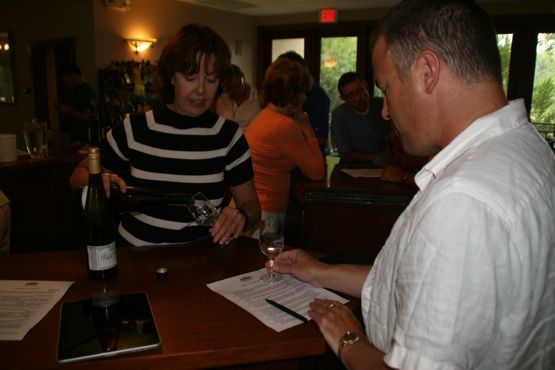 So we're almost done with our round up of tasting on the Monticello Trail. We should have one more post to finish our experiences from the past week, including a review of a newbie, Weston Farm Vineyard and Winery. Of course, the weekend is upon us, so plan to visit these Virginia wineries if you have the chance. Please mention that Virginia Wine Time sent you.