We just spent the last five days staying at The Inn at Meander Plantation. We have stayed here before and have loved it. It's a wonderful place to stay. We felt this was a central location to visit many of the wineries in the Charlottesville area. We will be sharing more information about the Inn and our stay here in the next edition of the Extra Pour. Stay tuned.
In the meantime, watch this short video showing you a little of The Inn at Meander Plantation.
Click on the picture to see a short video.

Take note of this: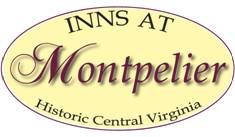 August 27-28 2010
Wine snobs and wine snob "wannabes" are invited to participate in a fun wine-centric weekend, Aug. 27 and 28, offered by The Inns at Montpelier, a group of nine Central Virginia bed-and-breakfasts. The convenient all-inclusive "Wine Snob Weekend" package features unique Virginia wine tastings, transportation to all events, classes and creative regional fine cuisine. "Wine Snob Weekends" are designed to be paired with two nights at the luxury Inn of your choice.
Wine Snob Weekends start on Friday evening with a reception highlighting several Virginia sparkling wines. After Saturday morning's Inn gourmet breakfast, the day offers a full range of fun activities and lunch. Relax at your chosen Inn before enjoying wine and discussion with guest Virginia winemakers in the vineyard at the Inn at Meander Plantation and dinner in the Inn's acclaimed restaurant.
"We are pleased to launch these educational and fun August weekends for our guests, showcasing the Inns at Montpelier and Virginia wines," says Suzie Blanchard, Inn at Meander Plantation Owner/Chef. "You select one of the nine Inns, make a phone call and reserve accommodations for a very special B&B and add this incredible wine experience package. The Wine Snob Weekend package makes it easy to plan a fun wine-filled weekend and unwind in the beautiful countryside in the foothills of the Blue Ridge Mountains."
Planned weekend activities include (transportation included):
Friday Evening:
'Who has the Best Bubbles" ~ Comparison tasting of Virginia sparkling wines with an hors d'oeuvres buffet at Mayhurst Inn.
Saturday:
"Wine 101 Grapes to Glass" ~ General wine knowledge class and discussion led by wine snob, wine instructor and lecturer Warren Dunn at Inn at Westwood Farm.
"Wine Pairings" ~ General discussion on pairings along with Virginia wine and local cheese tasting at Holladay House.
"Picnic and Porch Wine" ~ Al fresco lunch with light summery "porch" wines at Ridgeview Bed and Breakfast.
"Blind Tasting" ~ Imagine tasting Virginia's finest wines from a paper bag! There will be wine, fun and prizes at Inn at Poplar Hill.
"How to Host a Wine Tasting Party" ~ Learn how-to in your own home with session at Chestnut Hill
Dinner at the Vineyard ~ Pre-dinner wine and conversation in the Inn
at Meander Plantation vineyard, followed by five-course, candlelight wine-paired dinner in the Inn's dining room.
Sunday:
Pick up Complimentary Winery Tasting Coupons & Touring Guide at Ebenezer House.
Southern tour ~ Sweeley Estate Winery, Barboursville Vineyards, Horton Vineyards and Keswick Vineyards.
Northern tour ~ Sweeley Estate Winery, Prince Michel
Vineyard and Winery, Old House Vineyards, Gray Ghost Vineyards and Pearmund Cellars
Wine Snob Weekend package price is $450. per couple plus your room rate for 2 nights
Call one of the Inns at Montpelier to make your reservation:
Chestnut Hill Bed & Breakfast 888.315.3511 www.chestnuthillbnb.com
Ebenezer House 888.948.3695 www.theebenezerhousebb.com
Holladay House Bed & Breakfast 800.358.4422 www.holladayhousebandb.com
Inn at Meander Plantation 800.385.4936 www.meander.net
Inn at Westwood Farm 888.661.1293 www.innatwestwoodfarm.com
Inn on Poplar Hill 866.767.5274 www.innonpoplarhill.com
Mayhurst Inn 888.672.5597 www.mayhurstinn.com
Ridge View Bed & Breakfast 866.852.4261 www.virginia-ridgeview.com
The Old Mill House 540.948.6287 www.virginiaoldmillhouse.com
Inns at Montpelier are nine luxurious Inns located in Central Virginia's Orange and Madison County. All are a short drive from many award winning Virginia vineyards and James Madison's Montpelier. This bucolic Virginia countryside is graced with rolling landscapes and incredible views of the nearby Blue Ridge Mountains. Visit www.innsatmontplier.com
NOTE TO THE MEDIA: Please contact Suzie Blanchard at 540.672.4912 or inn@meander.net.