Last Saturday we were invited to Philip Carter Winery for the release of their big Bordeaux red, Cleve. As part of the release party, they conducted a Twitter taste off of their current wines and the new Cleve. A few other wine bloggers joined the fun. Rob Cox, the newest member of the winemaking team at Philip Carter, conducted the Twitter Taste-off.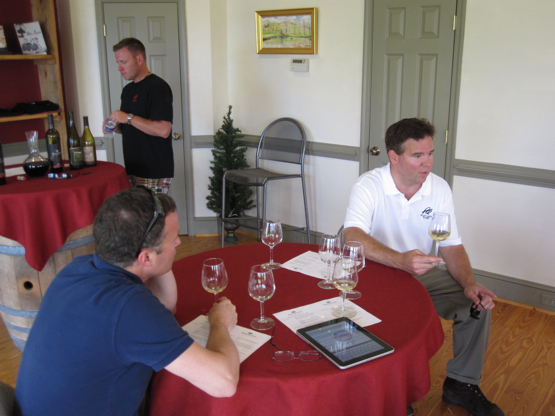 We began with the 2008 Chardonnay. This one got our gold star. It's been their solid white for a while now. It's the white wine we always go for when we visit Philip Carter. We always note the crispness, the fruit, the hints of lemongrass with a touch of oak. It's also a winner. It's gathered a handful of medals. Next up was the Governor Fauquier 2008. We tweeted nutty, off dry, tropical fruit, and melon flavors. We noted it has 1% residual sugar.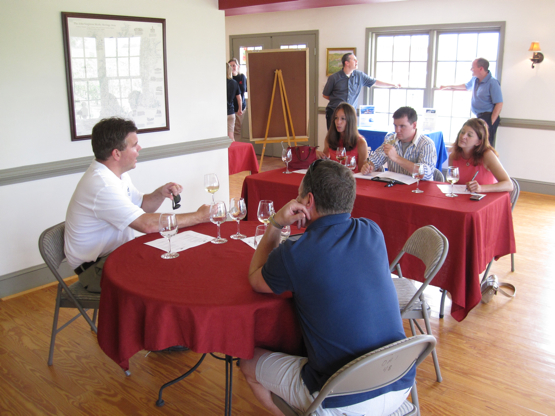 We then moved to the reds. We were looking forward to trying the Cleve but first we had the 2008 Cabernet Franc. This was not of our favorites but we did note it had a nice color for a cab franc. We tweeted it had an acidic nose, with black cherry and pepper on the palate. We then moved on to the Cleve! The Cleve is a Bordeaux style red with 50% cab franc, 35% petit verdot, and 15% cabernet sauvignon. Again, we tweeted extracted fruit on the nose, smoke, violets, bramble berry, big fruit, lengthy finish, and that you can chew on it awhile. We declared Cleve was a winner! We could see keeping this one on your rack for a while. It will on get better with time. Philip Carter Winery certainly has a winner on it's hands with Cleve! Nice job winemakers!
The last wine we tasted was the Late Harvest Vidal 2008. It's 8% residual sugar but isn't overly sweet. We noted baked apple and honey. Perfect ending to the taste off.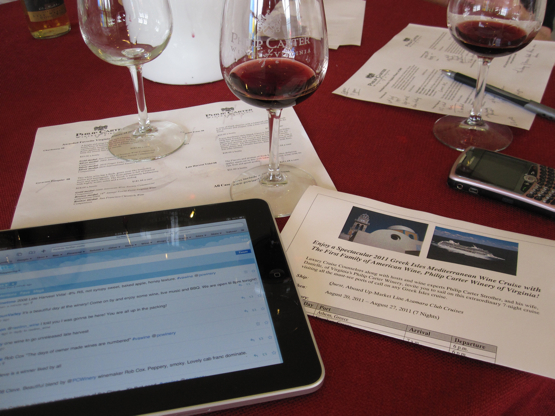 After the Twitter taste off we had a chance to chat with Rob Cox. We always enjoy chatting with Rob Cox…we've followed him from winery to winery. We chatted about the Philip Carter wines and the wine industry in Virginia in general. Rob noted how many Virginia wineries are employing professional winemakers to help develop the wines they want to produce. He said, "The days of owner made wines are numbered." He went on to say, "Virginia doesn't need more wineries making wines, we need wineries making better wine." He certainly has his opinions about the future of Virginia wines.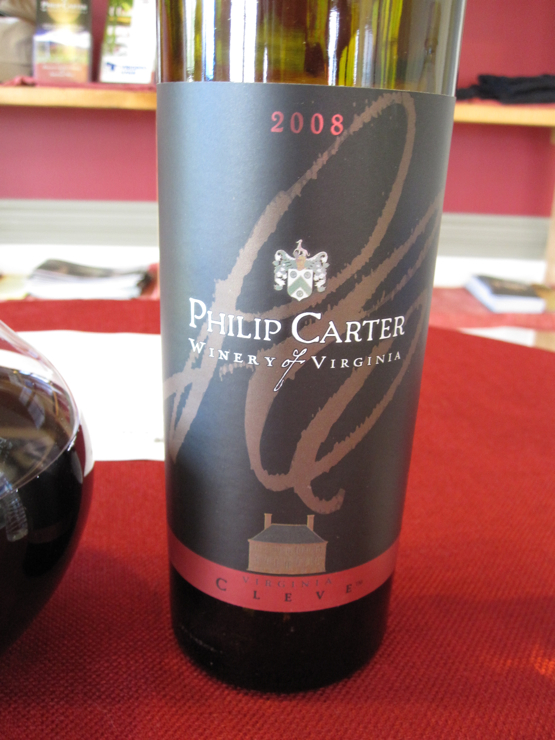 Philip Carter Winery is again teaming up with Luxury Cruise Counselors to plan a spectacular cruise to the Mediterranean in August 2011. Check out their website for more information. You simply must plan a trip out to Philip Carter Winery to taste that Cleve. And when you do, tell them Virginia Wine Time sent you!