So it's that time of year to enjoy lasagna and drink wine at Naked Mountain Vineyard and Winery.  Last weekend, we brought along my sister Cindy, brother-in-law Travis and my nephew Ellis.  Travis is a fellow wine lover and foodie; needless to say, he was game for lasagna and wine.
Of course, we all had to figure out which wine to pair with our lasagna, and that required tasting wines. We were certain that we wanted a red wine, but why not try the white wines, too?  Paul's favorite of the white wines was the Sauvignon Blanc, and it definitely conjured images of springtime flowers and warmer temperatures.  Citrus flavors and a crisp finish highlighted this pour.  Travis and I favored the full-bodied Black label Chardonnay with its apple and pear notes.  I appreciated its toasted nut finish.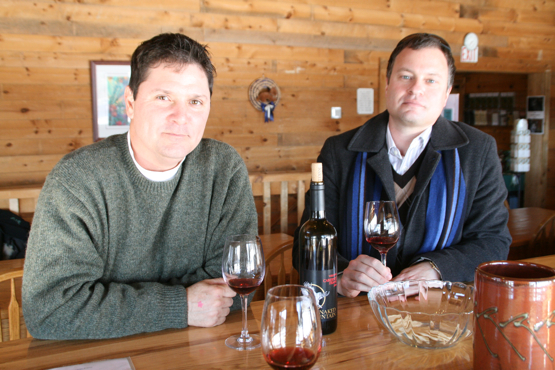 Now on to the red wines, and a potential pairing with lasagna was on our minds.  Our choice was the 2005 Scarlet Oak Red.  This is a Rhone-style blend with Syrah, Mourvedre, and Tannat, and it presented a denser core with aromas and flavors of dark fruit and black pepper.  I also detected some tobacco on the nose.  The Tannat provided a nice backbone, too, and the Scarlet Oak Red finished long.  We all concluded that the Scarlet Oak Red had what it took to meet the weight and spice of the sausage lasagna.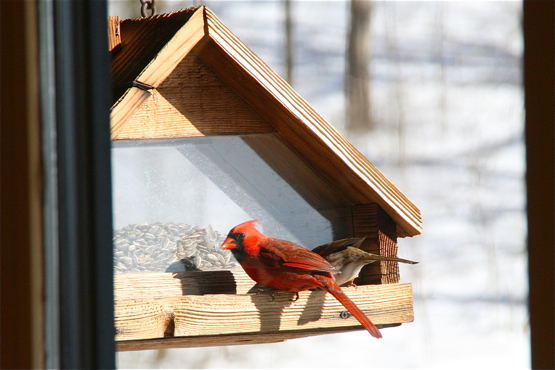 With our tasting done, we settled down for a wonderful meal but made certain to claim a table near the glass doors that allowed us to view snow-capped mountains.  A nearby bird feeder was quite busy with all sorts of birds including cardinals and tanagers.  I must also mention that my sister Cindy is not a wine drinker but was very patient with us as we completed the arduous task of wine tasting.  She and my teen-aged nephew did keep track of the many varieties of birds that frequented the bird feeder, and they even braved the cold outdoors to appreciate the lovely winter landscape while we completed our task to select the perfect wine.  Eventually, we all dined on lasagna and garlic bread, and the wine drinkers acknowledged that the 2005 Scarlet Oak Red was the perfect partner with the meal.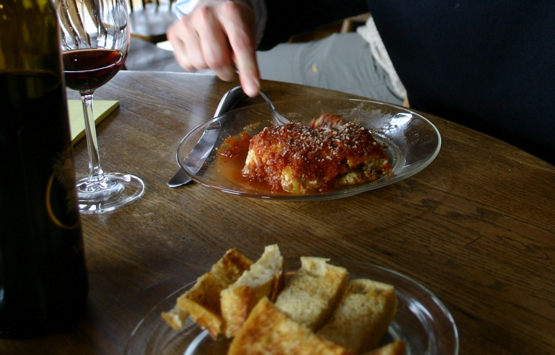 Take advantage of the winter lasagna menu at Naked  Mountain Vineyard and  Winery; of course, enjoy lasagna with a bottle of Naked Mountain Wine.  Be sure to mention that Virginia Wine Time sent you.