So back on the Monticello Trail and re-visits to first timers the last time we were in the area. These would include Sugarleaf Vineyards and Pollak Vineyards.
We continue to be impressed with the offerings at Sugarleaf Vineyards. The 2008 Viognier, blended with 20% Petit Manseng, was my own favorite and presented stone fruit and honeysuckle on the nose with a lovely fruit combination of papaya, fresh pineapple, and a citrus twist in the mouth. I noted some white pepper, too. Some aging in French oak helps to provide a longer finish. Paul placed a star next to the 2007 Petit Manseng and jotted down "floral" and "fruity" as aromatic notes and "peachy" for flavors. He described its finish as "crisp".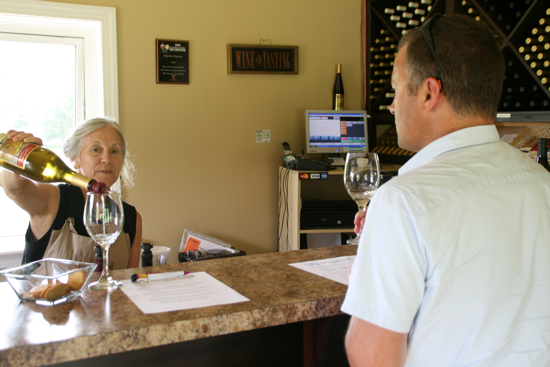 Of the red wines, we both concurred that the 2006 Cabernet Franc (blended with 10% Petit Verdot) was the gold star winner. Extracted berry and dried herbs were detected on the nose with similar qualities in the mouth with some pepper to boot; I noted some vanilla at the end due to aging in both American and European oak. Looking for a decadent treat? Try the 2007 Neubia Nectar, a lush dessert wine that is a blend of Petit Manseng and Vidal Blanc.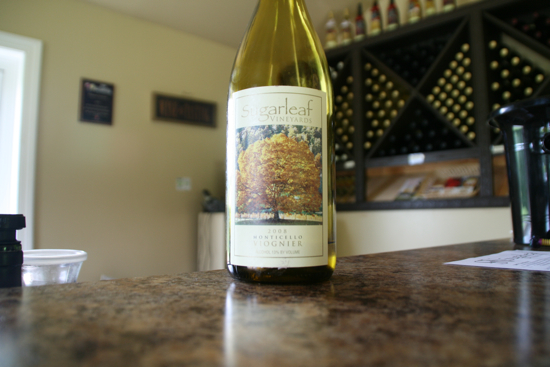 We always hear good things about Pollak Vineyards and for good reason. Here too, the lineup of wines continues to be quite impressive. The 2008 Durant White, a blend of Viognier, Pinot Gris, and Chardonnay, is a crisp pour with characteristics of citrus, apple, and tropical fruit. A crowd pleaser by any means, this easy drinking white should prove to be versatile at the most formal or informal affairs. I appreciated the 2008 Rose with its tart berry characteristics. Dry and crisp, this rose is yet another example of nice roses being produced in Virginia.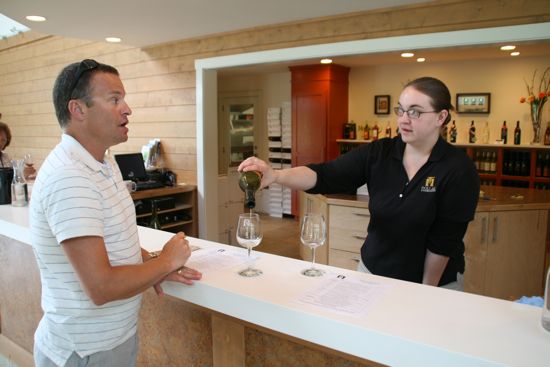 Paul's gold star was reserved for the 2007 Merlot with its ripe cherry and blackberry aromas and flavors. Paul found this one to be more fruit-forward and appreciated its longer finish. My own star was reserved for the complex 2006 Meritage, a blend of Cabernet Franc, Merlot and Petit Verdot. Darker fruit profiles here with pepper and cedar noted, too. Nice tannins here made me wish for a nice steak!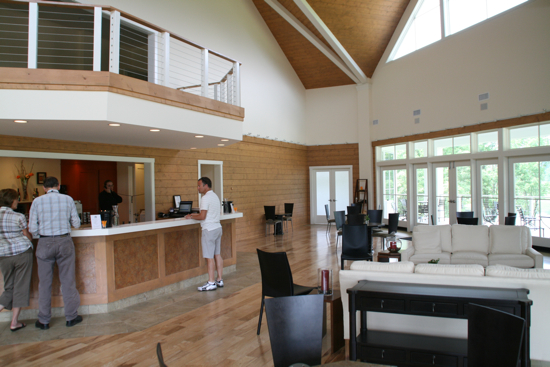 With our tasting done, we were ready to enjoy lunch with one of our favorite wines at Pollak Vineyards. We dined on sliced beef and wild rice salad with a hunk of Emmental cheese, and we paired this with the 2007 Merlot. The grounds at Pollak Vineyards offer stunning views which we enjoyed while munching and sipping.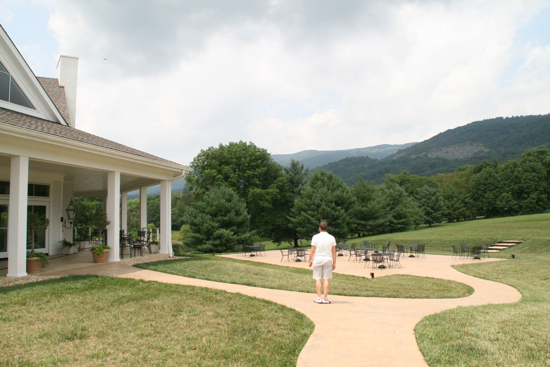 Pollak is also known to be amongst the most "green" of vineyards and wineries, and we look forward to delving into this topic the next time we visit Pollak Vineyards. Of course, we also plan to visit Sugarleaf Vineyards to sample upcoming pours that will include the anticpated Cuvee Neubia. Let us know your favorites at Sugarleaf Vineyards and Pollak Vineyards, but when you visit, mention that Virginia Wine Time sent you.