So back on the Monticello Trail, and this time we were interested in sampling the wares at newer wineries. For this item on the agenda, we added Flying Fox Vineyard and Mountfair Vineyards.
Flying Fox Vineyard has operated as a winery for the last three years, so it's still a relative newbie. The tasting room was quite nice, and the tasting associate was friendly and knowledgeable about the wines. After many years of growing grapes, they have moved into producing their own wines. Three white wines were offered for tasting, and we reached a split decision on the gold star awards. I favored the 2007 Chardonnay which was fermented in stainless steel to present a crisp wine. Nice citrus aromas were noted here with flavors of apples and pears. On a warm, sultry summer day, the 2007 Chardonnay could be the perfect sipper. Paul preferred the 2008 Viognier with its peach and melon characteristics and dry finish. This, too, was fermented in stainless steel tanks.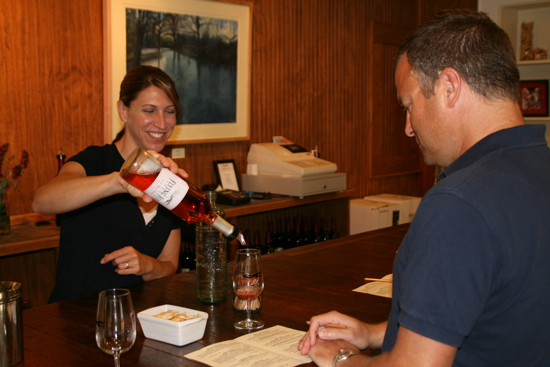 I did think that the red wines at Flying Fox were a bit stronger, and I particularly enjoyed the 2006 Cabernet Franc. Raspberry and cherry were evident on the nose with hints of dried herbs and black pepper with complementary flavors presented in the mouth. A small blending of Merlot rounded out this Cabernet Franc. Not to be outdone was the 2006 Petit Verdot with its blackberry and black cherry characteristics; the tasting noted use the term "concentrated", and I do indeed concur. I noted some vanilla at the end with a lengthier finish to boot.
As we swirled and sipped, a rain shower announced its arrival outdoors. With our tasting done, we decided to gaze up at the summer shower from the dry comfort of the tasting room. We opted to enjoy a generous cheese plate offered by the winery which we then paired with the 2006 Cabernet Franc. I particularly enjoyed the Gorgonzola cheese while Paul munched on the white cheddar.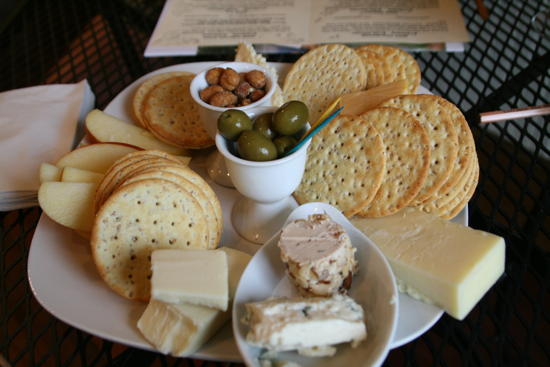 Alas, the summer shower did indeed end, and with lunch and wine consumed it was time to move on. With a lovely rainbow guiding the way, we made our way to Mountfair Vineyard. Mountfair just opened with the past six months, and the focus is blended red wines from Bordeaux varietals. We were fortunate enough to meet one of the owners, Chris Yordy. He conducted our tasting. Three wines were offered for tasting, and all presented different blending proportions of Cabernet Franc, Merlot, and Petit Verdot. I allowed Paul to award the gold star here, and this he presented to the Merlot-based 2007 Engagement. (The blending proportions here are 65% Merlot, 25% Cabernet Franc, and 10% Petit Verdot.) Paul's descriptors included "intense cherry", "spice", and "nice tannins" to suggest a complex yet accessible red wine. I thought it still tasted a little young, so "engage" now with a purchase but enjoy a bit later with a favorite beef dish. A juicier pour is the 2007 Wooloomooloo (an Aboriginal term). The predominant varietal is Petit Verdot: so, expect a denser color with a more layered fruit structure.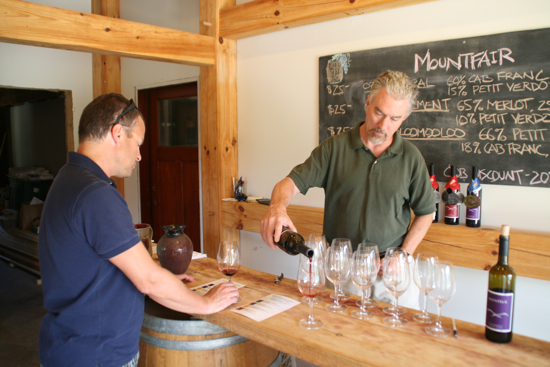 Mountfair's tasting room is still a work in progress; however, it's the wines that count, and the wines here are very good. Paul was impressed with Engagement and purchased a bottle that now rests comfortably on his wine rack.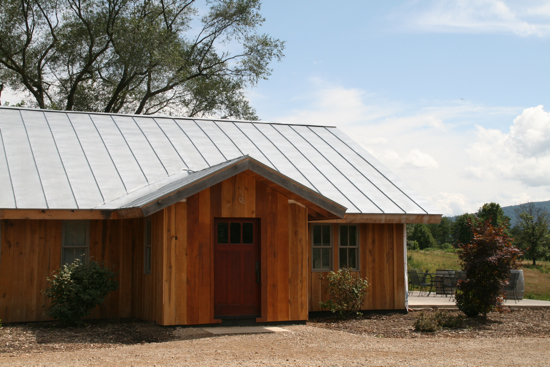 The list of Virginia wineries grows every day it seems, and that just keeps us busier and busier as we continue to sample Vriginia's finest. Be sure to visit Flying Fox Vineyard and Mountfair Vineyards, and mention that Virginia Wine Time sent you.