With a historic week coming to a close, I can finally reflect back on the past weekend in which Paul did the Time Warp, and we were treated to a special release of a special wine.
So what's up with Paul doing the Time Warp? On Halloween, we donned our best and scariest costumes and played tricks or treats at Barrel Oak Winery. Spooky movies, Halloween treats, and nice wines were on tap, and we were just in time to view the showing of The Rocky Horror Picture Show. We made sure to allow enough time to do a tasting, and we settled on a bottle of the 2005 Merlot to share with grilled fare and a nice Gruyere cheese. (We also munched on popcorn and smores as we watched Brad and Janet struggle through a rough night with Dr. Frankenfurter!) And yes, Paul did do the Time Warp!!
We were also made privy to upcoming releases at Barrel Oak including a divine Viognier that showcased the talents of winemaker Rick Tagg, so stay tuned for that one!
Warren as a Prince having a taste of Barrel Oak wines.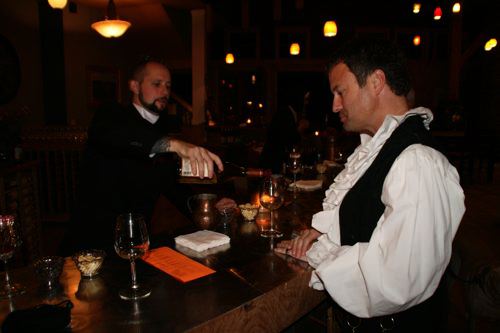 Brian Roeder shares a taste of the upcoming Viognier.

Saturday evening found us at the special release party for Gray Ghost Vineyards' 2005 Reserve Cabernet Sauvignon. This is always an elegant night filled with music, food, and wine ( of course). Gray Ghost Vineyards only produces a reserve Cabernet in exceptional years, and the result is always an exceptional wine. This Reserve offered rich dark fruit flavors with silky tannins that made it a natural partner for the evening's menu offerings: prime rib, grilled salmon (my favorite), and grilled chicken with mushrooms. We were joined by our friends, Mark and Shane, who tend to favor Gray Ghost's Merlot yet found the Reserve Cabernet a wine to add to the rack. Be sure to also sample Gray Ghost Vineyard's 2007 Reserve Chardonnay and Cabernet Franc; both were newer releases that would accompany fast-approaching holiday dinners.
Guests gather before the release of the Cabernet Reserve.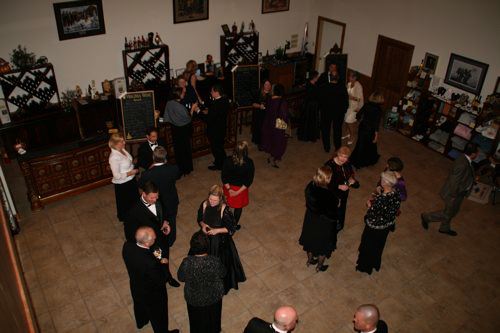 Mark, Shane, Paul and Warren.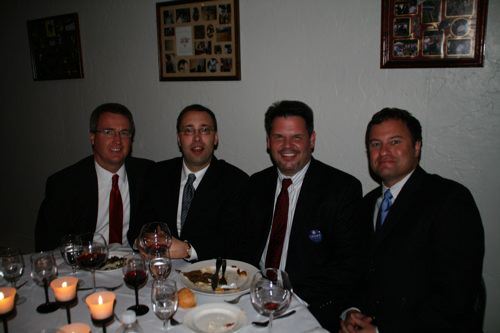 Owners Al and Cheryl Kellert take the dance floor.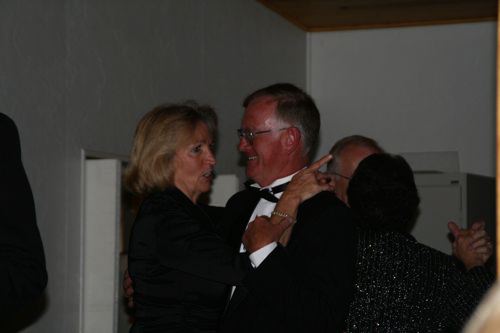 So as we settle into fall, be sure to visit Barrel Oak and Gray Ghost Vineyards; be sure to mention that Virginia Wine Time sent you!