During a recent visit to wineries in the Charlottesville area, we decided to pay a visit to Veritas Vineyard and Winery. "Spacious" and "palatial" might be apt descriptors for the Veritas grounds and facility, and on a fall afternoon, the view can be described as stunning. However, we were interested in wine, and we sidled up to the tasting bar to record our critiques of current pours.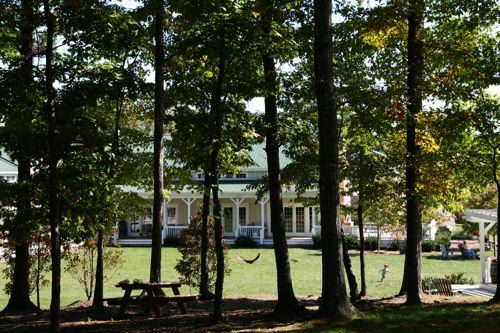 It had been quite a while since we visited Veritas, so we were anxious to sample all of Veritas' current releases. As always, lunch was in the car, so an appropriate wine pairing was also in the back of our minds. Fourteen wines were up for tasting—as this can be quite daunting, we decided to share tastings. Paul skillfully reviewed the white wines, and he sometimes offered me a sip from his glass. We do tend to have different tastes in white wines; I like full-bodied whites, but Paul likes fruity sippers. Therefore, I was not shocked to see him place a "star" next to the 2007 Chardonnay. Why? It was done in stainless steel (a Paul favorite), and of fered citrusy flavors with a crisp, clean finish that would win over any Chardonnay hater. However, we both concurred on the 2007 Viognier. A sniff of this one conjures images of Hawaii and other tropical destinations—floral nose with ripe tropical fruit flavors were accompanied by a lovely honeyed texture. Not surprisingly, this Viognier spends 2/3 of its rest period on French oak with the remainder in stainless steel. This one seemed to satisfy both of our preferences—a full bodied wine packed with fruit flavors. Pay attention to the 2006 Petit Manseng, too. Petit Manseng is becoming the Petit Verdot of white wines in Virginia. Petit Manseng is a little-known varietal grown in France but is fast becoming a flagship varietal in Virginia. The Veritas offering presents a coconut nose and flavors with a creamy mouth feel; this lush offering is destined to be a crowd pleaser.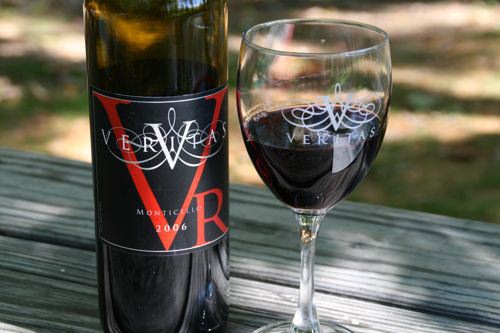 So on to the reds, and it was my turn to do the tasting. (I did offer short sips to Paul when I wanted his input!) By far, the gold star favorite was the 2006 Cabernet Franc Reserve. A seductive dark berry nose then gave way to a presentation of cherries and black currants in the mouth. I also observed some peppery characteristics with a lengthier finish. Paul's own favorite was the 2006 Vintner's Reserve. He appreciated its garnet color and spicy/caramel nose. He noted mixed berry flavors and silky tannins that made this one an easy wine to drink.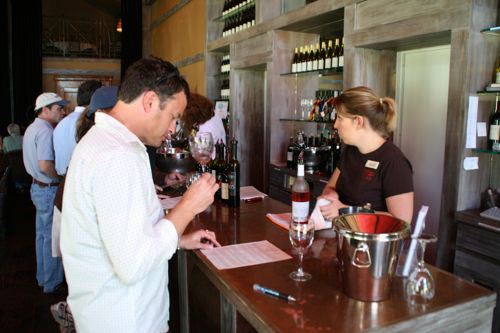 So what did we pair with lunch? With honeyed ham and fruit salad in the cooler, we went with the 2007 Viognier. Adirondack chairs offered comfortable seating to enjoy fall colors and a comfortable breeze. Shutterbug Paul captured many photographs of the scenery, and the wine and food provided a perfect accompaniment to a natural fall symphony of sight and sound.
On the wine trail in October? Remember, October is Virginia Wine Month. Visit Veritas Vineyard and Winery and mention that Virginia Wine Time sent you!