It seems as though a new winery opens in Virginia every week. Fox Meadow Vineyards opened in May and has had a constant flow of visitors since. Also, it was a chance to garner another sticker for our Passport!
Dan and Cheryl Mortland own Fox Meadow, and their property sits atop a hill in Linden Virginia. The view is stunning—majestic mountain landscapes complement the vineyard scenery. Currently, nine acres of vines are planted; however, Cheryl confided that there are plans to plant even more vines on their 50 acre property. Varietals now planted include Pinot Grigio, Chardonnay, Merlot, and Riesling.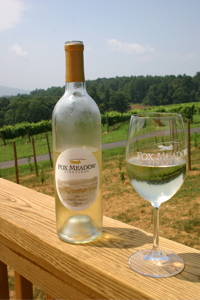 The tasting room is a beautiful wood structure with high ceilings and beautiful views of the surrounding mountains. Of course, we were interested in tasting wine, and Fox Meadow now pours four wines to sample. The two whites offered include the 2005 Pinot Grigio and a 2005 Chardonnay done in the California style. Two reds were also poured, and include a 2004 Syrah and a 2002 Cabernet Franc produced by Horton. We must note that the Pinot Grigio and the Chardonnay were produced by grapes grown on the Fox Meadow estate. Cheryl informed us that future plans include estate-grown Riesling and Merlot.
As our readers know, we always bring food with us, and we brought along melon, grapes, light cheeses, and sausage. To accompany our lunch, we selected the Pinot Grigio. Crisp was the first word that came to mind, and the floral nose seemed to magically cool off a very warm summer day. Refreshing lemon, pear, and citrus flavors cooled the palate, and it paired quite well with our lunch. We enjoyed our afternoon as we relaxed on the deck, and the breath-taking scenery made us forget the toasty heat of the July afternoon.
While enjoying our wine and lunch we were able to talk with Mark and Chris, a couple sitting close to our table. They enjoyed the Syrah and Chardonnay; in fact, Warren decided to have a glass of the Syrah as we enjoyed conversation about the wines and wineries. Mark and Chris were very knowledgeable of Virginia wineries, and we enjoyed meeting and chatting with them.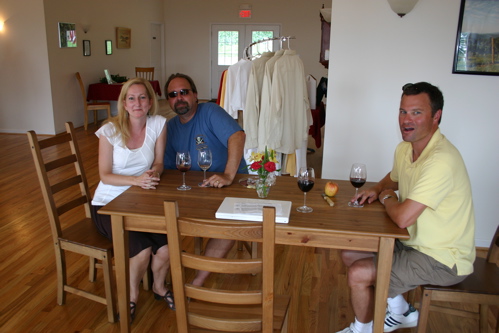 Fox Meadow plans to include events at their winery in the near future. They hope to begin cellar tastings in August and possibly a harvest picnic in October. We look forward to a future visit to Fox Meadow, and we are confident that Fox Meadow will continue to produce well-crafted wines.
If you decide to visit Fox Meadow Vineyards, please tell them you read about them on the Virginia Wine Time blog.