For dinner last night we had breaded chicken and herbed rice. Warren selected the 2009 Chambourcin from Hume Vineyards to compliment the meal. I may not have noted this yet but I'm not a big fan of Chambourcin. I've tasted many Chambourcins and very few make it on my rack. The Hume Chambourcin would fit nicely with the other wines on my rack.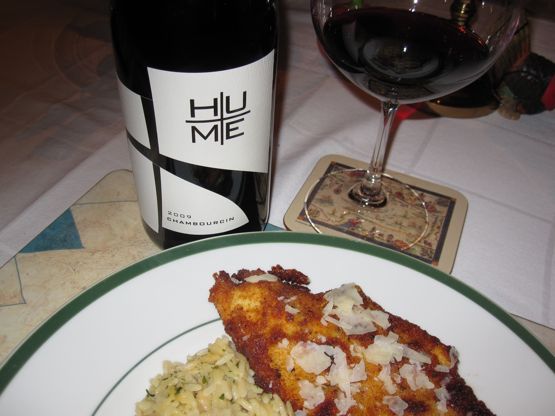 On the nose we jotted down fruity, jammy, dark plum, dark cherry, earth, tobacco, and anise. Jammy can sometimes be a bad thing but in this case it was not the bad kind of jammy. It was pleasant. In the mouth we noted similar characteristics with the addition of currents, spice, and pepper. Even though it is 13.8% alcohol, we noted some heat on the end. The Chambourcin complimented the breaded chicken and herbed rice rather well.
Even though I don't call myself a Chambourcin fan, I did enjoy this one. We look forward to future vintages of Hume's Chambourcin. Knowing that I'm not the biggest Chambourcin fan, are there other Virginia Chambourcins you, dear readers, recommend I try?