We always have our sights set for new wineries to visit when we travel throughout the state, and a recent trip to the historic town of Staunton allowed us to hone in on the newly opened tasting room for Ox-Eye Vineyards.
The experience was indeed a unique one as the tasting room is located in the town of Staunton instead of near the Ox-Eye vineyards. The vineyards are actually in Shenandoah farm country and several miles away from downtown Staunton. Visitors to Virginia wineries may find this unusual, but it is par for the course in Europe. We actually enjoyed this slice of Old World in a historic town like Staunton (historic because it is the birthplace of President Woodrow Wilson), and there is no doubt that the tasting room's downtown location creates a greater potential to attract more customers. And the closing time on Friday and Saturday is 7 PM. End of work week/happy hour crowds in Staunton who seek an alternative to cheap beer and watered down liquor now have a place to unwind. The quaint tasting room itself as well as the out door café tables and chairs only enhance the Euro vibe.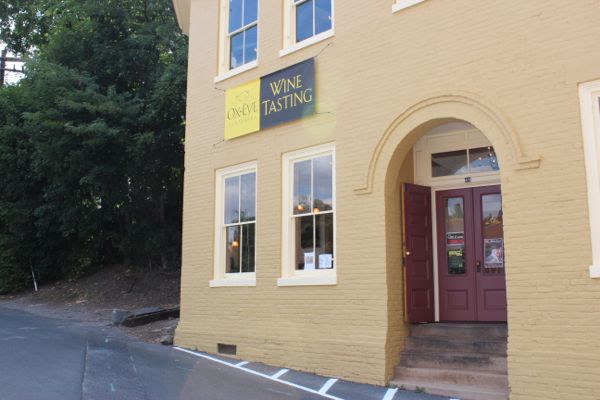 So what about the wines? Overall, we found them to be well-crafted wines. Three white wines from the 2010 vintage and three reds from the 2009 vintages were offered for tasting. Of the white wines, we both enjoyed the crisp Chardonnay that was fermented in stainless steel tanks. It presented aromas and flavors of pear and citrus zest, and its refreshing finish was made for a hot summer's day. Nice on its own, this Chardonnay should pair nicely with poultry or shellfish.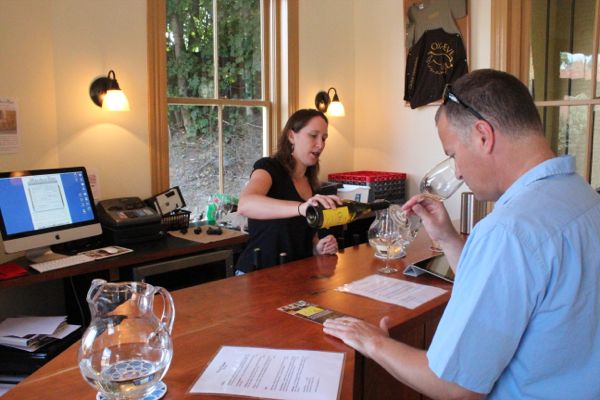 Of the red wines, I favored the 2009 Cabernet Franc with its notes of raspberry, tobacco, and black pepper. This was aged in French, American and Hungarian oak barrels. Grilled chops seasoned with fresh herbs might partner nicely with this one. We were both intrigued with the 2009 Lemberger, an Austrian grape that grows well in the cooler climate and higher elevations of Ox-Eye vineyards. With a smoky nose and flavors of dark cherry, blackberry and black pepper, this unique offering might be destined for a meal that features grilled steaks.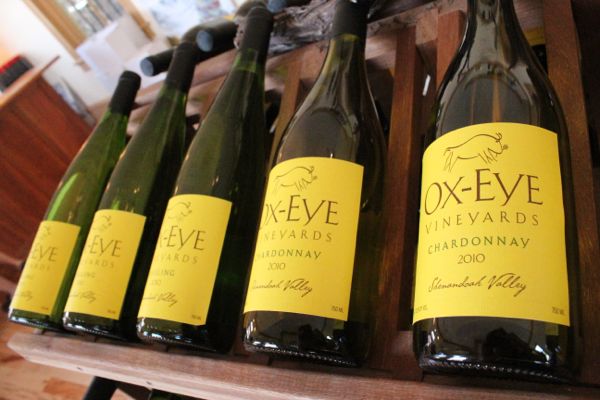 As we sipped away in the tasting room, we met Susan Kiers who owns Ox-Eye Vineyards along with her husband, John. They have managed the Ox-Eye Vineyards since 1999 and began selling grapes to other wineries after 2000. In 2010 a tasting room was built in downtown Staunton; March 2011 was the grand opening of this facility. The Ox-Eye Vineyards enjoys an elevation of 1830 feet and benefits from a limestone foundation. Continuous breezes create optimal airflow to combat frost and diseases. In fact, John and Susan compare their site to those of the Finger Lakes region rather than Virginia's Piedmont! And where did they derive the name, Ox-Eye? From the ox-eye daisies that decorate the property and surrounding landscape.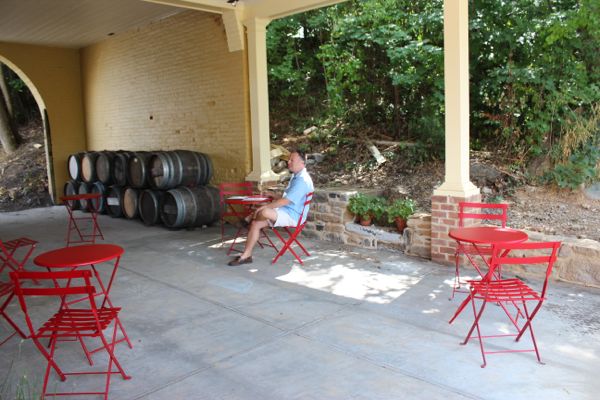 With our tasting done, we shared a glass of the 2010 Chardonnay and relaxed beneath the shade of the back patio. We envision a bright future for Ox-Eye Vineyards and hope to visit the tasting room to follow the progress. In the meantime, visit the birthplace of President Wilson and then enjoy a glass of wine at the Ox-Eye tasting room. Be sure to mention that Virginia Wine Time sent you.