We resumed our treks on the wine trails in style with a weekend stay at The Inn at Meander Plantation. We always reserve the well-appointed Madison Cottage with its European-style shower, and I look forward to sporting the plush robes that await guests in the cottage's closet. Owners Suzie Blanchard and Suzanne Thomas also have a commitment to serving only Virginia wines in their dining room, and we made certain to reserve a table for a night of elegant fare and excellent Virginia wines. The Inn also offers gorgeous views of mountains framed by glorious sunrises and vivid sunsets. Early morning fog called to mind a scene from a Gothic novel.
What were our menu selections for dinner?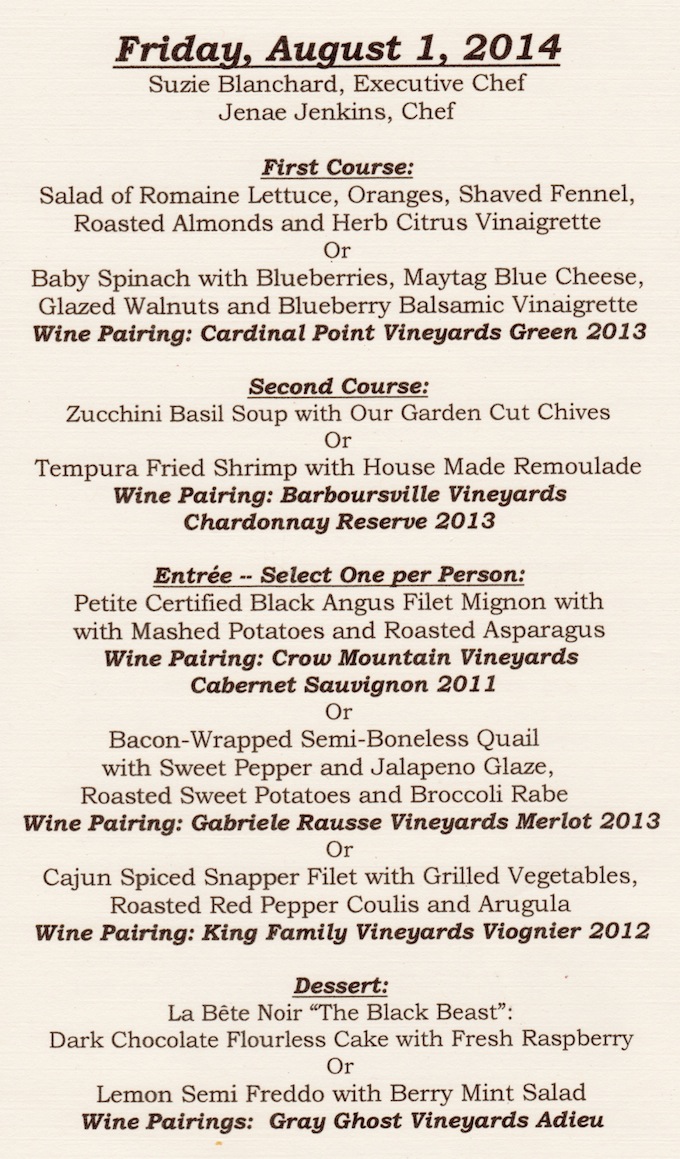 What did we order? I enjoyed the salad of romaine lettuce; the shaved fennel and citrus vinaigrette was the perfect match for the vino verdhe-style Green 2013 from Cardinal Point Vineyards. I love summer squash so the zucchini with basil soup was a no-brainer for me; its creamy texture matched that of the Chardonnay Reserve 2013 from Barboursville. Paul delighted in the tempura fried shrimp and noted that the batter-coated crustaceans were quite marvelous with the same Chardonnay.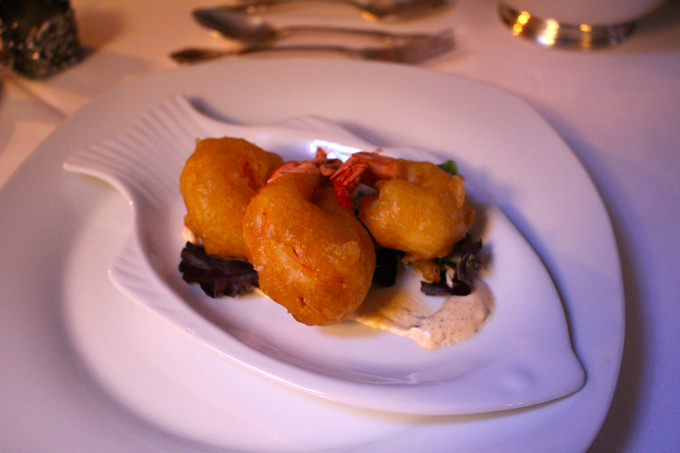 We both ordered the same entree- – -the black angus filet mignon. The wine pairing was quite a mysterious yet wonderful surprise—-a Cabernet Sauvignon from Crow Mountain Vineyards. The vintage? 2011. I admit to not knowing anything about Crow Mountain Vineyards, but I do know quite a bit about the 2011 vintage. Hurricane Irene dumped tons of rain in the state that year, and red wine grapes took quite a hit throughout most Virginia vineyards. However, this 2011 Cabernet Sauvignon exhibited a depth in its color as well as its aroma and flavor profiles that we have not experienced from other 2011 red wines from Virginia. We would love to know more about this vineyard, so if any reader out there can enlighten us, we are eager to learn all about it! The dinner ended with the La Bete Noir, a flourless cake with fresh raspberry, and its pairing with the Gray Ghost Vineyards Adieu was classic.
We never look forward to ending our stay at the Inn at Meander Plantation; however, having to say good-bye always prompts us to look ahead to future visits. Looking for an elegant weekend in Virginia wine country? Plan to stay at The Inn at Meander Plantation; however, please mention to Suzie and Suzanne that Virginia Wine Time sent you.