Many Friday evenings are spent on my balcony enjoying food and wine. The weather wasn't too hot on Friday so we continued the tradition.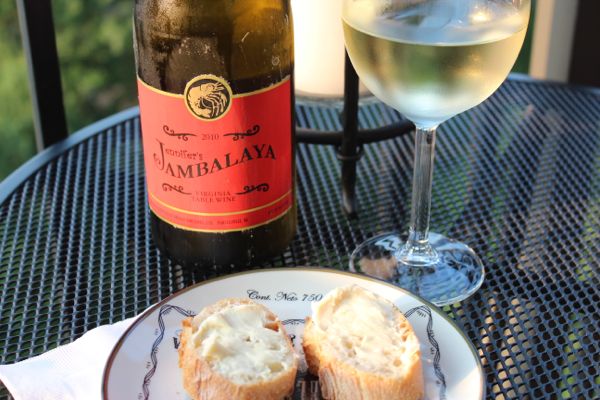 We began with St. Andre's cheese and a baguette. We paired it with the 2010 Jennifer's Jambalaya from Breaux Vineyards. As you may already know, I'm a member of the Breaux Cellar Club and thoroughly enjoy all the wines from Breaux. This is a perfect wine for a warm evening on the balcony. It's slightly sweet, floral, and fruity. It's a blend of seven white wines and has just the right amount of acidity. It paired beautifully with our cheese and bread.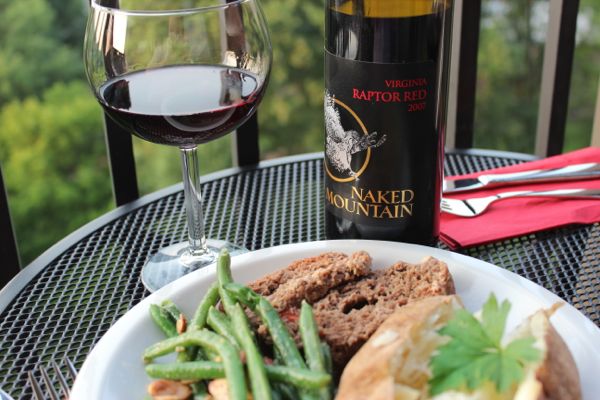 For dinner I cooked my mom's famous meatloaf, baked potatoes, and green beans almondine. We already had plans to visit Naked Mountain Winery & Vineyards this weekend so we selected the 2007 Raptor Red from my wine rack. Some of the 2007 reds from Virginia are beginning to show really well so we wanted to see how well the 2007 Raptor Red was holding up. We were very pleased when we opened it and paired it with our meal. We noted blackberry, raspberry, sweet tobacco, and spice.
Both of our evenings wines turned out to pair very nicely with our food choices. If you haven't been to Breaux Vineyards or Naked Mountain Winery & Vineyards lately, plan a trip soon and tell them Virginia Wine Time sent you!