Yes, we've reached that important milestone—winery #100!  For such a special occasion we, visited a winery that has been on our radar for quite some time; however, we never seemed to make it out to Vintage Ridge.  We then had two goals: 1) to hit #100, and 2) to taste the current offerings at Vintage Ridge.  Both were accomplished on this past Sunday.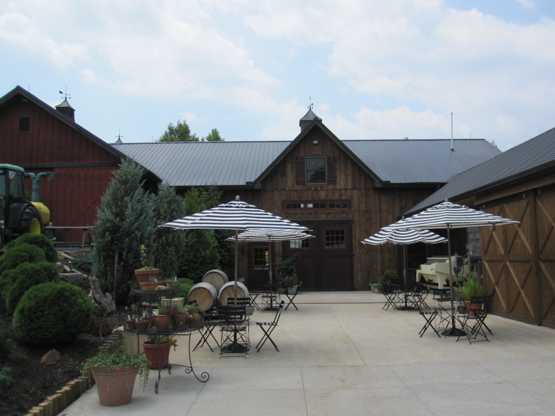 We entered the tasting room at Vintage Ridge and were impressed by the well-appointed furnishings.  In fact, we thought we had entered a quaint café.  Tastings are done at tables and conducted by tasting associates/wait staff.  Indoor and outdoor seating is available; however, on a day that hit 99 degrees, we opted for an indoor table.  Scott was our tasting associate, and he provided us with a tasting menu that included food pairings.  Some of these pairings, though, were menu items to be served during the course of the tasting.  This interesting twist allowed us to observe how the wines complimented certain foods and seasonings. 
So plates of food were brought to our table, and Scott commenced with our tastings.  In the meantime, we prepared our gold stars for placement next to our favorites.  Of the white wines, the Maiden Voyage 2008 was our unanimous favorite.  This one was poured as an aperitif and was offered before the food trays appeared.  However, this blend of Vidal Blanc, Mouvedre (no kidding) and Pinot Grigio was an excellent way to start our session.  Mango and peach flavors were noted with a crisp finish; though nice as an aperitif, I'd be tempted to pour it with either picnic fare or even a crab cake.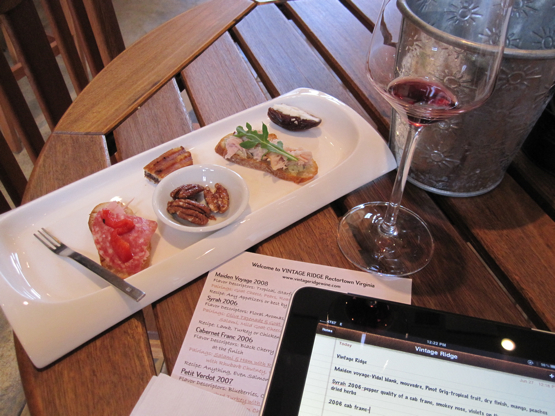 The reds were all well-crafted, and our gold-starred fave was the 2007 Petit Verdot.  We both noted layers of dark berries (black berry was prominent for me), plums, mocha, and cedar at the finish.  This one was the perfect partner with the smoked turkey served atop stilton mayo and chutney on a thin baguette slice.  A spicy arugula leaf capped the mini-sandwich.  Though it was a hot summer day, I did not have a hard time imagining a slab of prime rib with this one.  Fans of lighter-bodied reds may prefer the 2006 Syrah.  Its nose of violets and dried herbs gave way to cherry flavors in the mouth to present a bistro-style wine that would pair with light grilled fare, burgers or pizza.
Of course, we always keep sweeter wines in mind for our friend and guest blogger, Michael Tyler.  We place an "MT" next to these wines, and the 2008 Summer Night earned this designation.  This is a slightly sweet Vidal Blanc offering that presented flavors of pineapple and coconut, and it paired quite well with the crostini with mango chutney, ham and manchego cheese.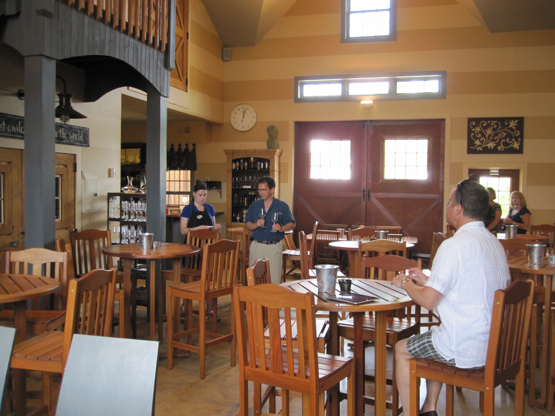 These wines and their food pairings were skillfully presented and explained by tasting associate, Scott.  With our session completed, we opted to enjoy a glass of wine while we compared our notes.  Paul was persuaded by the heat to enjoy the refreshing 2008 Maiden Voyage; similar conditions persuaded me to imbibe the lighter-bodied 2006 Syrah rather than the bolder 2007 Petit Verdot.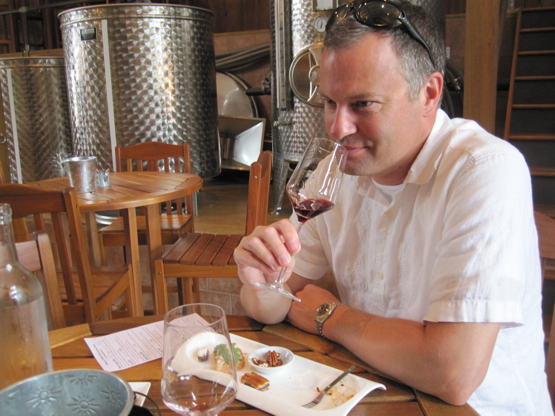 Time seemed to fly at Vintage Ridge, and I made certain to purchase a bottle of the 2007 Petit Verdot to enjoy with a heavier fall or winter menu.  We also thanked Scott for providing us with an informative tasting session, and we know that we will return to Vintage Ridge soon.  In the meantime, be certain to pay a visit to Vintage Ridge for a food and wine tasting, and mention that Virginia Wine Time sent you.
(No—balloons did not fall from the ceiling, and we did not win luxury prizes for our achievement.  In fact, we reminded ourselves that there are probably 50 more wineries to visit!)