For anyone looking for a unique food and wine experience, look no further than The Ritz-Carlton, Tysons Corner.  We spent this past weekend participating in a cooking class hosed by executive chef Matthew Morrison, chatted about wine with heralded sommelier Vincent Feraud, and then had dinner paired with Virginia wines in the elegant yet unpretentious Entyse Wine Bar & Lounge. We felt very spoiled and pampered, and our only regret was that we could not stay longer.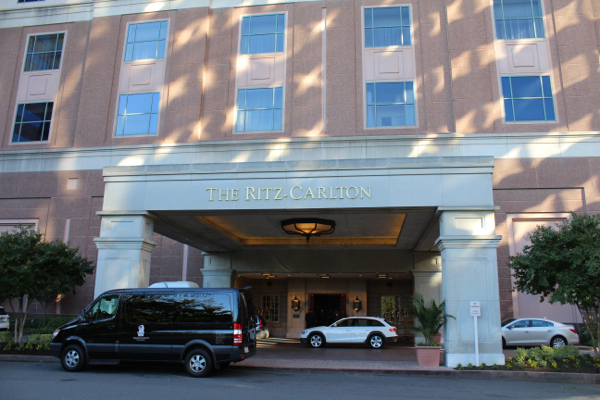 Our day at The Ritz-Carlton, Tysons Corner began with a cooking class given by chef Matthew Morrison.  The class was actually part of the Fall Epicurean Series, a weekly series of cooking demonstrations held at the hotel each week in October.  The particular session was called Thanksgiving 101; Morrison and his talented culinary team guided participants through lessons on how to create a delicious Thanksgiving meal.  The menu included brined turkey (including a unique tip on how to bake the bird in separate pieces), apple raisin stuffing with seasonal herbs, cranberry orange chutney (say good-bye to the gelled canned stuff), and a lush black pepper panna cotta for dessert.  Mixologist Narath crafted signature cocktails to pair with each course.  For starters, a crisp French 75 made with Champagne and a splash of gin and lemon made for a lemony aperitif.  With the main meal, a French Martini was served and featured Chambord, pineapple juice, grand marnier, and vanilla vodka.  Sommelier Vincent Feraud offered a wine alternative and poured a divine Stolpman Syrah 2009.  Finally a decadent pumpkin spice martini made with pumpkin spice liquer and Godiva chocolate syrup was finished with a dollop of whipped cream, and this was served with the panna cotta.  Rich textures, chocolate highlights, and fall spices played delightfully well with each other.  The Ritz-Carlton, Tysons Corner has many Fall/Winter events lined up. Check out the events calendar and find one that interests you.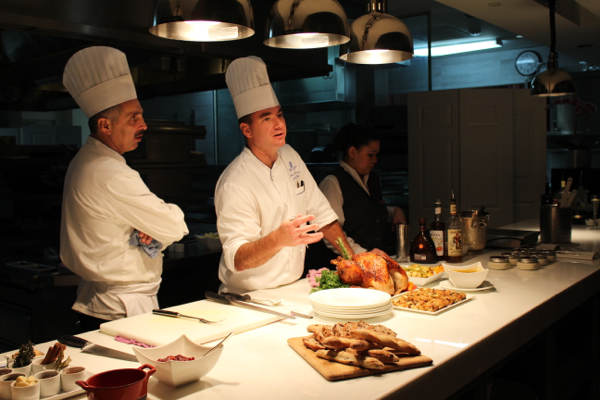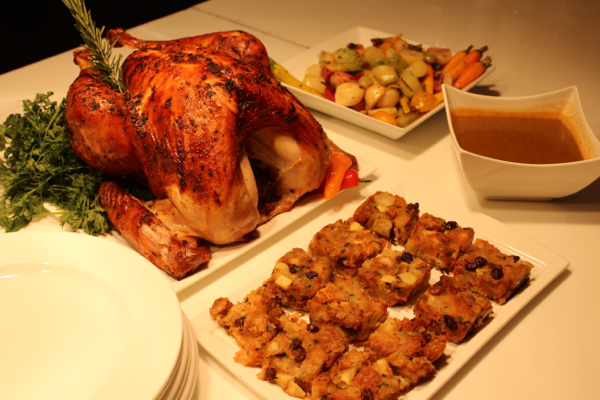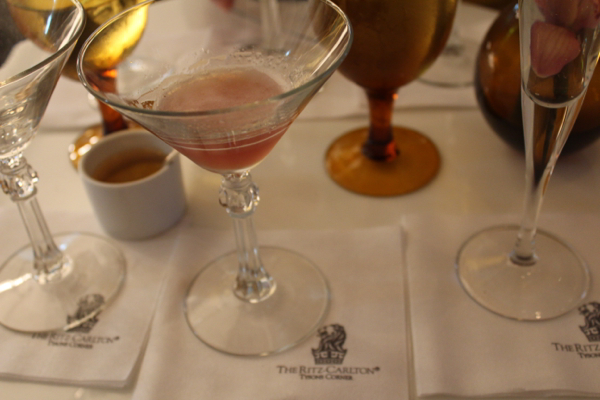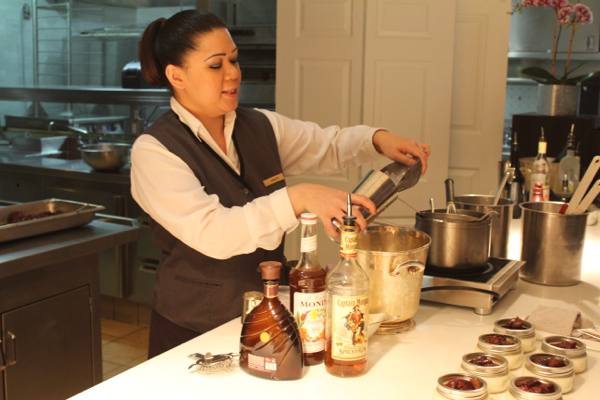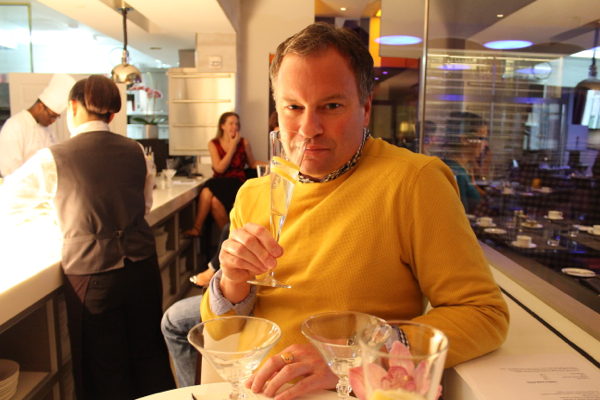 We walked away from the cooking class with tips to make our Thanksgiving meal even more memorable.  We were also quite satisfied from Chef Morrison's sample servings from the demonstration.  However, we knew that more culinary treats were on the way, and we decided to rest for a bit in The Ritz-Carlton, Tysons Corner Club Room which offers guests a panoramic view of the Tysons area including the emerging fall colors from trees that are just now putting on quite a colorful show.  Shima, the Club's concierge, warmly greeted us and offered to pour for us a glass of wine, and offerings included the Barboursville Pinot Grigio.  How could we resist?  Lovely views of the Virginia landscape were appreciated from the Club Room while enjoying a glass of Virginia wine from Barboursville to continue our celebration of Virginia Wine Month.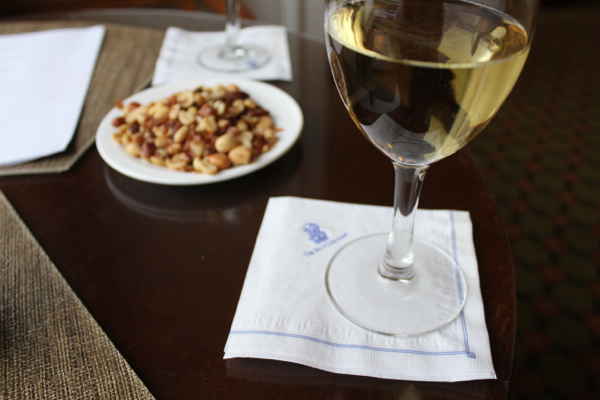 We finished our evening at The Ritz-Carlton, Tysons Corner with dinner at Entyse Wine Bar & Lounge.  Here we were greeted by sommelier Vincent Feraud who poured for us the Trump 2008 Blanc de Blanc.  Vincent Feraud was the sommelier that helped to conduct the Judgment of Paris held in 2009; this contest featured a showdown between the best Virginia wines and wines from France, Chile and Austria.  The outcome? Virginia wines either bested or equaled their foreign competitors.  Vincent was more than willing to chat with us about Virginia wines, wines from around the world, and yes, custom motorcycles.  If readers ever see us pull up at a winery on motorcycles, it was Vincent Feraud who influenced us!  Anyway, we ordered dinner with a promise from Vincent that he would return with a Virginia wine to pair with our meal.  Paul ordered roasted chicken with mashed potatoes; I could not resist the filet mignon with rosemary potatoes.  And the wine?  Vincent poured for us the 2009 Cabernet Merlot from Lovingston Vineyards.  It was a "wow" experience.  Our meal was perfectly prepared, and the Virginia wine selection proved to be the perfect match.  I must add that our waiter, Simon, was very attentive and personable.  After we finished our meal, we lingered for a while to finish our wine; as we did so, the Christopher Linman Jazz Ensemble entertained lounge guests with classics from such greats as Miles Davis and Duke Ellington.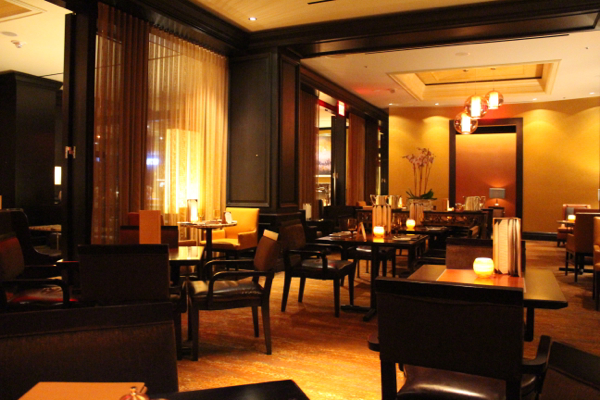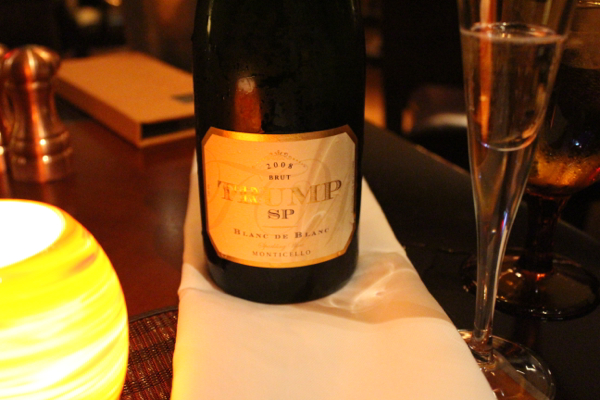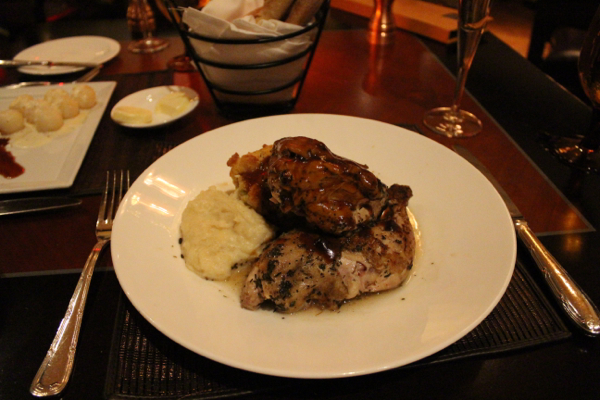 Needless to say, our appetites were more than satisfied.  We retired to our room where chocolate squares rested atop pulled down sheets.  We had no trouble falling asleep!  After a breakfast of French toast and fresh coffee, we took one final glance at the elegant lobby with its bouquet of fresh flowers and glittering chandeliers.  We enjoyed our stay at The Ritz-Carlton, Tysons Corner.  Great food, wonderful wines, and superb amenities await guests who will be pampered by a dedicated team that offers excellent service.  We plan to visit The Ritz-Carlton, Tysons Corner again, and we recommend that readers do so too.  Please mention that Virginia Wine Time sent you.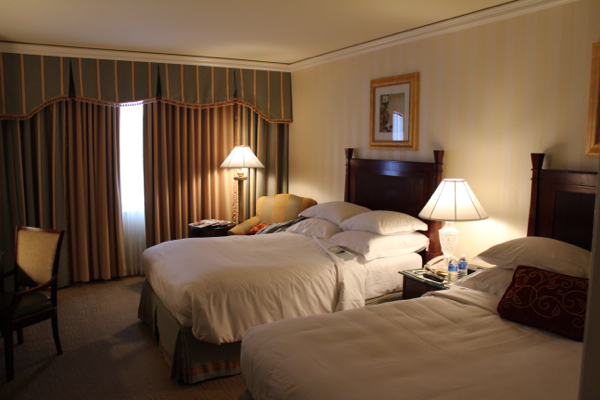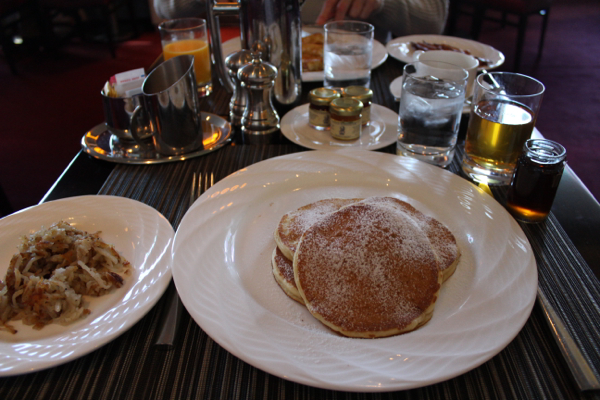 (A very special thank you to Chef Matthew and his talented culinary team, and Narath, Vincent, Shima, and Simon for making our stay super fantastic!)
 
We were invited to participate in The Ritz-Carlton, Tysons Corner: Stay, Play and Write Campaign. All opinions are our own.