This past weekend was quite gloomy with dense fog and constant rain and drizzle; however, that did not dampen our enthusiasm to visit Stone Tower Winery to catch up on the latest developments. We attended the groundbreaking ceremony at Stone Tower last year, so we were eager to discover the latest happenings there. We met with Bryan Toy, the General manager at Stone Tower Winery, this past Sunday; we were treated to a tour of the winery and vineyards and then a tasting of current releases.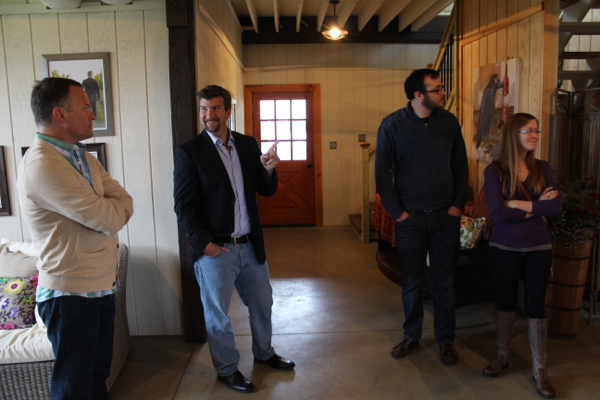 Bryan's warm welcome made us feel right at home at Stone Tower Winery, and he conducted a tour of the vineyard as well as the winery's new construction site via golf cart. (I had never been on a golf cart, so I was excited!) Owners Michael and Kristi Huber own over 200 acres of property on the Stone Tower Winery site, and over 20 acres are currently planted as vineyards. Chardonnay and Viognier make up at least six acres of the vineyard with plans to expand white varietals to include Sauvignon Blanc and Semillion. Red grape plantings include Cabernet Sauvignon, Cabernet Franc, Petit Verdot and Merlot. Vineyard practices favor tight spacing to manage nutrients and moisture, and these decisions are made in consultation with viticulture expert Lucie Morton. The vineyards enjoy a high elevation to maximize proper airflow and drainage. However, like all Virginia vineyards, there are indeed challenges in the vineyard at Stone Tower Winery. Unpredictable weather, rot, and disease can throw a curve ball to any vineyard, and Stone Tower Winery stays ahead of the game with a management program that blends both traditional and organic methods to ward off dangers to healthy vines.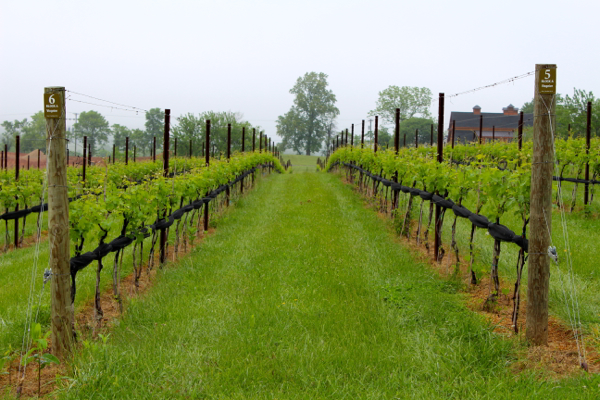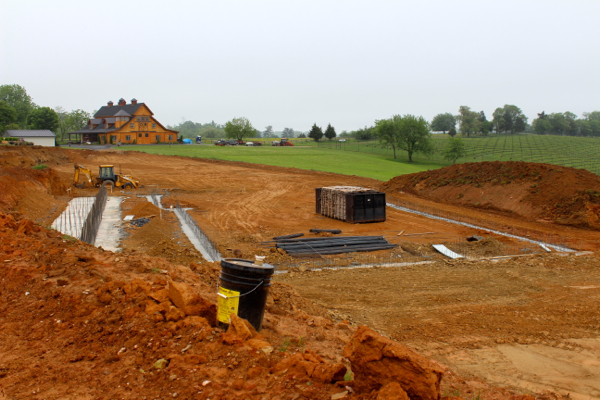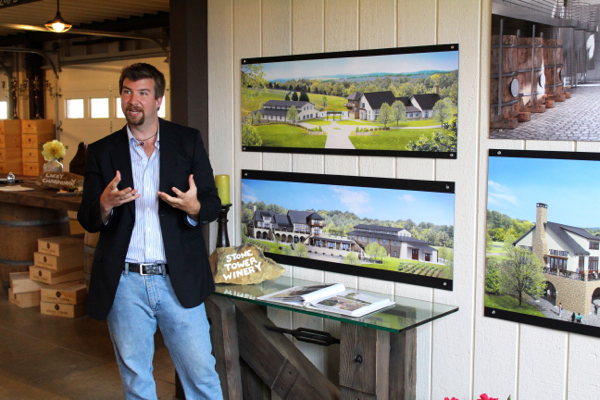 Our on tour was the construction site for the new tasting room and events facility. Space will be cleared in the future for this facility, and it has been designed so that an event such as a wedding and daily business such as wine tasting for costumers can proceed without interfering with each other. In addition to this facility, a new production building is also in the works with an emphasis on state of the art equipment and a sterile environment. The footings have already been poured and construction will begin soon. The goal here is to continue the winemaking excellence associated with Stone Tower Winery. In fact, Napa winemaker Tim Crowe will assume the helm as winemaker at Stone Tower Winery on June 1. Crowe's appreciation for Virginia's unique opportunities (and challenges) as well as his dedication to a team effort in the winemaking process suggest that great wines will be poured at Stone Tower Winery.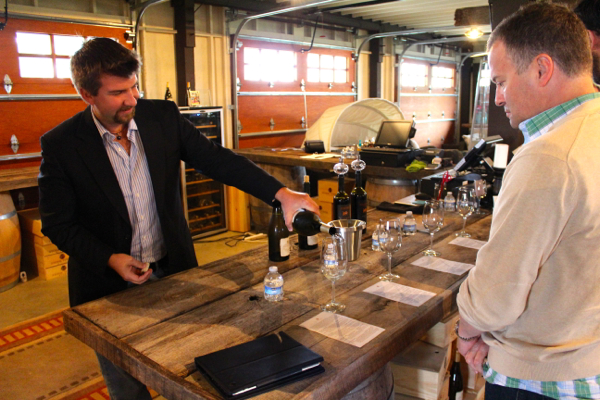 Of course, we are all about the wines. Grand tasting rooms and scenic views are one thing, but quality wines to support it all are more important. Bryan led us to the tasting room and guided us through a sample of the current releases at Stone Tower Winery. Three whites were offered for tasting, and these included the 2012 Lacey's Chardonnay, the 2012 Viognier (a blend of neutral oak and concrete egg), and a 2012 Viognier produced from a concrete egg. (Yes, a concrete egg. It looks like an atomic bomb and is used most often in France.) We both agreed that the 2012 Lacey's Chardonnay was the best white wine. Abundant pear notes with a fuller mouth feel made for a wine that was not only a sipper on its own but also a food friendly wine. I'd serve this one with poultry or white fish. Of the two Viogniers, we were split. Paul preferred the blended Viognier with its floral notes and spicy finish; however, I really enjoyed the more fruit forward Viognier done in the concrete egg. Characteristic floral aromas were noted but with a richer palate of stone fruits.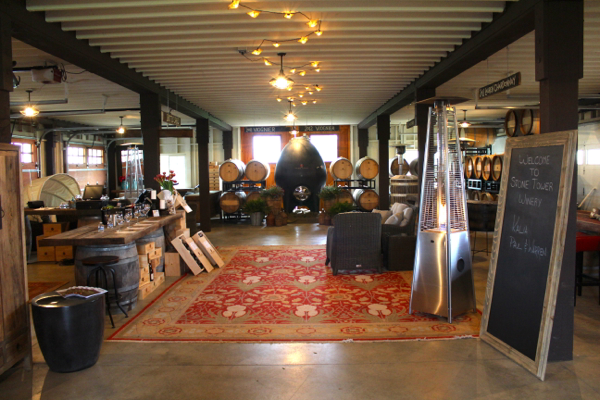 Two red wines were offered for tasting, and these included the 2011 Sanglier Noble and the 2009 Sanglier Noble. Both were blends under the Wild Boar label; label is used to designate wines that were produced from fruit not entirely grown on the Stone Tower estate. Paul and I reached a split decision on the reds. Paul preferred the fruitier, lighter-bodied 2011 Sanglier Noble, a blend of Cabernet Sauvignon, Merlot, Petit Verdot and Cabernet Franc. He noted bright berry aromas and flavors with a note of lavender. My own preference was for the 2009 Sanglier Noble; though a similar blend of grapes, this one was more complex with elements of cherry, sweet tobacco, and dried herbs. I also caught a whiff of violet.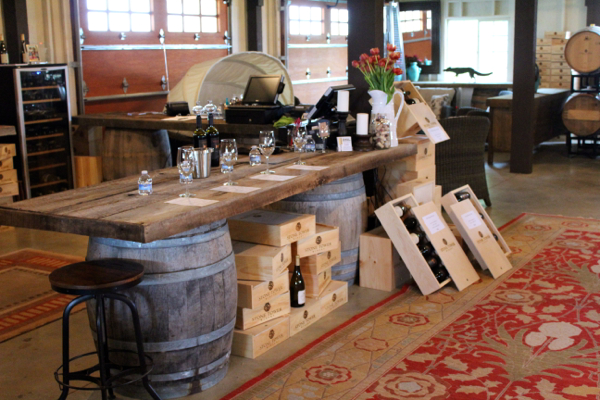 With our tastings done, we concluded that Stone Tower Winery is indeed making quality wines with a plan to continue a path to winemaking excellence; newer facilities will only enhance the ability to enjoy these wines. This sort of undertaking is only successful if qualified individuals work together to make it happen, and this is certainly the case at Stone Tower Winery. Before we left the winery, we made certain to purchase bottles of our favorite wines. We encourage readers to plan an appointment at Stone Tower Winery, and please mention that Virginia Wine Time sent you!