Two weeks ago we attended a winemaker's dinner at Marriott Ranch in Hume, Virginia, and the dinner featured wines from Gray Ghost Vineyards. Paul posted the pictures and menu from that lovely event; however, we also used that weekend to visit a couple of wineries in the area. They included Rappahannock Cellars and Sharp Rock Vineyards.
Rappahannock Cellars: Always a treat to sample the wines here. Of the white wines, our favorite was the 2011 Viognier that was fermented in stainless steel and then aged in oak for six months. Paul noted that the alcohol level on this vintage was lower than the 2010 vintage, and perhaps this explains the more accessible even playful nature of this particular Viognier. I noted bright citrus notes and softer aromas of orange and peach. This is certainly a wine to enjoy on its own but could be enjoyed with light fare, shellfish or simple poultry dishes. It should also prove to be quite popular for the spring and summer. Of the reds, I enjoyed the 2010 Noblesse Rouge, a lighter-bodied Bordeaux style wine. Nice cherry aromas with cedar and pepper notes were noted with a hint of vanilla to finish. Paul checked off the bolder 2010 Cabernet Franc as a favorite. We have not tasted many 2010 red wines, but we anticipate releases to rival the heralded 2007 season. This Cabernet Franc may provide a clue as to what to expect. "Jammy" was my primary descriptor, and full raspberry and blackberry fruit characteristics were noted. Spicy elements prevailed on the nose and palate. Definitely a buy now but drink later wine! Oh, and sparkling lovers should look for the release of a sparkling rose this Easter.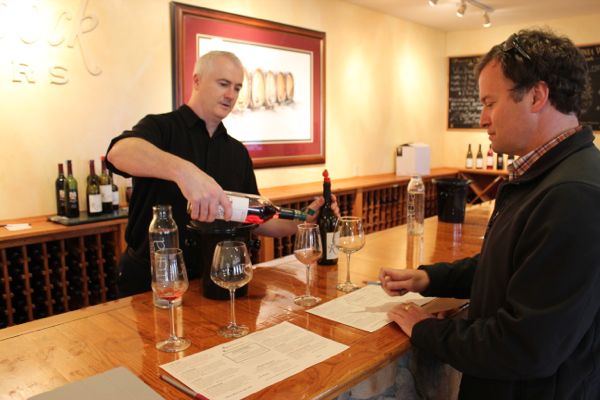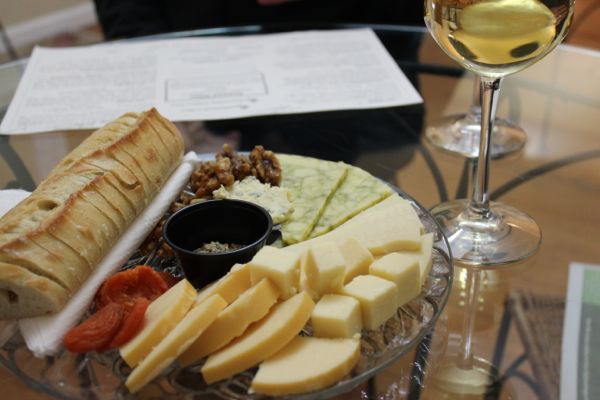 Sharp Rock Vineyards: It had been a long time since our last visit to Sharp Rock Vineyards, and winemaker Jimm East greeted us in the tasting room. Two very adorable dogs, of which one was a rescue animal, also welcomed us. The pleasant and unusually warm weather found us enjoying the crisp 2011 Chardonnay. This one is not oaked, and it presented nice pear and apple flavors with a pleasant acidity. We also concurred on our favorite red wine, the 2010 Synergy. A blend of Petit Verdot and Merlot, we observed plum and dark cherry flavors with elements of sweet tobacco and pepper. The tannins were surprisingly smooth for a 2010 vintage; we will be comparing notes on the 2010 red wines now that they are being released. While the Synergy could be enjoyed now, I would not be afraid to keep it on the wine rack for a couple of years. We enjoyed a glass of the Chardonnay and appreciated the view of nearby Old Rag Mountain and the hypnotic gush of the Hughes River. Jimm East joined us for a bit of conversation, and we learned that the 2011 Sauvignon Blanc will soon released. He is also considering a blend of Chardonnay and Sauvignon Blanc to create a crisp summer sipper. Jimm also shared with us that while the 2011 season was certainly a challenge for him, it was not at all a disaster. He does anticipate that quality wines will indeed be made from the 2011 vintage.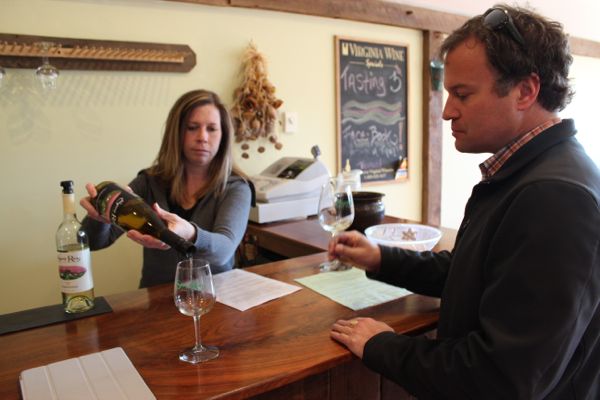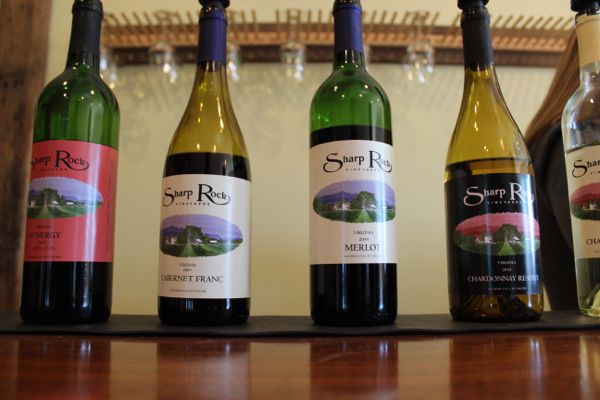 Vacationers may want to consider a stay at Sharp Rock's bed and breakfast. Two cottages that are part of the Sharp Rock property are available to rent for a relaxing weekend getaway. Bring your hiking boots for a scenic walk and then plan to unwind with a favorite book and a glass of Sharp Rock wine; enjoy besides the babbling Hughes River, and you may just doze off for an afternoon nap.
Now that spring (or early summer) has sprung, get out to these two wineries to sample their latest releases. Be sure to mention that Virginia Wine Time sent you.