The next stop was at Bodega Renacer. This winery specializes in Malbecs also. Here wines are made from a blend of regional grapes which give their Malbecs a different taste and variety. The producers use precision vinicultura or horticulture to know precisely when to pick the grapes.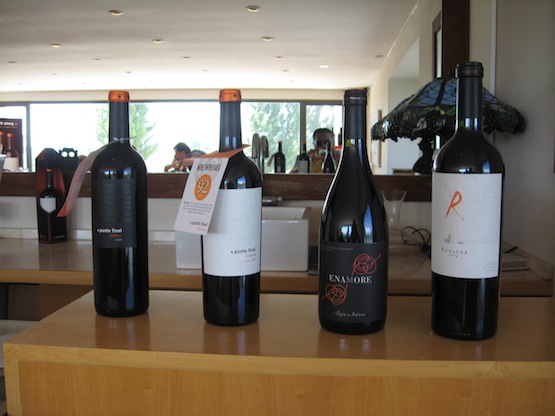 At the time I was there, the first grapes for the Enamore Syrah had arrived and the workers were putting them through the de-stemming process. In Mendoza, the harvest is from March – May. The grapes go through a cold maturation process four to12 days at 8° C (about 40° F) to begin fermentation with the naturally occurring yeasts from the grapes. Renacer bottles 500,000 liters per year and exports to 37 countries.
At this winery, we had the opportunity to become wine mixologists. The hostess set before us liquids from different grape varieties and allowed us to mix them to form a Malbec. Of course, I did not mix anything worthy of remembering, but some of my fellow travelers have potential second careers in the wine industry.
1. Punto Final Clásico- a smooth, light Malbec. It was very clear, but had a slightly bitter aftertaste.
2. Punto Final Reserva – this Malbec was aged 10 months in oak barrels and is a mixture of 60% Lujan and 40% Yuca Valley grapes. It has a strong blackberry smell and tastes of cherries with a little spice mixed in. It would be wonderful with chili.
3. Enamore, this is a blend that has a light, minty taste and heavy fruity smell.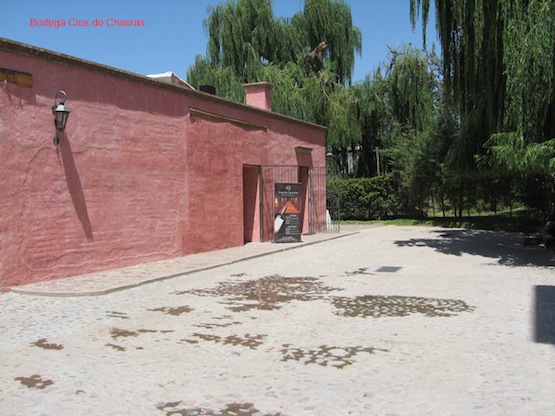 At this point in the tour, it was time for lunch. The tour group was treated to an exquisite food and wine pairing at the Clos de Chacras winery and restaurant. The unique thing about the meal was that it was prepared with vegetables grown in a garden the winery owns. The four-course meal was better than anything I've experienced in Washington, DC. It would easily rival some of Washington's finest like the Inn at Little Washington, 2941 or Equinox. We drank four wines from the winery:
1. Cavas de Crianza 2005, a merlot from the Yuca Valley which has a bold, but smooth taste.
2. Cabernet Sauvignon 2005, has a strawberry, blackberry, cherry taste
3. Malbec, spicy, nutmeg taste
4. Cabernet Sauvignon 2006, made with a different variety of grape than the first Cabernet and has a spicy, peppery aftertaste.
The last winery the tour group visited was Bodega Bonegas. The main building of this winery is more than 100 years old. It was sold away from the original family during the 1971 economic crisis and very recently came back to the family. The new owner is Federico Bonegas whose grandfather is credited with bringing the Malbec grape to Mendoza.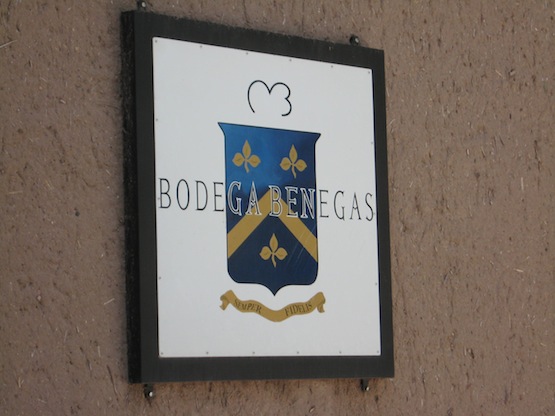 This winery ages its wines for 12-18 months in French oak barrels, which are used only two times then sold. Once bottled, the wines are aged for another 12-18 months before being shipped off to the United States, United Kingdom and Canada. Approximately 150,000 liters (around 15,000) cases are bottled per year; however, the winery has the capacity to bottle a million liters per year.
1. Syrah 2005, this inky colored wine is a blend of cabernet sauvignon, Malbec and other grapes and has 15% alcohol content. It has a spicy, minty taste and smells of cherries and blackberries. It becomes bolder after breathing.
2. Chardonnay 2007, aged two years and has a good flavor that reminds one of pears and lemons. It has a strong peach smell.
3. Cabernet Sauvignon 2005, aged 18 months in the barrel and 18 months in the bottle. It is very dry and becomes bolder after breathing.
After a full day of eating and drinking, I was ready to return to the hotel for a nap. I was glad that I completed a mountain bike ride the day before because I would not have been able to even sit on a bicycle after the tour. This was by far one of the best wine excursions I had ever been on. The wine and food pairing was exquisitely done and the service at the other wineries was sharp and focused. I definitely recommend to all wine connoisseurs that a visit to Argentina would be worthwhile.
To set up your own personal tour of Argentina contact:
Nelo Morichi at Unveiling Argentina
Argentina: Nicolas Rodriguez Pena 877
(5501) Godoy Cruz
Mendoza, Argentina
nelo@morichi.net
011-54-261-4524269
Washington: 1363 Meridian Place, NW
Washington, DC 20010
202-536-5908