On Sunday evening we attended the winemaker's dinner at The Iron Bridge Restaurant and Wine Company in Warrenton. We were guests of Ben Segal, the assistant manager. We met Ben a while ago when were all attending another wine tasting experience. We graciously accepted his invitation to attend the winemaker's dinner at Iron Bridge. The dinner was paired with wines from Hume Vineyards. Winemaker Stephane Baldi was on hand to talk about each of the wines and answer questions during the dinner.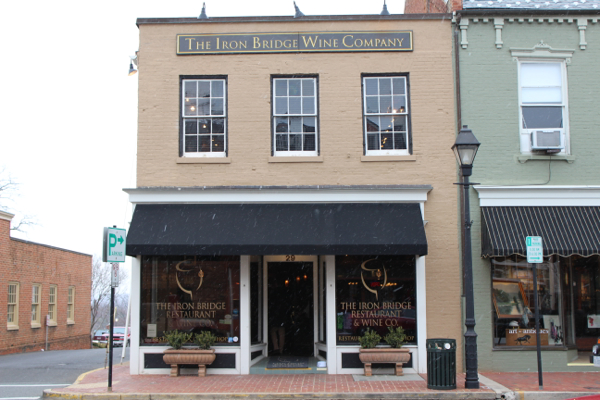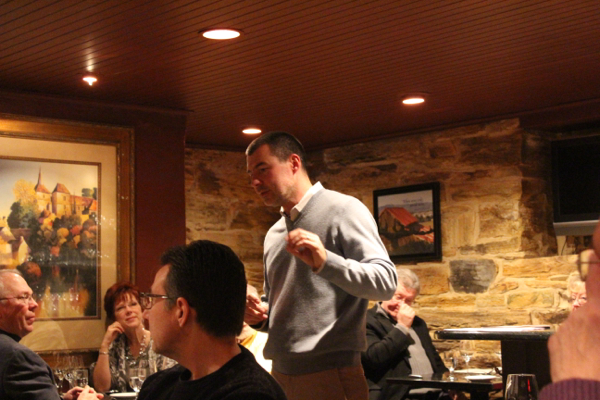 After an introduction from Ben and Stephane the first course was served. The first course was seared sea scallops with Thai spiced cucumber and cabbage salad. It was paired with the 2011 Viognier. Stephane informed us this wine was of 25% of one year aged in French oak and 75% from stainless steel aging. We noted apricot, honey and pear and a nice crisp mouth feel.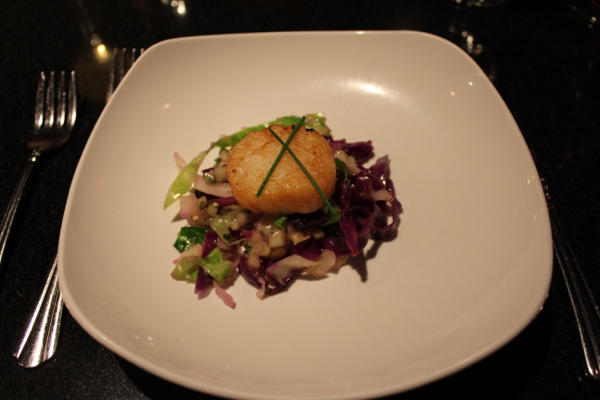 The second course was smoked duck breast with arugula salad and strawberry, hazelnut, and rose vinaigrette. It was paired with the 2011 Rose. This rose is dry and created with 100% merlot grapes that spent 48 hours on the skins. We noted strawberry and melon. This paired beautifully with the duck breast and arugula salad, especially with the rose vinaigrette.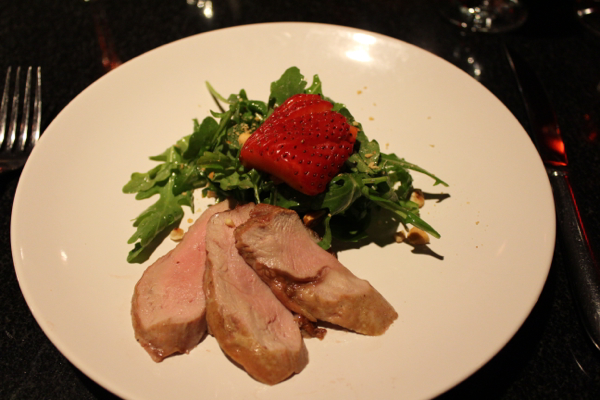 The third course was grilled local cranberry sage buffalo and pork sausage with grilled polenta and a cranberry demi. It was paired with the 2011 Cabernet Franc, which will be featured in the May issue of Wine Enthusiast magazine. This is a lighter style cabernet franc that would go very well with red sauce, burgers, or pizza. We noted a dark cherry, bramble berry, pepper, mint, and a spicy finish.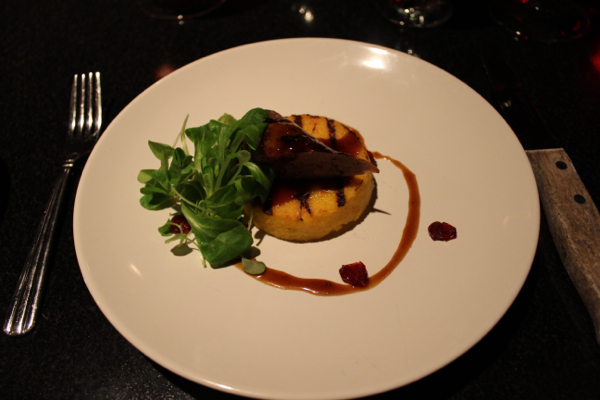 The fourth course was beef wellington with fingerling potatoes, asparagus tips, and a petit verdot reduction sauce. It was paired with the 2011 Petit Verdot. This wine quickly became our favorite. It's a great example of what a winemaker can do in a wet year. This petit verdot also won a silver in the Governor's Cup. We noted the dark, inky color before the jammy dark fruit flavors of blackberry and plum. We noted licorice and a chewy ending. The beef wellington was my favorite course but with the petit verdot, it was even better. The petit verdot got our gold star for the evening.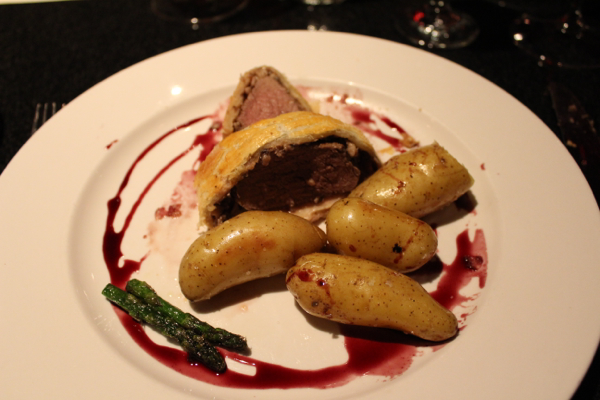 The final course was a wine poached pear with oatmeal cookie and blue cheese sauce. It was peered with the 2011 Late Harvest Vidal. I'm not a big pear eater so Warren enjoyed the pear with the Late Harvest Vidal. He noted pear and an almond nutty ending.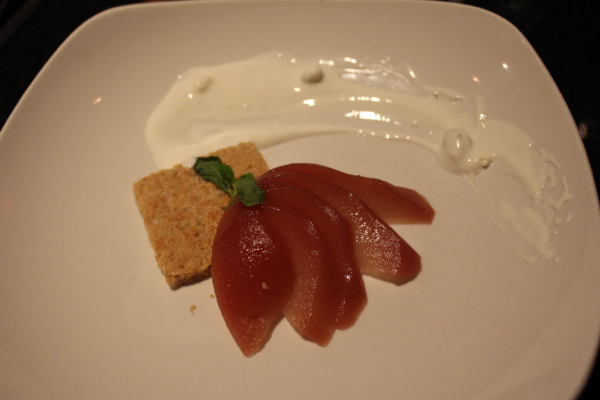 Everything was delicious and the wine pairings were perfect. During the meal we heard from Stephane at each course about the wines and what was happening at Hume Vineyards. We found out the 2012 vintage will be the first produced form completely estate grown grapes. We also chatted with our table neighbors during the whole dinner. We had a great time getting to know them and chatting about wine. They attend dinners at Iron Bridge quite frequently. We hope we run into them again soon at Iron Bridge. If you haven't attended one of the winemaker dinners held at Iron Bridge, you really need to plan to in the future. They select some of the best Virginia wineries to pair with meals created by the amazing chefs. Check out their website or on Facebook to find out when they'll be having the next winemaker dinner. And if you haven't been to Hume Vineyards recently, plan a trip there too. You need to taste these new wines, especially the Petit Verdot and tell them Virginia Wine Time sent you!