Winter weekends are perfect for visiting local wineries. These are quieter times to visit wineries as opposed to summer or fall, and we had that in mind when we planned a President's Day Weekend to the Charlottesville area. Our first stop was to Early Mountain Vineyards, and we each enjoyed a "flight" while we were there!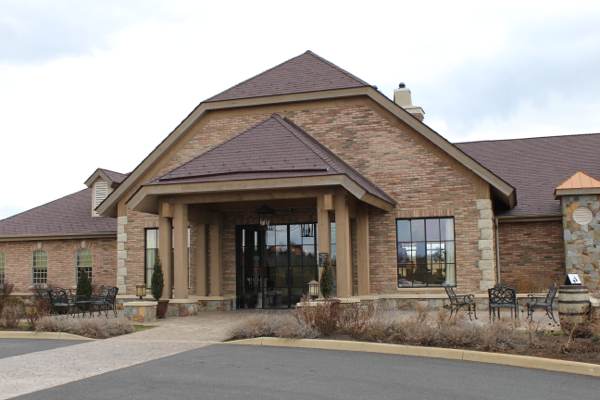 So what's up with all of this flight business? Readers may recall that we attended the opening of Early Mountain Vineyards last year, and we did report on the Early Mountain's concept as envisioned by Jean and Steve Case. A short summary of that vision here—Early Mountain Vineyards celebrates the "best of Virginia" and therefore presents for tasting and purchase the quality wines produced by themselves and other participating Virginia wineries. Therefore, a tasting at Early Mountain Vineyards occurs in flights: 1) Early Mountain Ascent, 2) Bright Lights & Bubbles, 3) Red White & You!, and 4) Red Berry Pickings. These should be self-explanatory; however, I will provide a quick description of each: Flight 1: all Early Mountain wines both red and white, #2: bubbly!, #3: a mix of red and white wines from several vineyards, and #4: all red wines from various vineyards.
Decisions, decision! However, we each selected our own flight with Paul opting for the Early Mountain Ascent. My own choice was the Red, White & You!. Our tastings were seated, and we planted ourselves at a table facing the majestic mountain views; it was a very cold day, so the crackling fireplace created the right setting (and the right temperature) to enjoy our flights.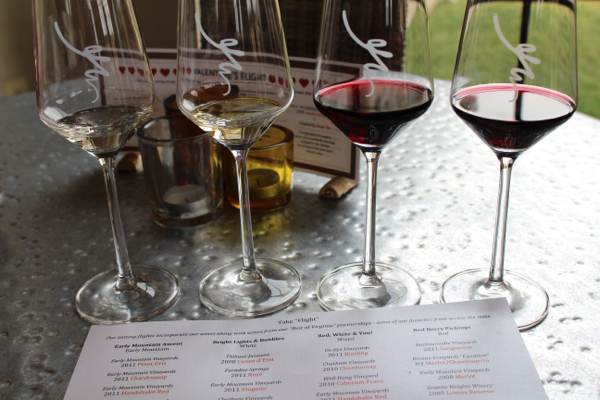 Paul's Early Mountain Ascent featured the 2011 Pinot Gris, 2011 Chardonnay, 2011 Handshake Red (a blend), and the 2008 Merlot. He favored the Chardonnay that was blended with a bit of Viognier to present a complex wine with pear and citrus elements and a subtle tropical fruit note. Of the reds, Paul preferred the Handshake Red with its dark fruit flavors and earthy notes. It was a bit tight, though, so some swirling may be needed to coax the aromas to move forward.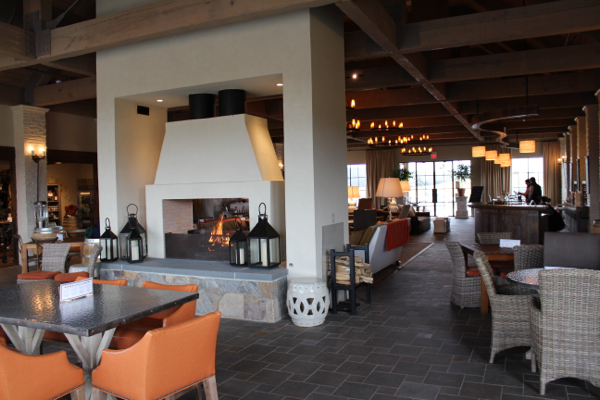 I had a hard time selecting my faves from the Red, White & You flight. This flight included the Ox-Eye 2011 Riesling, Chatham Vineyards 2010 Chardonnay, Well Hung Vineyard 2010 Cabernet Franc, and Early Mountain Vineyards 2011 Handshake. I kept grabbing the glass of Chardonnay from Chatham Vineyards, and that normally indicates a winner. However, The Ox-Eye Riesling intrigued me since Riesling in Virginia tends to be subpar. However, elegant aromatics and softer notes of stone fruit that begged for a second (or third) sip drive this particular Riesling. Of the reds, I appreciated the Handshake Red but finished my sample of the 2010 Cabernet Franc from Well Hung Vineyard with its aromas of violet and seed berries. Bright Cherry and raspberry flavors ended with a peppery finish to make for a wine that could be enjoyed on its own or with food.
Patrick was our tasting associate; of course, we tend to ask lots of questions, and Patrick answered all of them. We did know that winemaker Franz Ventre has left Early Mountain Vineyards, and assistant winemaker Steve Monson currently overseas the winemaking. Future plans also include new plantings in the vineyard, and the Best of Virginia concept will continue to be the guiding philosophy.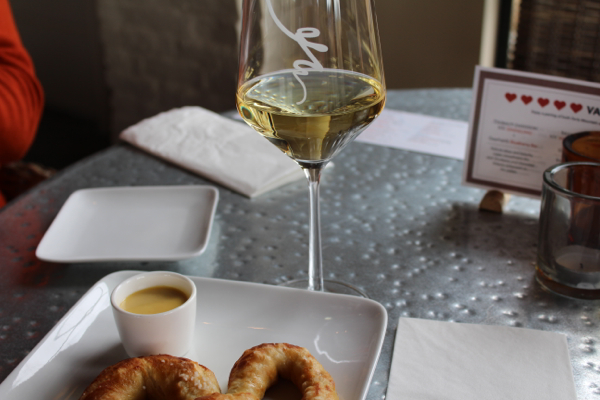 I was awed by the spacious yet tasteful facility with its warm earth tones and regretted finishing my last sip of wine. We snacked on a warm, homemade pretzel with a glass of the 2011 Petit Manseng and appreciated the winter's landscape while wondering which colors spring would add to the pallet. We are certain that we will return to Early Mountain Vineyards soon. Be sure to schedule your own "flight" soon, and mention that Virginia Wine Time sent you!