We recently visited Corcoran Vineyards. Corcoran happens to be one of our favorites. We always have a good time and enjoy chatting about anything wine with Jim and Lori Corcoran. The day we visited Jim Corcoran was on hand and we had a great conversation about wine and the wine industry.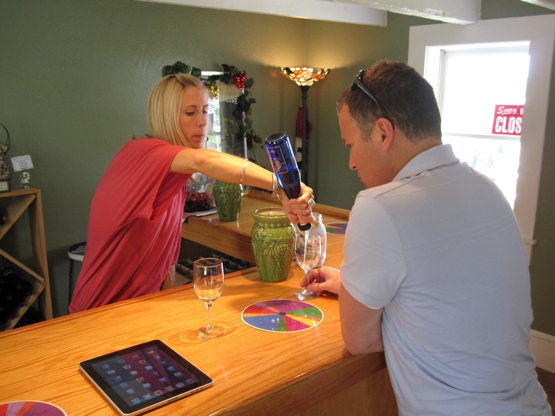 We started our tasting with the whites of course. We tasted the 2008 Chardonnay. We noted green apple, peaches and a hint of a floral nose. We then tasted the Seyval Blanc with it's lemon-lime flavors and sweetness, we know this one is a favorite of many. We were disappointed to find out the 2008 Viognier and the 2007 Traminette were sold out.
Onto the reds we started with my favorite, the Malbec. We noted its dark fruit, smooth tannins, and medium body. Warren noted some cedar and oak. This has been a favorite of mine since it was released. I know there aren't many cases left. We moved on to the Meritage. Descriptors that we wrote down were dried fruit, raisin, fresh herby quality, and deep rich color. We can see this one becoming one of our favorites. We ended the reds with the 2007 Mary's Cuvee. This one is a collaboration between Lori Corcoran and Mary Watson. It consists of Merlot, Cabernet Franc and Tannat. We noted the fruit right up front. It has smooth tannins with a hint of spice. Nice job Lori and Mary!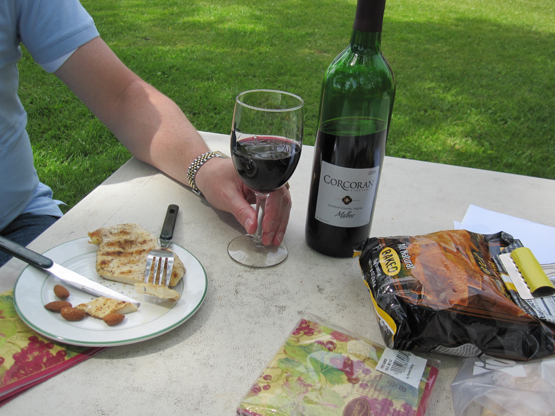 After our tasting we enjoyed a bottle of the Malbec with our lunch. While finishing the bottle we were joined by Jim Corcoran. As I mentioned earlier, we had a great conversation about all things wine. We could sit and chat with Jim (or Lori or both) for hours and hours. Before long we had to get moving. We thanked Jim for a wonderful afternoon and headed home. If you find yourself in Loudoun County be sure to stop at Corcoran Vineyards or Hunters Run Wine Barn which features Corcoran wines.