We hosted a wine tasting this weekend for colleagues, and the tasting featured a duel between Virginia wines and wines from around the world. How did I select these wines? I pulled the wines from my wine rack; in other words, I did not get too technical about the matter. However, I did try to pair off similar styles of the same varietals, different vintages of the same varietals, etc. to see which ones earned the most accolades. Tasters were provided with a scoring sheet that provided brief descriptions of each wine, and we started the evening off with a 101 on how to taste wines using the fives "S"es. We then sent tasters off on their own to swirl and sip the wines available for tasting. How did Virginia match up? Here are the results: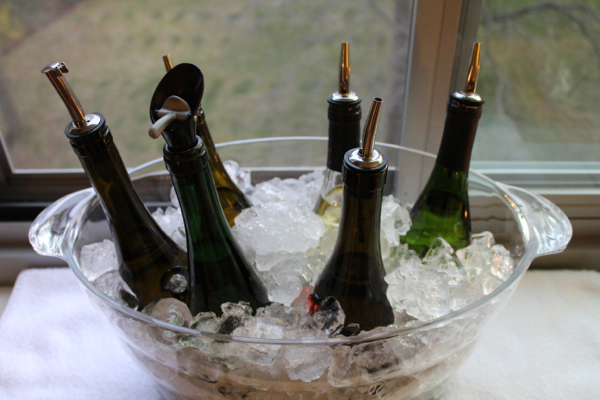 White Wines
Riesling: VA Riesling 2011 Ox-Eye v. German 2010 Riesling Kabinett Joh. Jos. Prum
Winner: Germany
Chardonnay: VA 2008 Chardonnay Reserve Gray Ghost Vineyards v. CA 2010 Chardonnay Reserve
Winner: Virginia
Viognier: VA 2010 Viognier Rappahannock Cellars v. France 2011 Viognier Paret
Winner: Virginia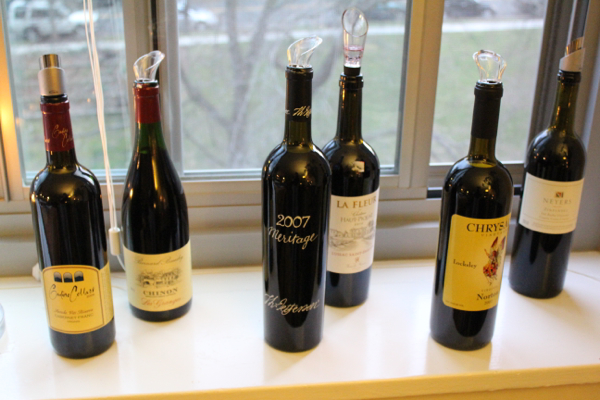 Red Wines:
Cabernet Franc: VA 2008 Cabernet Franc Reserve Gadino Cellars v. France 2011 Chinon Bernard Baudry
Winner: Virginia
Bordeaux-Style Blend: VA 2007 Meritage Jefferson Vineyards v. France 2010 La Fleur Chateau Haut Piquat
Winner: France in a nail biter. (The 2010 was opened at least 2 hours before the tasting and then poured with an aerator attached to the bottle.)
Norton/Zinfandel: My oddest contest of the evening. In the past, I've tossed California Zinfandels into any tasting involving Norton and with interesting results.
VA 2007 Norton Locksley Reserve Chrysalis Vineyards v. CA 2010 Zinfandel Neyers Vineyards
Winner: Virginia The Locksley Reserve was also opened for about 2 hours, and it initially punched the Zinfandel right in the face; however, with some time, the Zinfandel opened up quite nicely and put up more of a fight. I ended up advising tasters to try the Zin before the Norton. In the end, though, the native Norton prevailed at the ballot box.


Excellent results for Virginia, and I must emphasize the informal nature of the taste off. In fact, the tasting was not even blind; however, few of my guests had experience with Virginia wines. Our goal was to expose tasters to wines and in particular, Virginia wines. The taste off produced lively conversations about wine, and our tasters came away from the experience with more favorable opinions about local wines. (I should also add that in most cases, the Virginia wines were less expensive than their counterparts.)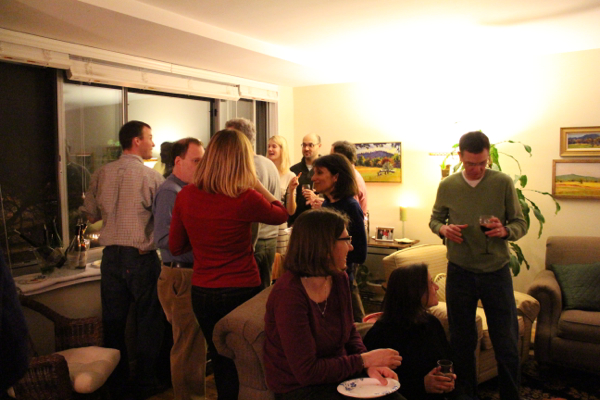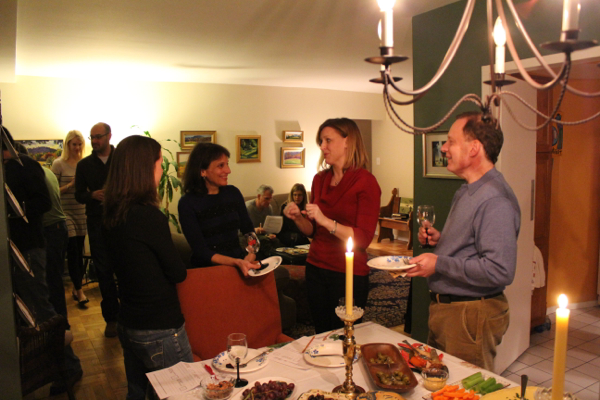 Why not host your own Virginia v. the World competition? Visit these and other local wineries to plan your own tasting event. Mention that Virginia Wine Time sent you.