Food and wine critic Todd Kliman held a book signing for his acclaimed work, The Wild Vine, which chronicles the discovery and rediscovery of the Norton grape.  And what better venue for the event than Chrysalis Vineyards, home of the largest planting by acreage of the Norton grape. Paul and I attended the signing; of course, we sneaked in a tasting, too!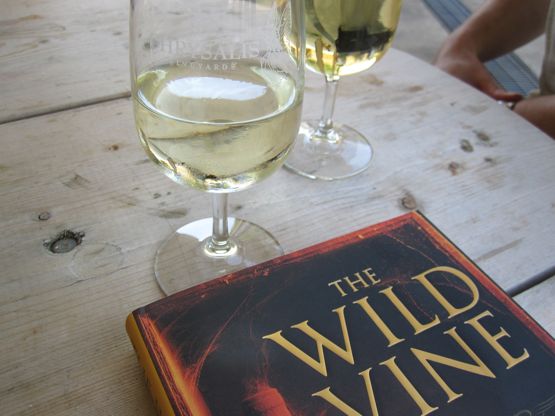 Readers may remember that I wrote a short article about the Norton grape for the now-defunct Edible Chesapeake magazine; however, I was eager to grab a copy of Todd Kliman's work and was lucky to be on hand to hear Kliman deliver a reading of selected passages from the book.  To say that I was in awe of his word-crafting (for lack of a better description) is an understatement.  What could have been a mundane re-telling a grape's history instead became a gripping, spell- binding story.  The grape's road to success was never a straight one, and Kliman captured the twists and turns suited to an action-filled novel; intertwined in all of this were the personalities who were likewise intriguing.  Like the Norton grape itself, these personalities could be described as daring, bold and unapologetic, and they include Dr. Daniel Norton, Dennis Horton, and Jenni McCloud.  I must say, though, that the most compelling story in The Wild Vine was McCloud's, and there was no doubt in my mind that she believed in herself and her mission—to produce the best Norton wines in the world.
After the reading, I joined the line of fans to have my book autographed by Todd Kliman, and beside him was a glass of Chrysalis' Norton.  Jenni McCloud was also nearby and with pen in hand she too signed my book.  I think that I devoured most of it on the ride home and before retiring to bed that evening.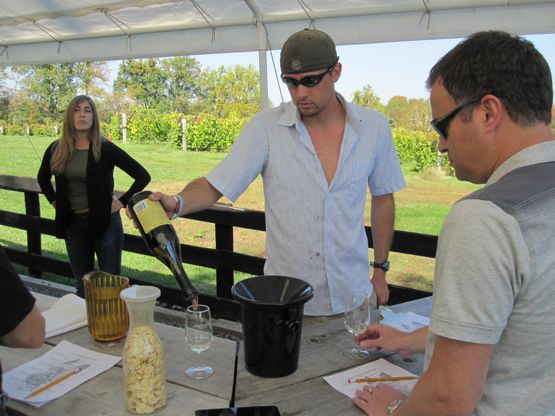 It goes without saying that we did indeed do a tasting while we were at Chrysalis, but I'd rather the book take top honors here.  I will briefly mention our gold-star favorites, though.  Of the white wines, my favorite was the 2009 Viognier, a flagship wine at Chrysalis.  Rich aromatics with honeysuckle notes, rich pear and lemon flavors with a creamy mouth feel made for an elegant wine.  Paul favored the 2009 Chardonnay with its green apple flavors and mineral notes.  In the spirit of the day, we both favored the Norton offerings when evaluating the red wines.  Paul preferred the dark jam flavors and smoky aromas of the 2006 Norton Estate Bottled; my choice was the 2005 Norton Locksley Reserve with its subtle violet nose, earthy aromas and concentrated dark fruit flavors that finished with a spicy edge.  Complex? Yes!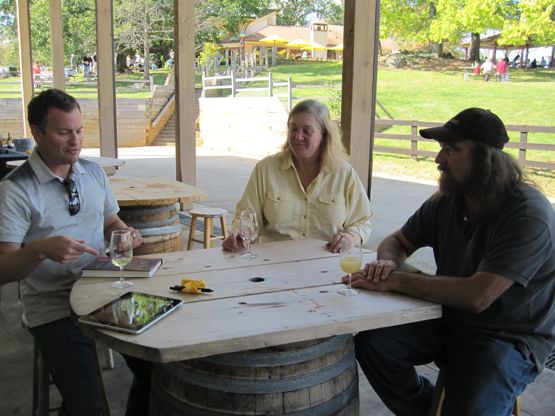 With book signed and tasting completed, we lingered at Chrysalis Vineyards for a while longer while sipping a glass of our favorite white wines.  Jenni introduced us to returning winemaker Alan Kinne, and it was Kinne who produced the winery's first wines, Chardonnay and Viognier, in 1997.  Alan Kinne has garnered extensive experience at wineries on both the East and West coasts, and the 2010 vintages from Chrysalis Vineyards will all be produced by him.  We eagerly await the release of these wines as well as future conversations with Alan Kinne.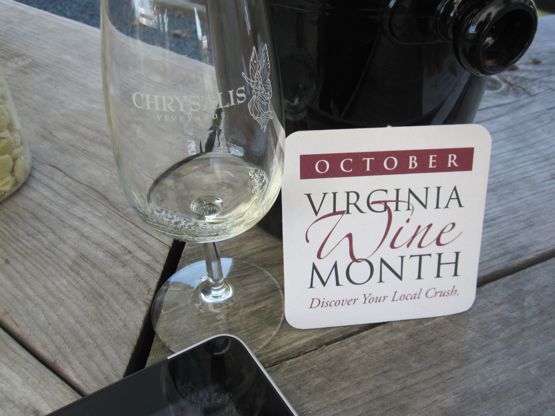 Celebrate Virginia Wine Month (and Regional Wine Week) by reading Todd Kliman's The Wild Vine, and learn the story behind America's true native grape and the individuals who turned Norton into a world-class champ.  An even better idea would be to bring the book along with you to Chrysalis Vineyards and read it over a glass of your favorite Chrysalis wine—and ask Jenni to sign it for you, too!  Of course, mention that Virginia Wine Time sent you.