Paul and I completed a four-day swing through the Northern Neck wine country (The Chesapeake Bay Wine Trail), and we managed to add four more wineries to the "visited" list. I'll compile a list and brief review of each winery in this post.
The Hague Winery: This is a newer winery, and it offers a very solid lineup of wines. Steve Madey is the owner, and renowned winemaker Michael Shaps makes the wines at The Hague Winery. All five wines here were well-crafted and reflect an Old World style. For summer sipping, the Rose was an instant favorite. Done in the Provence style, this Rose is bone dry with strawberry and melon characteristics. Our gold-starred was the 2008 Cabernet Franc which is blended with 10% Merlot. Rich cherry nose with earthy characteristics were noted along with a lengthier finish. We also enjoyed the Cynthia Dessert made from Muscat grapes. Its heady floral nose and peach flavors finished clean in the mouth—quite lovely! We enjoyed our tasting at The Hague so much that we returned the next day with our friends, Bob and Jackie Worthy.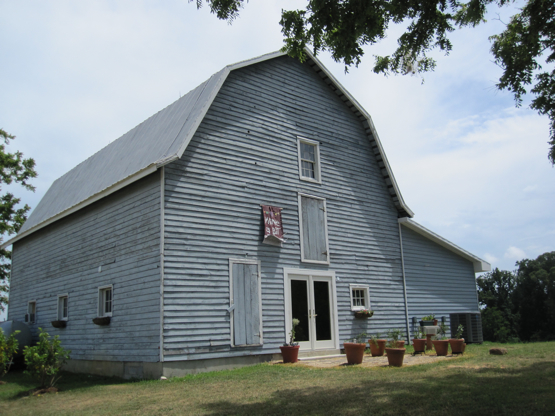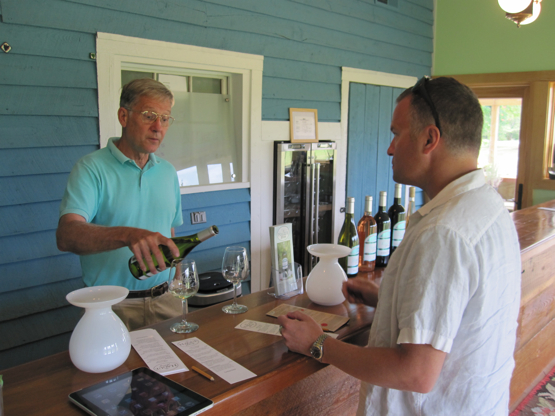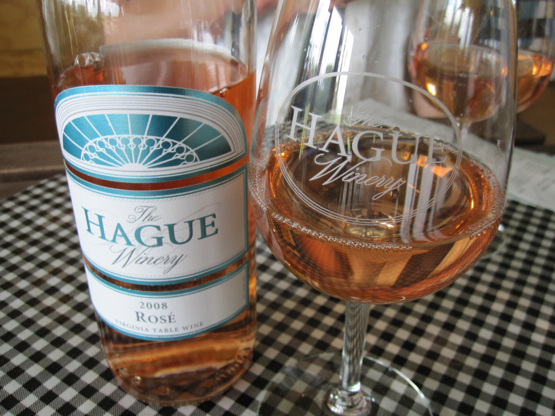 New Kent Winery: We finally made it out to New Kent Winery, and the facility is incredible. Golfers and equestrians should feel at home here as the New Kent facility includes a gold course and equestrian center. We left our golf clubs and riding boots at home, but we were eager to sample wines in the spacious tasting room. The vineyards here are eight years in age, and winemaker Tom Payette is producing some very nice pours. Paul's favorite was the crisp and fruity 2008 Chardonnay which spends very little time in oak barrels. I appreciated the Burgundian-style 2008 Chardonnay Reserve with its creamy mouth feel; however, I was more intrigued with the White Merlot. Yes, it is a white wine made from Merlot! Needless to say, this is only possible if the grape juice has almost no contact with the red skins, and we detected only a hint of color when our glasses were held up to the light and closely inspected. The result is a Riesling-style wine with pineapple and citrus flavors. Three percent residual sugar enhances the fruit flavors without a cloying mouth-feel. Our Gold-starred red? We both agreed on the 2008 Meritage with its darker fruit and black pepper qualities; we noted a velvety finish, too.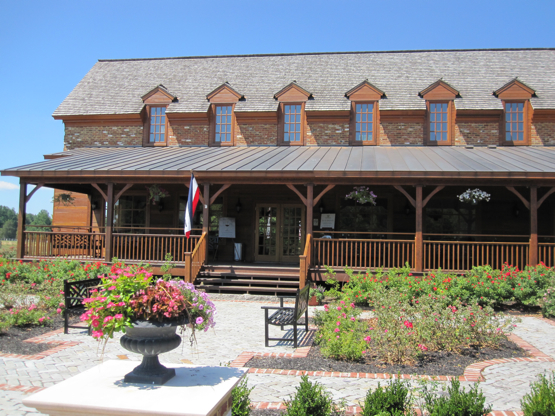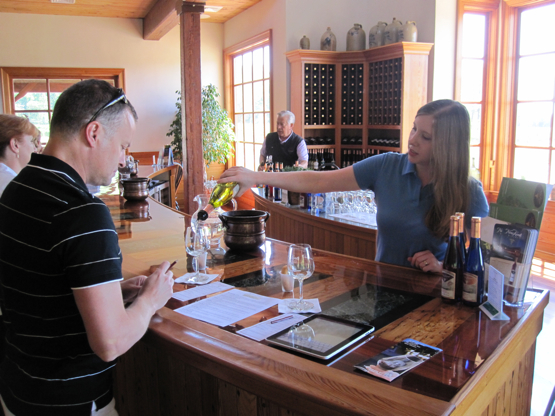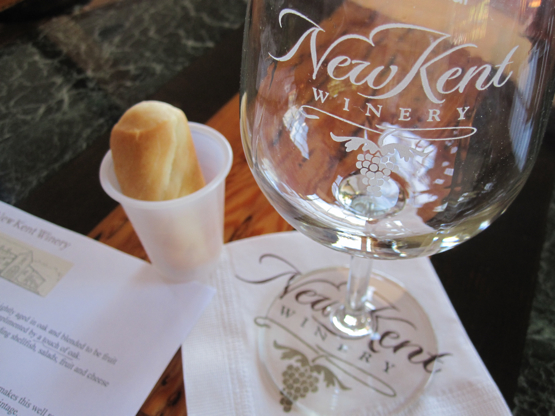 Saude Creek Vineyards: These wines are currently being sold at a temporary facility until the tasting room is officially opened this fall. Owner Jason Knight was very kind enough to provide us with a tasting although the tasting room was closed when we arrived on Sunday. Jason works with partner James Batterson of James River Winery to produce some clean, well-crafted wines. The most interesting pour was the Saude Creek White made from summer apples, and it's a crisp, clean wine with obvious apple notes and flavors. Sip during the summer or serve with an herb-crusted pork loin for an interesting pairing. A favorite summer wine should be the Chardonnay that is done in stainless steel and possesses pear and apple flavors with a nice acidity. Our favorite red wine was the Merlot. Aged 12 months in older American oak barrels, we noted cherry and plum flavors and approachable tannins. We'll provide details of Saude Creek Vineyards' official opening date as the fall approaches.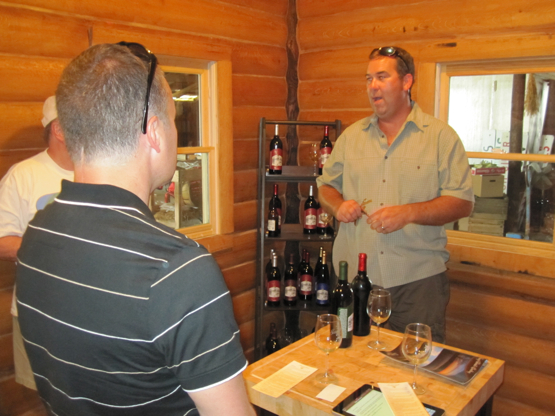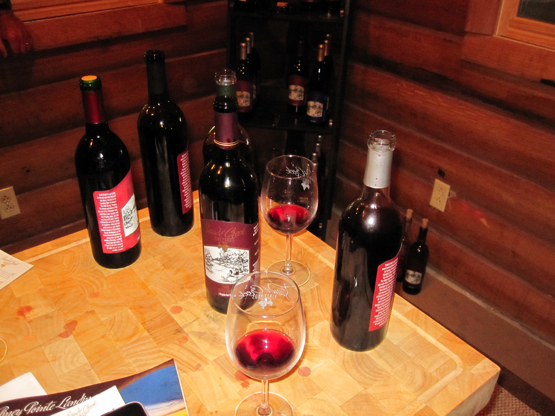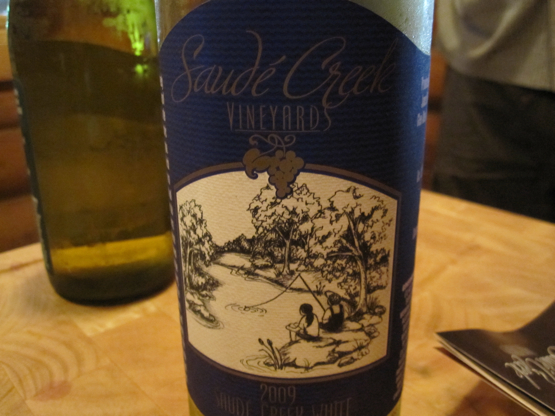 Williamsburg Winery: By far the largest producer/bottler of wine in Virginia! We started off here with the regular tasting which included a sample of six wines. My favorite white wine here was the Barrel-aged Seyval Blanc, and this is actually a blend of seyval blanc from stainless steel and oak barrels. I noted subtle smoke and hay notes with pear and citrus flavors, and it should pair well with shellfish. Paul preferred the blended James River White which may have reminded him of the California pour called Conundrum. Done in stainless steel, it is a blend of Seyval Blanc, Chardonnay, Riesling, Traminette, and Vidal Blanc to present a fruity wine that is perfect to serve before dinner. Our preferred red? Though we tasted red wines in the course of our regular tasting, we opted to sample some of the reserve wines; here is where we found our gold-star red wine. We both favored the 2005 Merlot Reserve with its concentrated dark fruit flavors and tobacco/earthy aromas. A lengthy finish makes for a food-friendly wine that may include a mixed grill. Williamsburg Winery produces/bottles at least 65,000 cases of wine, so there is certain to be something here for every wine lover.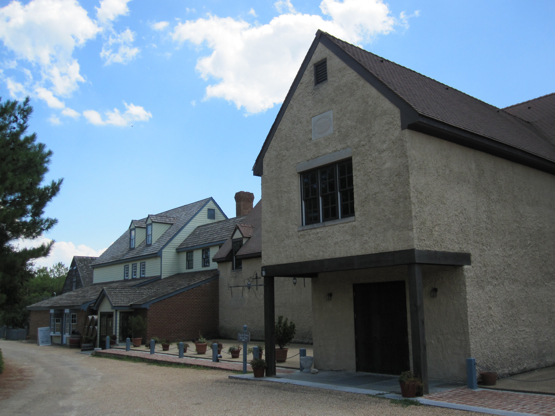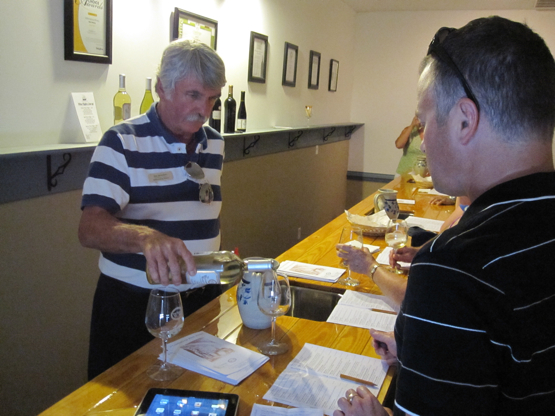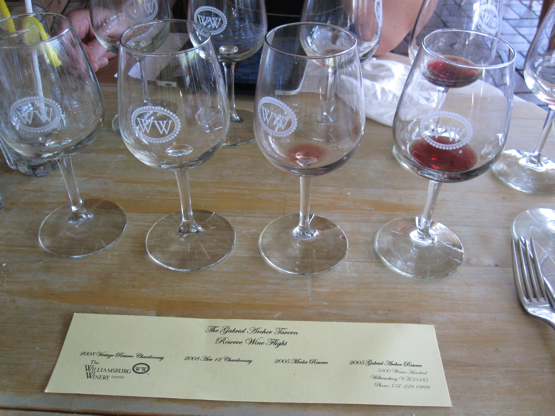 At this rate, we'll be approaching 110 wineries visited! However, with new wineries opening every month, we may never visit all of them. We will certainly return to the wineries reviewed here, but readers may want to visit them sooner; however, remember to mention that Virginia Wine Time sent you.